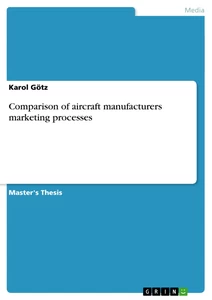 Excerpt
Contents
list of figures
List of tables
List of abbreviations
Introduction
1 Marketing mix in aircraft manufacturers marketing
1.1 Methodology of work
1.2 The definition of marketing
1.3 Marketing mix
1.4 4 Ps in aircraft manufacturer´s marketing
1.4.1 Product
1.4.2 Price
1.4.3 Promotion
1.4.4 Place
1.5 Communication inside of the marketing department
1.6 Examples of information gathering, sharing and use
1.6.1 EXAMPLE 1: Performance vs. technical marketing office
1.6.2 EXAMPLE 2: Different format of data sheet
1.6.3 Reasons of communication difficulties
1.6.4 Solution of communication in large and small companies
1.7 Administration tools in communication
1.7.1 Staff meetings and information sessions
1.8 Information gathering and use
1.8.1 Industrial espionage
1.8.2 Data and information analysing
1.9 Example of data and information analysing
1.9.1 Example 1 – IFE, in-flight entertainment system retrofit:
1.9.2 Example 2 – yield per one seat based on its size and space used
Summary
1.10 Ready for expo
2 Marketing process – large aircraft manufacturer
2.1 Marketing as a part of aircraft sales process
2.2 Aircraft sales process
2.3 Phases of aircraft sales process:
2.3.1 Analysis of customer and market situation
2.3.2 Product offering and marketing argumentation
2.3.3 Request for proposal
2.3.4 Sales proposal
2.3.5 Memorandum of understanding
2.3.6 Purchase agreement and final negotiations
2.3.7 Customization of the aircraft
2.3.8 Delivery
Summary
2.4 Large aircraft manufacturers marketing department
2.4.1 Indirectly influencing or not influencing unit
2.4.2 Directly influencing unit
2.4.3 The aircraft interior marketing
2.4.4 The aircraft performance marketing
2.4.5 The aircraft maintenance marketing
2.4.6 The aircraft technical marketing
2.4.7 The aircraft revenues marketing
Summary
3 Marketing process – small aircraft manufacturer
3.1 4Ps in marketing process of small manufacturer
3.1.1 Product
3.1.2 Price
3.1.3 Promotion
3.1.4 Place
3.2 Marketing process of small aircraft manufacturer
3.2.1 The company departments in relation to sales and marketing process
Summary
4 Comparison of marketing processes
4.1 Comparison of large and small manufacturer´s marketing process
4.2 Comparison of large and small manufacturer´s marketing process in relation to sales process
Summary
5 Case study – A3XX vs. B7XX
5.1 Case study – A3XX vs. B7XX – practical part
5.2 Case study - simplified example
5.2.1 South Africa Airways characteristics
5.2.2 The route characteristics
5.2.3 The Johannesburg International airport characteristics
5.2.4 Possibly available airplanes
5.2.5 Analysis of customer and market situation
5.2.6 Desired route and aircraft
5.2.7 Product offering and marketing argumentation
5.2.8 Request for proposal
5.2.9 Sales proposal
5.2.10 Memorandum of understanding
5.2.11 Purchase agreement and final negotiations
5.2.12 Customization of the aircraft
5.2.13 Delivery
Summary
6 The conclusion
7 List of references
List of appendices
list of figures
Figure 1: data sheet format suitable for trend tracing
Figure 2: data sheet format not suitable for trend tracing
Figure 3: Graphical interpretation of the information session principle
Figure 4: Staff meeting principle and flow of information inside of the company
Figure 5: Phases of the sales process in relationship to the company departments and to the marketing process – large manufacturer
Figure 6: Phases of the sales process in relationship to the company departments – small manufacturer
Figure 7: Comparison between large and small aircraft manufacturers – marketing and sales process relationship
List of tables
Table 1: Aircraft product characteristics – marketing view
Table 2.1: Cabin items division – aircraft interior marketing view – part one
Table 2.2: Cabin items division – aircraft interior marketing view – part two
Table 3: General characteristics´ comparison of large and small aircraft manufacturer
Table 4.1: The comparison of large and small aircraft manufacturers´ marketing departments organization
Table 4.2: The comparison of large and small aircraft manufacturers´ marketing departments hierarchy
Table 5: The comparison of large and small aircraft manufacturers´ marketing departments activities
Table 6: The comparison of large and small aircraft manufacturers´ marketing processes in relationship to sales processes
Table 7: Airbus A340-600 seating characteristics
Table 8: Boeing B777-300ER seating characteristics
Table 9: South African Airways fleet – April
Table 10.1: Possible marketing argumentation related to the cabin and comfort – part one
Table 10.2: Possible marketing argumentation related to the cabin and comfort – part two
Table 11: Aircraft performance analysis of A340-600 and B777-300ER on Johannesburg international airport
Table 12: Aircraft revenues vs. costs – short list
List of abbreviations
illustration not visible in this excerpt
Introduction
Majority of publications related to aviation and marketing mainly describes and explain marketing processes of airlines or airports; this thesis is focused at, and solely dedicated to, providing a more in-depth understanding of marketing processes utilized by the manufacturers´ marketing departments. It also strictly describes differences among large and small manufacturers. As far as we know there is no literature comprehensively explaining or comparing different manufacturers´ marketing departments or processes nor any theses or materials for students related to this topic; because of that we decided to compile all reachable materials, compare them and also put personal experiences from the subject into this work.
The first part of the thesis contains an overall overview and marketing definitions as they apply to the product of the aircraft.
The main theoretical part describes large aircraft manufacturers´ marketing process. For a better understanding there is also a description of the sales process in relation to marketing process. The main theoretical part also explains small aircraft manufacturers´ marketing process and compares both.
Because marketing processes of large manufacturers are highly complex and as far as we know had not been described in any materials we decided to use a shortened and simplified example of a large aircraft manufacturer marketing process to explain how complex the marketing process of a large aircraft is.
1 Marketing mix in aircraft manufacturers marketing
1.1 Methodology of work
Before we started the main part of this thesis the methodology of work had to be clarified. Because as far as we know there is not a single publication comprehensively describing or comparing different aircraft manufacturers´ marketing processes we had to use different working methods; the most suitable way was to make face-to-face meetings with experts from the field, conference calls and use a questionnaire in order to obtain certain desired information.
We decided to draw from topics partly related to the thesis, from literature and mostly from personal practical experience. We also asked different aircraft manufacturer marketing specialists from all around Central and Western Europe for cooperation. These specialists provided us with unique information and data related to the topic. Because much of the information is labelled as confidential, we had to find the right way of interpretation. All of the data which are used for the practical part of the thesis are freely accessible on the internet by any user.
Conclusions in separate parts of the thesis are based on practical personal experience of the author and on the general principles used in the industry.
1.2 The definition of marketing
Gathering all kind of information and using it in your profit. [1]
Every single piece of information, every small detail could make a difference. E.g. continuous/non-continuous hand rail, detailed picture of interior linings, 1 added inch in seat width, increased payload, better thrust performance, service centre closer to customer hub, use of high-tech materials, lower maintenance costs, even the window size, etc.
1.3 Marketing mix
The marketing mix consists of the types and amounts of controllable marketing-decisions variables that a company uses over a particular time period.
Commonly referred to as the "four Ps", these variables are:
1.) Product. The right product (or service) must be developed for the target market.
2.) Price. A price that gives good value to the customer and adequate revenue to the carrier must be set for the product.
3.) Promotion. Personal selling and advertising must be used, both to communicate information about the product to the customer and to facilitate sales.
4.) Place. Appropriate channels of distribution must be found to ensure that the product reaches the target market at the right time and in the right place.
These four elements are the controllable marketing factors that should be used to reach the target market. Thus, any discussion of the business activities that direct the flow of services to customers must stress the four Ps. Because all four elements are present to some degree in any marketing situation, the manufacturer marketing team task is not to decide whether to use a particular element, but rather to determine the relative emphasis to place on each element in the final marketing program.
It must be recognized that the marketing team must contend with certain uncontrollable variables. Unfortunately, the marketing team does not work in a vacuum. Its actions and strategies will be affected by some or all of the following variables:
1.) Cultural and social differences. These are traditions and values of various ethnic groups that represent potential customers. Such traits as eating habits can vary considerably in different parts of one country, especially when it comes to multicultural countries with greatly diversified populations.1
2.) Political and regulatory environment. Political climates are constantly changing. New levels of taxation and government spending can affect marketing strategies set by the manufacturers. Regulatory requirements, such as night operation restrictions or aircraft noise restrictions can undermine the best of marketing plans.
3.) Economic environment. A good marketing program might be a flop if the economy is going through a recession or rapid business downturn. Airlines are very sensitive to changes in the economy and this fact could affect aircraft manufacturers.
4.) Existing competitive structure. The number and types of competitors the marketing team must face in its target markets may vary.
5.) Resources and objectives of the company. Top management really controls these variables, and the marketing team must work within the restraints imposed on them.[1]
Although the marketing team can do little or nothing about these uncontrollable variables, it certainly must recognize them and be in a position to respond to them by altering its marketing strategy. The term marketing strategy is used to describe the process by which the marketing mix is changed. [2]
1.4 4 Ps in aircraft manufacturer´s marketing
1.4.1 Product
The airplane, or the aircraft, is generally recognized as the main airline marketing product. But this term includes many other objects starting with seat comfort, going thru catering possibilities, flight performance, weights and a whole list of other more or less important subjects, which are defining the right product for the right market with desired characteristics.
This complex product known as an aircraft is the subject of studies for airline marketing. To find and compile the right product for a customer there is a need to revise, optimize and harmonize customer's demand with actual passenger or customer demand and forecasted future of air transportation.
The task is indeed as difficult as it sounds. Optimizing and harmonizing of the product is the result of many days which flow in to weeks and months spent on each side; the side of the airlines and the side of producers trying to find the best proposals which could comply with the most of conditions required by customer. Defining the product's final status and characteristics is long process with many iterations. It includes a lot of researching, gathering data and processing, analysing information, comparing and negotiating with customers.
Even if product outer characteristics appear to be nearly the same, for example the aircraft type is the same, let's say Airbus A330 or Boeing B777, there could be a lot of differences inside of the product itself, which are price making and distinguishing products for different customers and markets. It means aircraft producers have a hard time with defining the right product for a certain market or customer, because demands are always different and the whole process of customizing needs to be started over and over again for each case study.
Table 1: Aircraft product characteristics – marketing view
We can divide aircraft product characteristics into five main groups:
illustration not visible in this excerpt
[3]
1.4.2 Price
The right product for right the customer, distributed by the right channel - place should have also the right price. Price is another crucial and important element in customer deciding process. Price is also one of the main competition tools.
Almost all customers search for the best price according to their desired product. Some of them are not focusing on the best price only in terms of the lowest price. They are also considering the product itself because the lowest price does not always mean the best choice for their particular case.
Price as mentioned above is one of the most powerful competition tools together with the superiority of the product. Customers are about to negotiate the best price. On the other side is the marketing team providing a manufacturer's negotiator with strong arguments. Arguments which are presenting the product price as reasonable. Price should represent the quality of the product, technology level, its superiority, and last but not least perceived added value.
Added value could be perceived in dozens of different ways. For example some customers can see added value in superiority of the product related to its name or type of the aircraft, which could provide them with a competitive advantage in front of their passengers. For example, an airline will choose a Boeing B787 instead of an Airbus A330 because of its high-tech features e.g. fully composite body, modern interior, lower cabin altitude – cabin air pressure, etc.
Other added value of an aircraft could be the ability to take-off fully loaded from high and hot airport. For example customer could choose an Airbus A340 instead of a Boeing B777, because of its better performance on high and hot airports without considering the price.
It is hard to obtain true insight into aircraft manufacturers´ pricing policies. Because of this it is hard to explain how the price is used as a competition tool. This is because all the main aircraft manufacturers are trying to keep their pricing rules confidential. However there are known cases, which are providing us with a crystal clear view of different aircraft pricing approaches.
Approach number one and also the fairest approach was mentioned above. It is when the price depends on:
- the quality of the product
- technology level
- its superiority
- materials used
- human working hours
- reasonable profit
- etc.
We can say that this type of pricing is clear and fair. No bargains, no subsidies, nor special service for free.
Second approach, least fair but still used is a special pricing approach. In this case price of an aircraft could vary because of different reasons. Usually the price is lower because:
- Manufacturer is trying to beat another competitor. (lower price, potentially no profit nor loss)
- Manufacturer is receiving government or other subsidies. (Receiving incentives means, that part of an income could originate from other sources than from customers. Subsidies could lower the costs and that is possibility to lower the price or earn more.)
- Manufacturer is willing to have a profit, but still wants to beat the competitor. Possibility to take financing from different product program to subsidize sales of another product line.
For example, in the Boeing B787 case, the World Trade Organization (WTO) discovered that subsidies were given to the Boeing company by government, which allowed Boeing to set B787 price at such a low level, that the Airbus company was not able to compete. They also found, that without these government subsidies Boeing would not be able to develop the technologies and build B787. If not subsidized, the Boeing Company would end up in a significant loss.
To be completely honest we should keep in mind that all the main aircraft manufacturers are receiving subsidies. Some of them are considered legal and some of them could turn into illegal ones as we could see in the Boeing vs. Airbus case 2011 ruling.
The price of the aircraft and of its standard parts and standard modifications is usually described in a catalogue, the so called catalogue price. The catalogue price is set as a set of standard parts and modifications by the product team. The product team should be collaborating with other teams and also with the marketing team during the catalogue creating process. Communication with the marketing team is very important because the marketing department knows customers' needs, wants and feedback. But it is important to remember that the bigger the manufacturer´s headquarter, the harder it becomes to effect good communication between the departments. For more about internal communication see section Communication inside the marketing department and inside the company.
Why are there the catalogue and no catalogue prices? The product is compiled from many different units and parts. For example customer can choose different engine options, different liveries, different cabin configuration in terms of class division, catering possibilities or crew rest compartments, different cargo hold possibilities in some cases customers also have a choice of quick change aircraft and many other features. The need to specify and compile all the product possible variants or versions inspired manufacturers to create a catalogue. So at the beginning it used to be a thick book with all the possible versions of the product.
Today the catalogue is not only the list of units and parts. Nowadays it has a presentation role of price differentiation. It works as follows. What is in the catalogue is mentioned as standard. Any other modification in units and parts, let's say in configuration of the aircraft, is called and treated as non-standard. Any non-standard unit, part or modification is usually subject to individual availability study and price analysis. Of course implementation of such a unit or part usually means increasing price of the aircraft. Increased price often results from additional availability analysis or even additional certification process.
1.4.3 Promotion
It is hard to say when exactly promotion is taking place. Basically we can speak about pre-rollout promotion and after rollout promotion.
Pre-rollout promotion is focusing on promoting and selling the product which is not yet available in physical form. We are talking about promoting non-existing aircraft. Negotiating and promoting features of non-existing aircraft is very hard. But manufacturers have all the data and tools to be able to promote this kind of aircraft/product. It is truly harder to promote and negotiate without feedbacks from the real service. Data and feedbacks from real service are very important while building the marketing campaign arguments. There could be a risk of disappointment on the customer side after entry to the service because of many different reasons such as:
- Pilot negative/positive feedback
- Passenger negative/positive feedback
- Flight crew negative/positive feedback
- Etc.
Here are just a couple of examples to imagine what could happen right after entry to the service:
Take the case of electro-chromatic windows shutters which look good and very high-tech when presented in cabin marketing arguments. But try to imagine a long-haul "overnight" flight from Europe to USA. Most of passengers want to sleep on board of such an aircraft. As cabin marketing promotion of these shutters is so strong and looks very good in front of customers, customer will choose only electronic shutters and will refuse mechanical ones. But after delivery and entry to the service they will realize that the cabin crew is helpless in their effort to make complete darkness on board of the aircraft needed for the sleeping phase of an intercontinental flight.
This feature cannot be fully tested and evaluated without entering to the service and use by passengers.
As a next example we can mention Airbus A380 and its silent service. This feature was communicated before entry to service and it is one of the main marketing arguments also nowadays. The truth is that Airbus A380 is so silent that pilots and cabin crew from Emirates airlines are complaining about that. They can't sleep well in the cabin crew rest compartment because the noise caused by the aircraft is lower than the noise made by passengers.
But there are also worse cases of hidden failures. E.g. Boeing B787 had a serious problem caused by humidity and by hull construction itself. The manufacturer during the first test flights found out that humidity condensates on carbon fibres during pressure changes. Pressure changes are caused by altitude change and by pressurization. The condensation was so massive that it caused raining inside of the cabin.
After-rollout promotion has the same role as pre-rollout promotion. It has to point out the main reasons why to purchase "our" aircraft and not "their" one. Comparison with competitors is taking place.
For example in the case of big jet manufacturers like Airbus and Boeing it is quite clear who the competitors are because Airbus and Boeing are acting in the same market segment. We can say that they share a duopoly market with each other in terms of the majority of their product portfolio. Of course there are other competitors for example in the hundred seaters such as Bombardier or Embraer or another possible competitor from China called Comac.
Aircraft manufacturer marketing is not only about promoting the aircraft itself. The marketing process has also the goal to promote other features associated with aircraft operations; e.g. in terms of pre-sale pilot training, possibility to find the best way of leasing etc. Or after sale service such as opportunities to have an overhaul service centre as close as possible, reduced crew training based on product lines commonality etc.
The product is promoted by manufacturers marketing teams in different ways. It starts when marketing team members known as infield units start dealing with customer´s requests, needs and wants and continues with marketing team based in manufacturers headquarter also dealing directly with customers responding on their requests or contacting them based on marketing research results. This is called direct marketing. Marketers are communicating and influencing customers directly supported by detailed analyses and facts matching a customer's status.
Another very important and effective way how to promote the product or its part or how to try to beat and to surprise competitors is to participate on international display markets also called expos or promote the product at international air shows.
The reason is that a lot of these shows are sharply watched and followed by airlines, other customers as well as by passengers and by the press. For more about market displays see chapter "Marketing mix in aircraft manufacturers marketing" part "Ready for expo".
Last but not least web sites are another channel used for product promotion. Thanks to the internet it is easy to promote anything all around the world in no time.
1.4.4 Place
Majority of the products that we know are distributed thru the wide network which consists of at least the manufacturer, a wholesaler and a retailer. Products are manufactured then sold to the wholesaler and afterwards distributed and sold to the customer by retailer.
The situation in the distribution of a brand new aircraft is different. Because the plane is a complex, big and expensive machine they are distributed to the customer directly from the manufacturers' facilities. This means that the distribution channel has just two components. These are the manufacturer and the customer, usually an airline. The definition of a distribution channel like this is very clear and the only right one from the manufacturers´ view.
But the truth is that there are two distribution systems of a new aircraft. The first formed only by the manufacturer and the customer and the second one formed by the manufacturer, a lessor and the final customer.
We have to consider the fact that not every airline is willing and able to buy a new plane. Some of them are using, according to their business model, services of a lessor. Lessor can be called also the leasing company. And because of that the distribution channel of the product has more than two sides. This view is right while we are considering the airline as the final customer. In fact the manufacturer's customer here is not the airline, but the leasing company. From this point of view the distribution channel is once again built from two components, the manufacturer and the customer.
1.5 Communication inside the marketing department
Communication is one of the main tools of marketing. It follows from the marketing definition itself. "Marketing means gathering all kind of information and using it in your profit."
Good information handling and sophisticated information systems can improve efficiency and speed-up communication. In other terms efficient communication is saving time. And by saving time communication reduces the "monkey" work time. In the end it means reducing of costs and improving of work logistics. This is why communication is very important.
Companies are different, and so also the communication culture will differ. The main reason is the structure of the responsibilities inside the company and the number of departments and employees. Responsibilities are setting the rules for data and information handling or sharing. Numbers of departments and numbers of employees are good for communication difficulties measuring. There is direct correlation between increasing number of departments or increasing number of employees and the increasing communication difficulties or barriers.
Small companies consist of a couple of departments. Each department has usually one or two employees. Communication is easy. But large companies as Airbus or Boeing have more departments and for example marketing departments of these companies could have more than one hundred employees. Data and information handling are then very difficult.
Common problem in large companies is that the same information and data are often gathered multiple times by different departments, offices or employees. It means that information which is laboriously extracted from different information sources stays somewhere in the system with little use. Or another problem is that some of the files are filled, but in the way which is not suitable for other department needs. Let's explain it on easy example.
1.6 Examples of information gathering, sharing and use
1.6.1 EXAMPLE 1: Performance vs. technical marketing office
Imagine that the aircraft performance marketing team needs a list of airports which are available for landing and take-off of some aircraft type. Usually they need this kind of data to build a better marketing argumentation than their competitor. Let's say Boeing B777 and Airbus A340 are considered types. There is only a couple of airports certified for such an aircraft. But by increasing the aircraft engine thrust in other words increasing performance, there would be a longer list of available airports.
After a hard and long-lasting gathering of data, performance marketing team has results and a new updated list of airports available for their aircraft with increased performance. This list with detailed and updated data considering the airport characteristics in relation to certain type of the aircraft is stored on servers of the manufacturers marketing department and ready for use. After some time there is another office or employee in the marketing department, let's say "technical marketing office or employee", which needs similar kind of data. There are two most likely versions of the following events:
1.) The technical marketing office knows the list because the hierarchy of the department and the information system are perfectly working. They are about to use the list without prolonging or delaying their work. They are saving time and money.
2.) The other possibility is that the technical marketing office has no information about the list. They are about to start gathering information and data from the start.
Unfortunately version number two is more common and more probable in large companies. It is because hierarchy and very often having too complicated inner policy related to data sharing and use.
Another example is showing the difficulties caused by different needs of departments and offices. We will show also why common formatting of documents is helpful for the organization of work and communication.
1.6.2 EXAMPLE 2: Different format of data sheet
Marketing departments are gathering information and using it for their profit in terms of building the marketing argumentation or to get some experience and important facts from the living example. The fact is that all of the conclusions are based on detailed and often on quite complex data analysis.
Fundamental data which are needed are mostly stored in electronic files. Common problem is that one office is using these files differently than another office or department. Because of that we can find two or more files with the same data, in the same file type, but with different data sheet structure. This fact is making work more time consuming. Let's see why.
For example office number one needs the file just for listing of proposed aircraft. But for their needs it is crucial to list there all the details about aircraft cabin configurations. These data include:
- name of the aircraft layout (e.g. B772 – Mount Blanc airlines)
- year or date of manufacture/drawing
- total seat-count in each class (e.g. FC – 20, BC – 30, YC+ - 50, YC – 150)
- total seat-count between doors (safety issues)
- number of trolleys in each class and ratios (trolley/passengers)
- number of lavatories in each class and ratios (passengers/lavatories)
- seats dimensions in each class
- aisle dimensions between seats in each class
- square metres per one seat in each class
- etc.
Because the set of data is so wide, office number one is using two rows for one recorded aircraft. This is suitable for them, because they have all data on the screen. But on the other side is office number two. This office is interested in trend tracing e.g. of seat count in different classes in last five years. For their purposes the current sheet format is not suitable at all. It is good to mentioned that some of the aircraft models could have more than several hundred proposals or layouts made for a variety of different marketing campaigns. The fact of different data sheet format is producing delays and creating higher workload.
Problems like this could be solved by better organization inside of the department and by setting general rules of file formatting. Of course there could be much more difficulties than only these two mentioned.
illustration not visible in this excerpt
Figure 1: data sheet format suitable for trend tracing
illustration not visible in this excerpt
Figure 2: data sheet format not suitable for trend tracing
1.6.3 Reasons of communication difficulties
As we mentioned above communication problems could be caused by complex structure of the company hierarchy and policy related to the data sharing and use. Usually there are also complex rules set, regulating information flows.
Very common problems are caused by confidential files. Some of the data are considered as confidential only because they were gathered and presented by company employee or department regardless of the fact that they were found on the internet.
Data sharing and communication is inside small companies is much easier. This is because a small company has only couple of employees involved in the marketing and sales process. Usually the small company has just one or two employees working in the marketing department and one or two employees working in the sales department. This fact is making communication more effective.
1.6.4 Solution of communication in large and small companies
It is clear now that communication is easier and more efficient in small companies. Due to this fact, small companies do not need complex and expensive, computer-aided information systems. They do not even need their own information technologies expert. All they have to do for sharing information is to set up a local computer network use the internet and hold staff meetings.
But the situation is different with large manufacturers. The information volume and flows are too big to keep them without computer-aided administration. Here is the right place for use of the tools for information administration together with local computer networking and internet in cooperation with staff meetings and information sessions for employees.
1.7 Administration tools in communication
Administration tools are made by specialized companies and purchased by aircraft manufacturers as a final product ready for use. But a lot of tools have to be created or at least modified by manufacturer's employees. It is because different departments have different requirements related to the information administration system.
Here is the right time and the right place for implementation of the data and communication management. It is worthy to set rules unifying at least the format of the files and data sheets.
Although the fact that unifying could help to save time it is not common in large companies. But nowadays the commonality in handling of information is getting to the top of the future vision lists in all companies. It is becoming crucial to have a common data management system also because the production volume is increasing rapidly and manufacturers are enlarging their departments.
The latest trend in unifying the corporate files and their usage is visible for example in marketing departments and in PowerPoint presentation files composing. Marketing departments have systems based on one main storage hub. Files there are indexed and marked by date and type of information they contain. All that is needed and all what that employees have to do to get the information is to fill out a request form with key words and click. The system is then able to find all the slides with requested information and compile them into the one PowerPoint file. The employee does not need to do anything, just adjust or edit the slides into a desired look. The system is of course also able to change and update automatically the motive or "skin" of corporate slides.
1.7.1 Staff meetings and information sessions
Another way how to share information is staff meetings. It is the easiest way how to share some information with the team. Meetings are organized for offices´ staff or for management staff. Meetings are usually for small groups up to ten or fifteen employees.
On the other hand the information session for employees is a large event for the whole department; a department could consist of more than one hundred persons.
These events are providing employees with basic sets of information. Usually are used to brief department about news from other departments or the latest news from the industry worldwide.
illustration not visible in this excerpt
Figure 3: Graphical interpretation of the information session principle
[...]
---
[1] WELLS, A.T. – WENSVEEN, J.G. Air Transportation: A management perspective, Fifth edition, Thomson Brooks/Cole, 2004.
Details
Pages

90

Year

2012

ISBN (eBook)

9783656400660

ISBN (Book)

9783656401209

File size

876 KB

Language

English

Catalog Number

v212075

Institution / College

University of Žilina

Grade

Tags