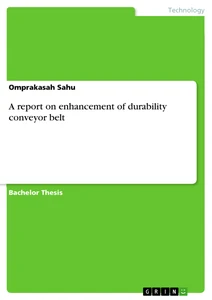 A report on enhancement of durability conveyor belt
Bachelor Thesis 2012 44 Pages
Excerpt
Table of content
Acknowledgement
Abstract
List of Figures
List of Tables
Table of content
Chapter 1 Introduction to problem.
Chapter 2 Literature survey
Chapter 3 Intro.to pelletizer unit.
3.1 Pelletizer unit introduction
Chapter 4 Problems in pelletizer unit.
4.1 Problems in pelletizer unit
Chapter 5 Solution to the problem.
5.1 Why tantalum?
5.2 Hardness of tantalum surface
5.3 Bond strength of tantalum surface
5.4 Surface roughness
5.5 Ruggedness of tantalum surface alloy
Chapter 6 Tantalum coating Process
6.1 Tantalum thin coating
6.2 Tantalum thin coating technique
6.3 Mechanical cladding process
6.4 Chemical coating process
6.5 Comparison of different coating processes
6.6 Tantalum surface alloy technology
6.7 Advantages
6.8 Disadvantages
6.9 Molten salt tantalum coating
6.10 Tantalum ore price
Conclusion
Appendix
Reference
ACKNOWLEDGEMENT
To say that industrial training at Essar Oil Limited, Vadinar was wonderful experience would be an understatement. In fact it has been nothing short of an experience that was intellectually fulfilling mentally satisfying and professionally enriching.
So before getting into the thick of the subject, we would like to thank differentially all those individuals who made this possible.
Our HOD and project Mr. AshwaniDubey, Mr. ParitoshAgnihotri, Mr. DhirajLote, Mr. Jigar Joshi, Mrs. Rekha and each and every one who helped us in one or other forms and guided us in every instance of our project. It is just because of their advice and counsel;whenever we approach them inany dilemma our project has been generous. We are grateful to them for their time for us despite of their busy schedule to prod us in right direction.
It would also be unfair if we forgot to mention the name of Mr. RajendraGohil(SIC) our industrial mentor, Mr. Sudhansu Mohan(operations) and Mr. Romin Gandhi(operations) a heartily thanks to them also.
ABSTRACT
This report contains industrial define problem of pelletizer unit, Essar Oil limited Vadinar. The problem is about corrosion in belt conveyor and the possible suggestions to overcome corrosion with the use of tantalum. Comparison between several metals has been carried out to check out the superiority of different metal under acidic conditions.
LIST OF TABLES
Table No. Table Description
Table 2.1Corrosive resistance of different metals
Andtheir characteristics.
Table 2.2 Corrosion resistance of Ti, Zr, Hf, Nb, Ta
In some corrosive media
Table 6.1 Comparison test
Tableb1 Toxicological test
LIST OF FIGURE
Figure No.Figure Description
3.1 Flow diagram of pelletizer unit
5.1Sample figure.
5.2Sample figure.
5.3Sample figure.
5.4Sample figure.
5.5Sample figure.
5.6Wet chlorine-tantaline
5.7Sulfuric acid-tantaline
5.8Liquid Bromine-tantaline
5.9Wet chlorine-FEP
5.10Sulfuric acid-FEP.
5.11Liquid Bromine-FEP
5.12Wet chlorine-xylan
5.13 Sulfuric acid-xylan
5.14 Liquid Bromine-xylan
5.15 Wet chlorine-nickel plating
5.16 Sulfuric acid-nickel plating
5.17 Liquid bromine-nickel plating
5.18Sulfuric acid-stainless steel
6.2Thermal spray tantalum coating.
Chapter 1 Introduction to problem in enhancement of durability conveyor belt
Problem statement:
Corrosion in steel belt conveyor due to introduction of liquid sulphur on steel belt The temperature of liquid sulfur falling on the steel belt conveyor is very high upto 1250c and the corrosion resistance of steel belt conveyor is very less due to which the material of the belt corrodes.The main aim of using belt conveyor is to convert liquid sulfur into sulfur pellets.
Steel belt cooler cracks are due to:-
Reasons:-
- Cooling water pH problem.
- High chlorides content in cooling water.
- High conductivity of cooling water.
Possible suggestions:
For reducing the corrosive nature of belt due to highly acidic nature of sulfur at high temperature either coating of iridium or tantalum on steel should be carried out. Both tantalum and iridium shows great resistivity towards corrosiveness at high temperature. In the present note comparison of both iridium and tantalum is shown in means of cost,resistive nature, durability,temperature, effects ,availability are figured out. Alloys of molybdenum and steel or steel and zinc can also be used but at such high temperature the resistive nature of alloys is reduced and the material coated by such alloys gets affected.
For brief idea about the two metals i.e. iridium and tantalum several comparative results are attached to understand the corrosive resistance nature of these two metals.
A sincere attempt has been made to comprehensively cover to reduce the corrosive nature on the belt conveyor.Our hard work towards the solution of IDP clearly ties to the application and with guidelines on their putting into practice for implementing control of a wide range of industrial process in industries such as Chemicals, Cement and Petrochemicals etc.
Chapter 2 Literature survey.
Depending upon the aggressiveness of corrosive media,there is a wide range of metallic construction materials ranging from steel to non ferrous alloy used in CPI devices. The main corrosive media usually found in chemical processes are essentially: sulphuric acid, nitric, hydrochloric acid and strong alkalis. So in order to give a simplifying approach, acids are taken for example. There is arbitrary choice allows one to give for each material an order of magnitude of corrosion rate in this medium. Several metallic metals are listed according to their corrosion resistance properties. The other criteria for selecting metallic construction properties such as mechanical, electrical and thermal properties together with cost. Therefore these properties are taken into consideration in table given in the upcoming chapters.
Examination of various metals and alloys shows that only precious metals and refractory metals shows excellent resistant to corrosion in sever operating conditions but only the later class is the only best suited for a long service for a long time under harsh conditions with good engineering properties and moderate cost.
illustration not visible in this excerpt
Table 2.1: corrosive resistance of different metals and their characteristics.
[...]
Details
Pages

44

Year

2012

ISBN (eBook)

9783656396116

ISBN (Book)

9783656396376

File size

3.5 MB

Language

English

Catalog Number

v211489

Grade