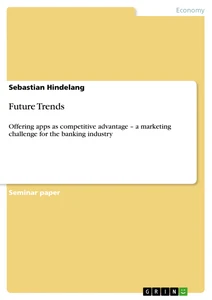 Future Trends
Offering apps as competitive advantage – a marketing challenge for the banking industry
Term Paper 2011 22 Pages
Excerpt
Table of Content
List of Abbreviations
List of Figures
List of Tables
1. Introduction
2. Market development
3. Technical opportunities of smartphones
4. Customer process integration
4.1. Private clients
4.2. Corporate clients
5. Challenges to overcome
6. Conclusion
ITM Checklist
Bibliography
List of Abbreviations
illustration not visible in this excerpt
List of Figures
Figure 1 - Smartphone adoption by market
Figure 2 – Internet users / mobile internet user
Figure 3 - Customer process integration
List of Tables
Table 1- Customer processes and the degree of desired support by banks
1. Introduction
In the last few years the utilization of smartphones has been increased. The smartphones are not only very popular for business people, but also for private persons. Can banks participate from this boom for their private and / or corporate clients, if they are offering applications (apps) for their products or services and respectively create a competitive advantage?
This assignment will start with an assessment of the smartphone and mobile internet market development and the technical opportunities which smartphones offer. It continues with a customer process integration approach, which is divided into private and corporate clients. The challenges will be highlighted which need to be overcome in the usage of smartphones. It will finish with the answer, if banks can create a competitive advantage and benefit by offering apps.
2. Market development
Since the launch of the iPhone by Apple in 2007, the mobile phone market has been undergoing a significant change. A new market segment of smartphones has been created. These smartphones not only provide traditional services, such as telephony and text messages, but also an easy to use mobile internet access. The success of smartphones can be seen in the increasing market share compared to non-smartphones and by the growth of mobile internet users. E.g. in December 2010 37,6% of all sold mobile phones in Spain were smartphones (comScore, Inc., 2011). The mobile internet users have increased e.g. in Germany by 85% compared to previous year. These growth rates remind of the growth rates of users in the early days of the internet beginning of this millennium.
illustration not visible in this excerpt
Figure 1 - Smartphone adoption by market
illustration not visible in this excerpt
Figure 2 – Internet users / mobile internet user
Source: Internet users (Forschungsgruppe Wahlen e.V., 2011), mobile internet user (BITKOM e.V., 2011)
Mobile phones also changed the habit of persons. Research shows that the mobile phone bill is the first bill that consumers will pay even before their mortgages, rent or any other debt (Stewart, 2009). Furthermore, the mobile phone became the constant companion, 51% of all Germans are not leaving the house without it and even 74% of 14 to 29 years olds (BITKOM e.V., 2011).
Possible uses of smartphones can be broadened by additional small apps (Moormann & Rosemann, 2010). So the Appstore of Apple encountered a boom in its first months, resulting in the billionth download after just nine months. By November 2010 the number of different apps reaches more than 300,000 (Anon., 2010). However, 'the gold rush is over' for simple apps and new developed apps need to be truly useful (Learmonth, 2009). Several banks already offer apps, without much added value thought. They show the closest bank branch or provide a hotline number. But why talking to a bank clerk or hotline, when the users want to manage their wishes online on the way? For banks the development effort may be high for a new platform, but they may be able to forward the cost to the users. In contrast to 'for free' culture in the internet, smartphone users are more likely willing to pay a fee for content or services (Reuter, 2010).
3. Technical opportunities of smartphones
Smartphones allow several technical opportunities to interact (Stewart, 2009):
- Short message service (SMS)
- Browser and application based functions
- Near-field communication enabled application (NFC)
SMS service allows simple interactions with the bank. Customers may send simple questions such as balance inquiries, the last few transactions, or an alert function, so the bank notifies the client once a certain event happened.
Browser and application based functions widen the opportunities to interact between customer and bank. This software serves as user interface and makes other smartphone services available for these interactions. This might be data communication via the internet or the exact positioning via the global positioning system (GPS).
NFC is a contactless communication technology which can open up the contactless payment capabilities of smartphones. Just by waving the smartphone device in front of a vending machine or using it to make virtually any purchase became already commonplace in Hong Kong. Over 80% of the consumers are making such sort of contactless payment.
4. Customer process integration
Changing environment and increased competition forces banks to find new ways to differentiate from their competitors and to be able to compete in future. Therefore banks need either focus on cost leadership or on a strong differentiation. Established banks are unlikely to compete against low-cost financial service providers, such as direct-banks. Therefore they must offer value adding products and services, which clearly differ from their competitors (Dohmen et al., 2009). The main strategic considerations which need to be taken into account are (Engstler, 2006):
- The scope of services has to be oriented on the needs of the customer
- The design of customer contacts has to create functional and also emotional added value to the customer
- The appearing has be adjusted in such a way, that
- Trust is created by presence, strengthening brand leverage in all relevant distribution channels
- Integration of distribution channels and control over channel-wide sales process is ensured
- Cooperation with service providers who can generate added value for the customer increases the frequency of interaction between the bank and its customer
To fulfil the customer needs and expectations all banking services have to align with the customer processes (Schmid et al., 2000). A customer process is characterised as the entire end-to-end process the customer passes through to meet a desired need or to solve a problem until satisfaction is met (Behara et al., 2002). During each step of this process, the customer needs support in terms of information, services and products from different kind of suppliers in order to fulfil the needs which release the customer produce. During these processes several interfaces between banks and customers arise and process different sub-needs within a customer process. A single process owner who could serve as a customer contact during the whole customer process does not exist. Instead the customer has to get in touch with many different suppliers. For banks this is the opportunity to act as service integrator to bundle all these offerings, demonstrating itself as primary contact to the customer via multiple distribution channels throughout the whole customer process chain (Dohmen et al., 2009). The following illustration shows this approach.
illustration not visible in this excerpt
Figure 3 - Customer process integration
Source: (Dohmen et al., 2009, p.388)
As the smartphone became the constant companion, offering a smartphone application enables the bank to enter the centre of the customers live and grant access to its products and services at any place and time.
The products or services do not have to be all offered by the bank itself. Instead of this the bank can act as a broker and offer the best fitting service from its supplier network. When it comes to financial needs it can offer its own products or services. The bank would than benefit independently which product or service the customer selects by a margin fee or the fees link to its own offer.
4.1. Private clients
Before the bank follows such a customer centric business approach it has to identify which customer processes are related to banking and if the customer requires support. In an empirical survey, customer processes and their desire for support are identified (Kahmer & Moormann, 2005). These are:
illustration not visible in this excerpt
Table 1- Customer processes and the degree of desired support by banks
The customer buying cycle to derive the requirements and expectations of retail banking customers includes information gathering, evaluation, purchase and after sales as steps in the process (Heinrich, 2002). In the following the potential area of usage of an app as gateway to the bank processes to support the customer process are demonstrated by the example of buying or selling a house:
Information gathering: On one side to buy or to sell a house requires some knowledge of the involved parties. During this process the parties are confronted with several special terms such as "mortgage", "conveyance" or "annuity". A knowledgebase which explains this kind of terms would be beneficial. On the other hand it is difficult to find the house of interest. For this purpose, while going for a walk through the area of interest, the smartphone could use the GPS coordination, compare these with available offers in a database and show the results on screen. A similar service is already offered by Sparkassen Finanzportal GmbH, which also informs the customer instantly once a new fitting offer is available (Sparkassen-Finanzportal GmbH, 2011).
Evaluation: During the evaluation of the offer, the knowledge of the bank to assess the true value of a house can be shared with the customer. A sample of this information is: average square meter price or average rent. It can be further enhanced by information of accessibility to public transportation or distance to kindergarten and schools. This can be assessed by the GPS position and public information available. The result can be shown directly on screen.
Purchase: The purchase itself cannot be executed by the smartphone as formal regulations need to be followed. The app can help to get in contact with the relevant parties, such as seller and buyer, financing bank or public notaries and may recommend a date to meet while comparing available slots in the calendars. As financing bank, a price indication could be already given at this time.
[...]