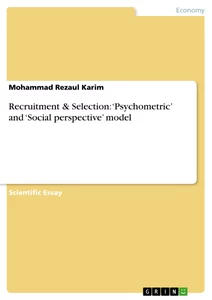 Recruitment & Selection: 'Psychometric' and 'Social perspective' model
Scientific Essay 2007 8 Pages
Excerpt
Recruitment & Selection: 'Psychometric' and 'Social perspective' model
M. Rezaul Karim*
Abstract:To meet the global competition and changing nature of customer needs, human elements are important where the recruitment and selection (R & S) is the first step of human resource management in the organization. It is no longer sufficient to be effective in selling a product or service on the reputation of the organization where competent and skilled workforce is urgent to recruit. In order to recruit and select human potentials from the possible source, some models are practised as the effective in the organization level. Though psychometric model is traditional one, it is widely used either in public or private institutions; and social perspective or exchange model is being taken into consideration as the best practice in HRM. To overcome the limitations of psychometric model of R &S, academics and practitioners emphasize on social perspective model to recruit and select best suited persons for the organization. This article aims at discussing the importance of two models in R & S and providing a comparative analysis so that any recruiting agency can adopt a strategy combining the both model which can be conducive to the organization to recruit potential human resources.
1.0 Introduction
The intensity of global competition and the changing nature of customer needs mean that to deepen organisational growth, a mere reliance on effective selling of a product or service would be inadequate (Newell 2005). What this implies is that corporate growth is contingent on attracting and retaining people who can contribute meaningfully to organisational success. Employing competent individuals requires setting up effective recruitment and selection procedures designed to 'select the right individuals and reject the wrong ones' (Newell 2005). Poor selection decisions can be quite expensive in terms of the time and cost involved in retraining poor performers, dealing with disciplinary cases and replacing wrongly selected individuals who leave shortly after resuming (Marchington & Wilkinson 2000). The psychometric model, with its 'person-job fit' approach, has been used by selectors and reinforces the 'good practice model of recruitment and selection' (Newell 2005:116). This paper critically examines the psychometric model's contribution to our understanding of recruitment and selection. It also investigates how the understanding of the realities of recruitment and selection methods has been broadened by the 'social perspective'.
2.0 Recruitment and Selection
Watson defines recruitment and selection as 'the processes by which organisations solicit, contact and interest potential appointees, and then establish whether it would be appropriate to appoint any of them (1994:185). Traditionally, recruitment and selection has its roots in the psychometric model where the organisation attempts to correctly match an individual to a particular job (Newell, 2005). The recruitment and selection process constitutes a core activity within human resource management (HRM), and with the incorporation of the management of human resources into organisational strategy, it has since acquired a strategic intent (Millmore 2003). Strategic HRM is therefore concerned with acquiring, deploying and allocating human resources in a manner that gives the organisation a competitive edge (Wolf and Jenkins 2006). To deepen the understanding of this process, it is important to examine what the terms 'recruitment' and 'selection' really mean from the HRM perspective.
2.1 The Recruitment Process
Recruitment refers to the process of attracting individuals who are likely to have the attributes required to fill a specific role or job (Newell 2005). The recruitment process is usually triggered by retirement, promotion, resignation, transfer and dismissal or technological or product market changes (Watson 1994). The first stage in the recruitment process is the job analysis, which is a process that describes a 'job's content and complexity in such a way that the information can subsequently be used to define the required knowledge, skills and abilities, and other characteristics needed by applicants' (Wilk and Cappelli 2003:105). Marchington and Wilkinson identify observation, work diaries, questionnaires and interviews as the four techniques to use for analysing jobs but also state a lot depends on the cooperation of the job holders and the context within which the analysis occurs. A job analysis is important because the information generated from the activity forms the basis of the job description and the person specification (Taylor 2000). The second stage involves the development of a job description. This outlines the 'purpose of the job, the tasks, duties and responsibilities assigned to the job, expected performance standards, remuneration and reporting relationships (Newell 2005). The third stage is to do a person specification which incorporates the human attributes necessary to carry out the job (Marchington and Wilkinson 2000). Rodger's seven-point plan[1]and Munro-Fraser's fivefold grading system comprising impact on others, acquired qualifications, innate abilities, motivation and emotional adjustment are two main tools used in defining person specifications (Taylor 2000). However, because both frameworks are heavily dependent on 'personal judgement to determine what human qualities are associated with successful performance', a competency-based recruitment approach, emphasising job competencies rather than personal qualities is becoming quite prominent (Newell 2005). Attracting individuals who meet the requirements of the job specification is the next stage. Critical issues to consider include whether to recruit internally or externally, and the methods to adopt in attracting the right people. Sources of external applicants include employee referrals, employment agencies, 'walk-ins' and educational institutions while methods of attracting a suitable pool of applicants include advertising, corporate websites and employment agencies and job centres (Newell 2005).
2.2 The Selection Process
The selection process involves measuring differences between the candidates who have been attracted 'to find the person who has the profile which best matches the person specification as indicated by the job profile or description' (Newell 2005). Not only is selection a decision-making process, it is also a process of reciprocity between the employer and the candidate (Watson 1994). While it is the employer who offers employment to a candidate, the selection process is only concluded when that individual accepts the offer and reports for duty (Marchington and Wilkinson 2000). Since the selection process entails collecting and ordering data and opinions from which decisions are made (Watson 1994), it is therefore important that employers choose appropriate methods in selecting candidates ((Marchington and Wilkinson 2000). The interview is the most popular method used to make selection decisions, although other methods are being applied to enhance the efficiency of the process (Newell 2005). The chosen methods are often determined by 'the employers' view of what is required to provide a satisfactory basis for decision-making and awareness of the appropriateness of particular techniques to provide what is sought' (Watson 2000:204). Marchington and Wilkinson (2000) however argue that no matter how efficiently designed or administered, none of the methods can generate perfect selection decisions that predict with accuracy who will and will not perform effectively in a given role. In assessing the effectiveness of each method, Marchington and Wilkinson outline four major criteria. They are practicability, sensitivity, reliability and validity. There are various selection methods. The most notable are interviews, assessment centres and psychometric testing. Newell writes that the interview technique remains the most widely used. Assessment centres are also used as selection methods. For better understanding a brief description is stated herein below.
[...]
---
*PhD Student at Graduate School of Public Administration (GSPA) , National Institute of Development Administration (NIDA), Bangkok, Thailand and Permanent Faculty Member of Bangladesh Public Administration Training Centre (BPATC), Savar, Dhaka-1343, Bangladesh.
[1]1. Physical make-up: no specific requirement; 2. Attainments: good academic qualification and some experience; 3. General intelligent: good intelligence; 4. Special attitudes: high verbal ability; 5. Interest: extra curriculum activities; 6. Disposition: dependable and sociable to the staff and incumbents & 7. Circumstances: must be prepared to do something anytime if needed.
Details
Pages

8

Year

2007

ISBN (eBook)

9783656368212

File size

491 KB

Language

English

Catalog Number

v207960

Institution / College

University of Leeds – Leeds University Business School

Grade

Tags