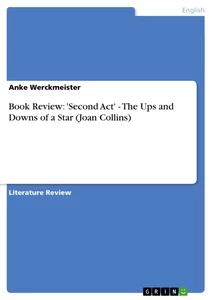 Book Review: 'Second Act' - The Ups and Downs of a Star (Joan Collins)
Literature Review 2006 3 Pages
Excerpt
The Ups and Downs of a Star
- Second Act by Joan Collins-
Joan Collins did it again. After her first autobiography Past Imperfect, published in 1978, she once more shows her talent for writing when her latest autobiography Second Act was first published in England in 1996 and in America in 1997. This time she avoids interesting details (i.e. she barely mentions her affair with Warren Beatty) and therefore relies on introspection to not provide another kiss-and-tell book.
Joan Collins, born in London in 1933 and best known as the scheming superbitch Alexis Carrington Colby on Dynasty, is a legendary beauty whose glittering stage and film careers have made her name synonymous with fame, glamour and fashion. The drama and excitement of her private life could be made easily into a Hollywood blockbuster. She takes the readers on a tour through her life's high and lowlights- a privileged upbringing in war-torn London; four failed marriages; her years as America's most hated, but, at the same time, most loved icon and her battle with Random House.
Second Act begins with a striking expression- stage fright! 'These words strike terror into the hearts of most performers' and that certainly came true for Joan Collins when she starts off her book by telling how it felt like to be awarded an O.B.E. from the Queen in March 1997. Furthermore, Collins being proud that she won the lawsuit against Random House, she devotes a whole chapter on the Random House trial, which is entertaining and proves that writing well is the best revenge because she was sued of allegdly having no talent for writing because of handing in a weak manuscript and she therefore was supposed to repay her million-dollar advance.
Collins also gives insight on meeting her teenage idols like Marilyn Monroe. When Collins was younger she used to write to her idols and favourite actors to get autographed pictures and when she first got to Hollywood in the 1950s, she was suddenly there where all her favourite celebrities were. Although she was shy and she never dreamed of being anywhere near her favourite film stars, she was delighted to finally meet the gorgeous Marilyn Monroe in person at a party. At this point, Collins trys to cast her spell over her audiences by applying her unique British wit and humour. She was warned by Marilyn, 'don't let the studio guys dictate to you' and because Collins as well as Monroe had a big bosom, she said, 'any gal who looks like she's hot stuff in the sack will never be taken seriously in this town'.
[...]
Details
Pages

3

Year

2006

ISBN (eBook)

9783656288503

File size

397 KB

Language

English

Catalog Number

v202920

Institution / College

Free University of Berlin – Sprachlabor Englische Philologie

Grade

Tags