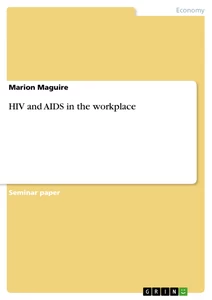 HIV and AIDS in the workplace
Term Paper 2003 13 Pages
Excerpt
TABLE OF CONTENTS
I. INTRODUCTION
Purpose and Importance of the study
Statement of the problem
Alternatives and Criteria
Limitations
II. THEORETICAL OR PRACTICAL FOUNDATION
Introduction
Theoretical or practical basis
III. RESOLUTION PROCESS
Introduction
Data
Location of the data
IV. ANALYSIS
Introduction
Analysis of the alternatives
V. CONCLUSION AND RECOMMENDATION
VI. REFERENCES
I. INTRODUCTION
Purpose and Importance of the study
HIV / AIDS (Human Immunodeficiency Virus / Acquired Immune Deficiency Syndrome) have become a health and an economic problem in the business environment. The majority of large U.S. corporations already employ a significant number of people who are infected with HIV. Global statistics show that in 2003, 34.3 million people are living with HIV while in 1999, 5.4 million were living with the infection (AIDS Weekly Plus, 2003). As the epidemic spreads throughout the workforce, Human resources personnel and managers in general must be prepared to deal effectively with the issue of having employees infected with HIV or having AIDS.
Statement of the problem
As mentioned, the virus HIV influences not only the internal system of an individual's body, but the infection rate also affects business and the workplace. The cost of absenteeism, provision of hospital and medical care as well as training and wages for new employee's replacements is enormous. Following table shows the percentages of HIV related costs.
illustration not visible in this excerpt
It is estimated that by the end of the twentieth century HIV will cost American businesses about $55 billion in lost productivity, higher health and disability insurance premiums, additional expenditures for hiring and training new employees and diverse other costs (Backer, 1992). But moreover and more importantly, HIV at the workplace also leads to a notable ethical dilemma. There are different moral viewpoints as well as different interests that may conflict with those of another. Additionally, rights of employers and employees may conflict. An employer has the right to expect productivity and employees are permitted to a safe work environment as well as not being discriminated. Therefor making ethical decisions in the workplace is not a simple, but a very important matter.
Alternatives and Criteria
In order to improve making ethical decisions in the workplace, there are different alternatives that need to be considered. One alternative is to have corporate regulations and programs that address this change in the business environment. Training of current employee's legal and ethical skills regarding the issue, or even start to train and prepare business school students that will become future managers are important factors as well. Criteria that are used in this research paper are discrimination laws that cover HIV and AIDS at the workplace, HIV testing regulations, confidentiality issues and legal rights of co-employees.
Limitations
In this research paper, limited alternatives are generated. It is clear that Human Resources and Managers have to react to the changed environment through the HIV disease. It should not be a choice what alternative to pick, but more an effort of taking broad action to be able to ensure a productive, safe and healthy workplace. For this reason, it has to be looked at different approaches instead of alternatives. Another limitation is that state laws as well as regulations in the private in contrary to the public sector vary enormously. For example legal HIV testing of employees is prohibited in the private sector, but in many nonunionized sectors employers still test their employees for HIV. To cover all variations and different state laws is beyond the scope of this research paper.
II. THEORETICAL OR PRACTICAL FOUNDATION
Introduction
Who should Human Resources advice about an employee's HIV infection within the organization? Rights of this individual employee as well as protection of co-workers and the public have to be taken into consideration before making this critical decision. Firstly, the "Equal Employment Opportunity Law" covers employees with HIV/AIDS. Under this umbrella law, there is a law particularly addressing employees with HIV/AIDS. This law is called "Americans with Disabilities Act" (ADA). Human Resources personnel have to know who has a legitimate right to know about the employee's HIV status and how to approach this dilemma independently from the employee's position within the organization. Following, some important factors like discrimination laws, HIV testing regulations, confidentiality, and finally legal rights of co-employees will be described.
Theoretical or practical basis
Three general types of law protect persons with HIV disease from employment discrimination: federal, state, and local statutes (Rubenstein, W., 1996). HIV infected persons were first legally protected at the state and the local level. Nearly every state has laws that provide protection against discrimination based on a person's handicap or disability. Throughout the 1980s, courts and administrative agencies issued rulings declaring that HIV disease was a disability or handicap, and thus that people with HIV disease were protected by disability discrimination laws from harmful employment decisions. Correspondingly, a federal law called the Rehabilitation Act was passed in 1973. It applies to the federal government and was also interpreted to prohibit discrimination against people with HIV disease. The statute was intended to bring equal employment opportunities to handicapped individuals in the federal government and in programs and organizations that receive federal funds. Most importantly, in 1990, Congress enacted the Americans with Disabilities Act (ADA), a federal law that provides consistent, powerful protection for individuals with disabilities such as HIV. ADA "prohibits employers from discrimination against a qualified individual with a disability and requires reasonable accommodation to the known physical or mental limitations of a qualified individual with a disability, unless to do so would impose an undue hardship" (Linda Kawamura, AVP, Human Resources, HPU). The ADA protects both individuals who could perform their job regardless of their handicap (people that are HIV infected but don't show AIDS symptoms, which is the case at the first two stages of the HIV disease), and individuals that could perform their job if reasonable accommodation is provided (stages three to five of the HIV disease with showing AIDS symptoms).
[...]