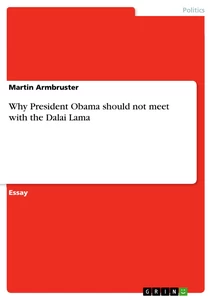 Why President Obama should not meet with the Dalai Lama
Essay 2009 5 Pages
Excerpt
Why President Obama should not meet with the Dalai Lama
By Martin Armbruster
illustration not visible in this excerpt
From the standpoint of the PRC leadership in Beijing, the "Tibet Question" is with no doubt one of the most pressing issues regarding China's sovereignty and territorial integrity. In recent years, the Communist leaders have made it clear that they regard Tibet as inseparable part of China by rejecting any call for Tibetan independence or political autonomy. Beijing's hard stance on the Tibet Question was documented best during March 2008, when the government deployed large numbers of People's Armed Police (PAP) forces to Tibetan areas in order to violently suppress demonstrations by Tibetan protestors―many of them Buddhist Monks and Nuns―which had spread across ethnic Tibetan communities. As a result, some hundred people lost their lives while many more were arrested by local authorities. The brutal behaviors of Chinese authorities, in turn, lead to harsh criticism by Western politicians, human rights activists and NGOs.[1] Furthermore, it showed how different the perceptions of Chinese and Western policy-makers are when it comes to questions of sovereignty, territorial integrity and human rights. The gap between China and the West becomes apparent when the Dalai Lama―the spiritual leader of Tibet and head of state of the Tibetan Government in Exile (TGIE) ―enters the political arena. While the Dalai Lama is highly respected in the Western world, the Communist leadership in Beijing views him as public enemy and has repeatedly denounced him and his "clique" as separatists, determined to split Tibet off the Chinese territory. Indeed, the Dalai Lama clearly spoke out for Tibetan independence during the last century, claiming that Tibet historically had been an independent country with its own people, language, culture and religion. In recent years, however, the Dalai Lama has changed his policy toward Beijing. For example, he recognized Tibet being a part of China and its 5000 years of history. Instead of a fully independent Tibetan state, he now demands cultural and religious autonomy for the Tibetan people within the PRC.[2] Despite those concessions, Beijing still views the Dalai Lama as public enemy while the question of Tibet is seen as an internal affair of the PRC. Meetings between Western policymakers and the Dalai Lama (or the TGIE) therefore are condemned by the CCP leadership in Beijing, which interprets such meetings as interference in Chinese affairs. This became apparent in November 2008, when Beijing cancelled the EU-China summit after the announcement of French President Nicolas Sarkozy to meet with the Dalai Lama.[3] Similarly, Sino-German relations were strained in 2007 when Chancellor Angela Merkel welcomed the Dalai Lama in Berlin.[4] The two examples show how sensitive the leadership in Beijing is when it comes to questions of territorial integrity and state sovereignty. Relations between the Dalai Lama and leading Western politicians have been interpreted as being supportive of Tibetan independence. Therefore, they are seen as a threat to China's sovereignty and territorial integrity.
[...]
---
[1] See: Bureau of Democray, Human Rights, and Labor 2008, Human Rights Report: China; http://www.state.gov/g/drl/rls/hrrpt/2008/eap/119037.htm
[2] Baogang He and Barry Sautman. "The Politics of the Dalai Lama's New Initiative for Autonomy." Pacific Affairs, Vol. 78, No. 4 (Winter 2005/2006), 601-629.
[3] http://www.zeit.de/online/2008/49/frankreich-china-dalai-lama-2
[4] http://www.spiegel.de/politik/deutschland/0,1518,507301,00.html