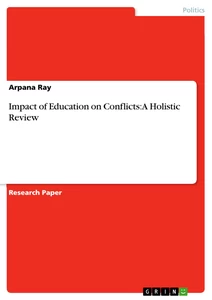 Impact of Education on Conflicts: A Holistic Review
Research Paper (postgraduate) 2011 15 Pages
Excerpt
Table of Contents
Abstract
Introduction
Research Question
Literature Research
Impact of Conflict on Education
Education and Conflict Influence Each Other
Analysis
Conclusion
References
Abstract
This is a research paper which deploys an interpretive approach and explores the impacts of education on conflict through extensive literature research. Of late, some scholars are in the opinion that education has both good and bad effects in the context of conflicts, particularly the ethnic and/or international ones. The paper is divided into relevant parts such as the introduction, literature research, analysis, conclusion and references. Reputable scholarly sources are used and expert opinions on recent qualitative researches have been given particular importance. The aim is to provide a holistic review of the impact of education on conflicts considering both the positive and negative aspects as revealed from academic literature.
Introduction
In the modern world, there are examples of both movements for peace and efforts for war. Leaders like Gandhi and Dalai Lama stood for non violence and popular movement. And leaders like Saddam Hussein and Idi Amin conducted widespread violence and mass murders. Unfortunately, although peace efforts and peaceful agitations drew attention and won respect throughout the world, violence and civil wars could not be prevented. After the World War II, nuclear arms race between USA and USSR surmounted enough pressure on global peace and stability. Many dictatorships erected in the continents of Asia, Africa, and South America. They tried to manipulate the geopolitics between capitalist and communist blocs, and resorted to violent means to seize and maintain power. This led to wide spread violence and lengthy regional conflicts like the ones were witnessed in Congo, Ethiopia, Chile, Iraq, Somalia, etc.
Moreover, ethic violence featured most of the late twentieth century conflicts of the world. Incidents of ethnic confrontation and/or cleansing in the Balkans, Horn of Africa, Iraq, etc. testify this fact. And the Arab-Israel conflict has been one of the most long drawn ethnic and geopolitical struggle which is continuing even today.
These developments have created immense trouble for significant numbers of innocent, unarmed people. And the instability that ensued destroyed several sorts of social orders and systems along with public infrastructure. Education has been one area of concern among them. When children were used as soldiers in Sudan, no domestic political group thought about their education (Robertson and McCauley, 2004). When schools became terrorist targets in the Caucasus, educational infrastructure was seized and destroyed (Forster, 2006). And when youths were radicalised and militarised in Afghan-Pak border throughout the 1990s, fundamentalist leaders said that it was all a part of Islamic education! (Paranti, 2001)
Research Question
Does education have both positive and negative impacts on conflicts?
Literature Research
In today's world education has emerged as one of the most vital elements in building national consciousness, stabilising political functionary and ensuring socio-economic development. In the wake of the 20th century, educationists were anticipating that education would become the focus of bringing up the young generations so that they can become responsible citizens. Dewey (1916) explained the pervasiveness of this sustained socio-psychological development:
"Plasticity or the power to learn from experience means the formation of habits. Habits give control over the environment, power to utilize it for human purposes. Habits take the form both of habituation, or a general and persistent balance of organic activities with the surroundings, and of active capacities to readjust activity to meet new conditions. The former furnishes the background of growth; the latter constitute growing. Active habits involve thought, invention, and initiative in applying capacities to new aims. They are opposed to routine which marks an arrest of growth. Since growth is the characteristic of life, education is all one with growing; it has no end beyond itself. The criterion of the value of school education is the extent in which it creates a desire for continued growth" (Dewey, 1916, Chapter Five)
[...]