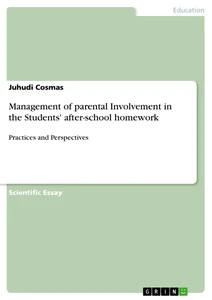 Management of parental Involvement in the Students' after-school homework
Practices and Perspectives
Scientific Essay 2012 23 Pages
Excerpt
Introduction
It is beyond doubt that homework is one of the most frequently used teaching strategies in schools. Cosden et al. (2001:211) describe homework as any "assignment from the regular classroom teacher that is intended to occur outside of regular school hours, regardless of where that assignment is completed". The homework practice has been a common technique for long time used by many teachers to help students build upon skills that are taught in the classroom. For example according to United States of America Department of Education, Office of Intergovernmental and Interagency Affairs, Educational Partnerships and Family Involvement Unit (2003:1), homework has been a part of students' lives since the beginning of formal schooling in the United States. However, the homework practice has sometimes been accepted and other times rejected, both by educators and parents. This has happened because homework can have both positive and negative effects on children's learning and attitudes toward school (United States of America Department of Education, Office of Intergovernmental and Interagency Affairs, Educational Partnerships and Family Involvement Unit , 2003:1).
Interventions and strategies are needed to help students complete their homework accurately. By completing their homework, students will gain more time to practice the skills taught in the classroom and theoretically extend their knowledge of educational materials. It should be noted that homework does not always occur at home. With the perceived demand for higher academic performance has come an increase in the amount and complexity of assigned homework (Cosden et al., 2001:211). Given the number of parents who work outside the home, and the need for safe and structured after-school activities, after-school programs have become a venue for helping students with their homework (Cosden et al., 2001:211). For the purpose of this paper, parental involvement in homework is seen as the basic strategy of helping children complete their homework at home. Therefore, it in the view of this paper to call upon more attention on homework in order to build children's independent learning and enhance more parental involvement in their children's education.
Purposes and Process of Homework
For any person who has attended school at any level of education is aware that homework has been employed widely by classroom teachers. It clear that teachers have purposes of designing homework one being of assessing and letting students practise what they learn in classroom at school. "The homework process begins with teachers who choose the topics and content of assignments to help students meet particular learning goals. Thus, teachers not only assign homework, they also design homework. Designing homework requires teachers to consider the purposes, format, and other elements of assignments that will engage students and help them succeed" (Epstein and Van Voorhis, 2001:181). According to Epstein (2001) homework not only reflect teachers' knowledge of the curriculum, but also their understanding of the skills, abilities, and needs of their students, and the characteristics and situations of their students' families.
According to Sheridan (2009:334), homework intends to: (i) establish effective study habits and skills; (ii) help children plan and be proactive; (iii) aid in developing time management, self-control, and discipline; (iv) to extend the learning environment from the classroom to other out-of-school settings; (v) and demonstrate responsible behaviors". Epstein (2001) indentifies ten broad purposes of homework: practice, preparation, participation, personal development, parent–child relations, parent–teacher communications, peer interactions, policy, public relations, and punishment. Therefore, homework assignments designed to meet these purposes should help increase student learning and development, develop home-school-community partnerships, and improve teaching and administrative practice (Epstein and Van Voorhis, 2001:181). It is clear that any homework has a purpose. According to Epstein and Van Voorhis (2001:181-183):
- Some homework is designed to give students opportunities to practice skills taught in class, increase speed, demonstrate mastery, retain skills, review work, and study for tests.
- Teachers may assign homework to ensure that each student is ready for the next lesson. This may include homework that asks the student to complete unfinished classroom activities and assignments.
- Homework may increase each student's involvement in learning, in applying specific skills and knowledge, and in conducting projects.
- Homework is to build student responsibility, perseverance, time management, self-confidence, and feelings of accomplishment; also to develop and recognize students' talents in skills that may not be taught in class.
- Homework may be designed to guide and promote positive communications between parent and child. Parent–child conversations may help reinforce the importance of schoolwork, homework, and learning, and promote students' understanding of how schoolwork is used in real-life situations.
- Homework may be purposely designed to enable teachers to inform and involve all families in their children's curricular activities.
- Some homework may be designed to encourage students to work together, and motivate and learn from each other.
- Teachers may make assignments to fulfill school or district policies for a prescribed amount of homework. Policy directives should be integrated with other homework processes.
- Homework may be assigned to demonstrate to parents and to the public that a school has a rigorous academic program and high standards for student work.
- Historically, some teachers used homework to try to correct problems with student conduct or productivity.
Teachers' Role in the Homework
Teachers are always at the centre of children learning process and homework at large and they act as a bridge between the students and parents and other stakeholders in children learning. "Teachers play critical roles in helping parents become effectively involved in student homework. In sharing ideas for homework involvement with parents, school-age care professionals, and parent leaders, teachers increase community support for student learning" (Walker et al., 2004). Research evidence shows that when teachers design homework to meet specific purposes and goals, more students complete their homework and benefit from the results, and more families remain involved in their children's education (Epstein and Van Voorhis, 2001).
Research on homework suggests that teachers have a responsibility to select or design assignments that are purposeful, engaging, and of high quality so that (i) students at all grade levels-including low-ability students-take the time they need to complete their assignments; (ii) students benefit from their effort; and (iii) parents at all grade levels are appropriately and effectively involved in their children's education (Epstein and Van Voorhis, 2001:186).
The teachers are expected to design homework which allows the students interact with family members parents in particular. The homework which encourages children to share interesting things they are learning in class with family members, friends, peers, or others in the community is referred to as interactive homework (Epstein, 2001). The Teachers Involve Parents in Schoolwork (TIPS) process is one design for interactive homework that guides students to conduct conversations and interactions with family partners (Epstein and Van Voorhis, 2001:186). According to Epstein and Van Voorhis (2001:186) "the TIPS interactive homework process grew from early research that showed when elementary teachers frequently involved families in reading activities at home, more parents conducted reading activities with their children, and more of these students improved their reading test scores from fall to spring of the school year". The TIPS interactive homework design enables the children to show their parents what they are learning in class and at the same time the TIPS homework design helps parents know what their children are learning in school (Epstein and Van Voorhis, 2001:189).
The TIPS interactive homework does not mean that family members do the activities on behalf on student rather family members provide supportive role and environment for student to accomplish homework. "As in all homework, TIPS assignments are the students' responsibility. Parents play supportive roles in discussing homework with their children; they are not asked to teach school skills. With their family partners, students demonstrate math skills; conduct science experiments; share ideas and obtain reactions to written work; conduct surveys or interviews; gather parents' memories and experiences; apply school skills to real life; or work with parents or other family partners in other ways" (Epstein and Van Voorhis, 2001:186).
Other features of the TIPS process (Epstein and Van Voorhis, 2001:186-187) include:
- Teachers and principals orient parents and students to the TIPS process;
- Teachers send home TIPS activities on a regular schedule (example, once a week or twice a month);
- Teachers allot extra time (example, 2 days or over a weekend) for TIPS homework to accommodate family schedules;
- TIPS are designed for two sides of one page and include simple instructions that the student can explain to a family partner;
- All activities use readily available materials at home, and require no expensive purchases;
- TIPS activities include a home to-school communication for parents to check or comment whether they enjoyed the activity with their child, and whether they learned something about what students are learning in class;
- Teachers use the same methods for collecting, grading, and discussing TIPS as they use for other homework;
- Teachers use family and student feedback for redesigning activities, or to contact families who may have questions about their students' work or progress.
[...]
Details
Pages

23

Year

2012

ISBN (eBook)

9783656225461

ISBN (Book)

9783656225706

File size

573 KB

Language

English

Catalog Number

v196360

Institution / College

University of Dodoma

Grade

Tags