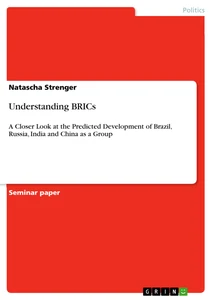 Understanding BRICs
A Closer Look at the Predicted Development of Brazil, Russia, India and China as a Group
Seminar Paper 2011 19 Pages
Excerpt
Content
1. Introduction
2. Why The BRICs Might Be a Group on the Rise
2.1 Economic and Demographic Developments
2.2 Regional Preponderance and Cooperation
3. Most Striking Differences and Challenges
4. Conclusion
5. Works Cited
6. Honesty Declaration
1. Introduction
About ten years ago, Jim O'Neil at the well-known investment bank Goldman Sachs coined the acronym BRIC for four emerging countries that were regarded to have a common potential of shaping global markets in the not-too-distant future: Brazil, Russia, India and China. In 2003, Goldman Sachs published a report named "Dreaming with BRICs: The Path to 2050". Its key message was that the economies of these four countries together, which at that time made up only 15% of the global economy, could by 2050 be larger than those of the (former) G6. They claimed that, given that their predictions come true, the list of the world's major economies could look very different from today's in less than 40 years – a perspective which must naturally have an influence on investing behavior around the globe (see Wilson, Purushotaman 2003). The reasons for these expectations were the BRICs economic growth rates, which topped those of the industrialized nations by far, as well as their huge share of global population which promised emerging masses of consumers.
In 2010, Goldman Sachs could proudly announce the fulfillment of their 2001 predictions (Wilson et al.). The past decade had indeed seen a rise in political and economic power of these emerging countries, so, according to Goldman Sachs, there were no reasons to doubt that the BRICs future growth would as well be satisfying their forecasts (ibid. 2). Another report from December 2009, which concentrated on the BRICs' survival of the global financial crisis had even confirmed that these countries (with the sole exception of Russia) were emerging healthier from it than the industrialized world – a development which gave reason to expect yet better long-term performance than they had originally prophesized ten years ago (O'Neill, Stupnytska).
However, critics argue that the entire concept of BRIC has flaws – it might appear forced to group four countries that seem to have very little in common. The prediction of their future role in global affairs seems rather bold and even if in terms of economics the BRICs fulfill the expectations – what does this mean for their general role in world affairs? This paper shall have a closer look at the BRIC group and its actual and predicted development. The sense of an analytical concept that was applied to four such different countries shall be examined by pointing out there commonalities and differences. Therefore, the focus will not only be on their economic performance, but also other factors such as their respective role within their regional environment.
2. Why The BRICs Might Be a Group on the Rise
According to Hurrel, one important justification for considering the BRICs as the most prominent group of emerging powers is that "all of these countries share a belief in their entitlement to a more influential role in world affairs". With regard to their position within the global order, he adds that "[c]hallenges to the legitimacy of international order have rarely resulted from the protests of the weak" (2). However, shared beliefs can hardly be a sufficient indicator of these four countries' common rise in power on the global stage. Thus, the reasons for proclaiming the BRICs' outstanding success in the future (as Goldman & Sachs have done) will have to be considered in further detail.
2.1. Economic and Demographic Developments
According to Armijo (10f.), the BRICs could be grouped together under the premises of economic liberalism, if they shared the characteristic of high economic growth and equally offered "exceptional opportunities for foreign investors". He further states that, despite the fact that one might assume that such an exceptional growth was what all four BRIC economies had in common, this is hardly the case: There were wide differences between the four countries and especially Brazil had in the first half of the past decade only grown by 3.1 percent, which was less than the global average in this period (ibid. 11). The Goldman Sachs post-crisis report (O'Neill, Stupnytska) publishes the actual growth rates of the BRIC economies between 2003 and 2008, comparing them with what they had projected them to be in 2003: All four economies had exceeded their expectations and actually grown more than predicted. Brazil, for which an average growth rate of slightly below 4 percent was predicted, had grown about an average 4 percent annually. Russia, whose growth was projected to be around 5 percent, grew by more than 7. India's average growth of more than 8 percent also exceeded its predictions by about 2 percent, while China topped all forecasts by presenting an average growth of almost 11 percent in comparison to the almost 8 which had been estimated (ibid. 22). So the overall message of O'Neill and Stupnytska – that the BRICs have collectively exceeded expectations – is apparently correct. Nevertheless, Armijo's objection concerning the huge differences between the four BRIC countries seems to be more than justified – the immense gap between China and Brazil can hardly be ignored. Furthermore, simply the fact that the predictions were exceeded does not necessarily make a great development (for it can be assumed that those predictions were made rather carefully by Goldman Sachs in 2003 – as they certainly would not have wanted to remain below them). Still, it is also true that at least three out of four BRICs have shown growth rates that were, in global comparison, pretty impressive during those five years if we can believe the statistics of Goldman Sachs. China is not only the fastest-growing member of the BRICs; it is also the country whose growth has gone farthest beyond the expectations.
Another common quality of the BRICs with regard to their economic development is the predicted rise of their middle classes. Goldman Sachs (Wilson et al.) claim that this trend – a result of the rising incomes in the emerging countries – will shape the ongoing decade, after the last ten years have already seen an impressive economic growth of these nations. By 2020, the BRIC countries taken together are predicted to account for over 1.5 billion people earning between 6,000 and 30,000US Dollars per year. This number would then represent more than twice the size of the G7 nation's citizens in that category. For comparison, only ten years ago, the BRICs' number of middle class-earners was not even half the size of that in the established industrialized nations and today, it has already surpassed it (ibid. 2f.). The effect of this rapidly growing affluence will be a change in the consumer behavior in the emerging economies: for as their incomes rise, people tend to spend greater shares of it on high value added goods, such as technology, automobiles, or electricity. So these emerging powers hold the potential of significantly shaping global markets by changing their import-behavior and by creating a whole new class of consumers (Armijo, 11).
What is interesting here, however, is the distribution of this emerging middle class among the individual member states of the BRICs group: While Brazil will only experience a slight growth of its middle class during the coming decade and Russia even suffered a slight drawback now after the crisis, the growing number of people earning between 6,000 and 30,000 US Dollars annually in China is what makes up the largest piece of the cake, closely followed by India. It is also China's population of middle-class-earners alone that might exceed the G7 nations by more than 200 million people in 2020 (see Wilson et al. 2f.).
A further indicator for the BRICs growing influence on the global stage might be the development of their populations: For the industrialized countries belonging to the G7, a decline in working age population along with generally ageing societies is predicted. In their 2003 report "Dreaming with the BRICs", Goldman Sachs state that this decline in working age population is going to take place later in the developing economies than in the industrialized nations. However, their research shows also that among the four BRIC countries there are huge differences regarding the population development; The decline in working-age population will be much steeper in China and Russia than in India and Brazil, and the report admits that especially Russia's economic development might suffer from the country's shrinking population (9). So the aspect of population growth might be an argument in favor of the potential of emerging economies in general (including others than the BRICs), rather than for summarizing exactly these four countries within one group.
Taken all these actual and predicted aspects of the BRICs' economic performance together, it becomes obvious that, despite the many differences between these four countries, it appears reasonable to conclude that their economic size will be indeed considerable in the future. With regard to this, the BRICs might actually make up a dominant part within the world economy. What might be criticized about this approach is, as Armijo does, the fact that the entire BRICs concept seems to be based on nothing but the relative economic size of those countries:
"In the end, the core argument in the business and financial literature as to why the BRICs countries are significant rests upon the relative economic size of the four countries, both at present and in the near future, and the implicit (and possibly dubious) assumption that large size implies economic dynamism. The central organizing principle for the BRICs category is not growth rate, nor opportunities for investor profit, but rather sheer economic size." (Armijo, 12)
[...]
Details
Pages

19

Year

2011

ISBN (eBook)

9783656209539

ISBN (Book)

9783656222316

File size

505 KB

Language

English

Catalog Number

v195157

Institution / College

Ruhr-University of Bochum – Fakultät für Sozialwissenschaften

Grade

1,3

Tags