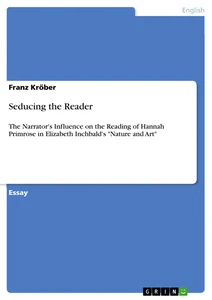 Seducing the Reader
The Narrator's Influence on the Reading of Hannah Primrose in Elizabeth Inchbald's "Nature and Art"
Essay 2012 7 Pages
Excerpt
Seducing the Reader: the Narrator´s Influence on the Reading of Hannah Primrose in Elizabeth Inchbald´s Nature and Art
Hannah Primrose in Elizabeth Inchbald´s Nature and Art does not appear to be a role model of a virtuous and domesticated eighteenth-century girl. She gets seduced by the Dean´s son William who refuses to marry her, and she intends to murder her own child; she dishonours her parents, causes them grief that leads to their death and is the target of her neighbour's deepest despair; she moves to London where she becomes a prostitute and a member of a band of robbers, and is finally sentenced to death by her former seducer. Regarding the strict rules of the British society in the eighteenth century, the average reader back then must have detested Hannah or at least changed complexion every time his or her eye beheld her name. Yet, Inchbald somehow manages to create a figure that refuses to comply with the dichotomy of the fallen monster-women and the domesticated angel. When she is giving herself away to William without being married, Hannah is giving away her most important value as a woman, but throughout the novel, she is never pictured as a lascivious and wanton harlot. On the contrary, she is presented as still embodying values a respectable woman in the eighteenth century is expected to have. In Nature and Art, the condemned seduced maiden is pictured as a victim of her lover and the circumstances of her time. Moreover, Inchbald uses the narrator as a means to render the reader´s compassion for Hannah, and attempts to shape his or her attitude towards the heroine. The author makes her narrator present Hannah´s inner conflicts and thoughts which picture her as just the virtues woman described above, makes him express his own sympathy for Hannah by addressing her or other characters, and makes him directly and indirectly address the reader in order to shape his attitude towards the heroine. The analysis of these narrative techniques and their consequences for the reader´s opinion of Hannah will be preceded by a brief outline of the seduced women in eighteenth-century Britain in order to justify the idea that a reader back then could have felt compassion for fallen women.
Vivien Jones considers Nature and Art a "seduction narrative" that, amongst other novels of this genre, "discovers, and seeks to contain, the prostitute as redeemable victim" (Jones 201). Between 1790 and 1800, versions of this genre were "remobilized as part of a renewed interest in the prostitution issue" (Jones 201). According to Susan Staves, an "increase in concern for human sufferings [and a] remarkable creation of new charities" took place in the eighteenth century, and since they rendered noteworthy sympathy, "seduced maidens were an especially favourite object" for these charities (Staves 116). Anyway, The Plan of the Magdalene House for the Reception of Penitent Prostitutes from 1758 states that "there cannot be greater objects of compassion, than poor, young, thoughtless Females, plunged into ruin by those Temptations to which their very youth and personal Advantages expose them" (PMH 3).
Despite Hannah's seduction and criminal career, Inchbald makes her extradiegetic heterodiegetic narrator present those features of the heroine that are the closest to those of a role model of the domesticated woman in the eighteenth century. This is mainly done by presenting Hannah in internal focalization. Hence, her inner conflicts and her thoughts are revealed to the reader and make him realize that the fallen maiden embodies just the very values women in the eighteenth century should strive for. Before her seduction, the narrator presents Hannah not as being physically drawn to William, but stresses her devotion to him. She listens "with a kind of delirious enchantment" to William´s utterances and she honestly "confesse[s] her love for him" (81). The verisimilitude of her love is underlined by the narrator's statement that Hannah never before heard her emotion for William being "named" love. Hence, this "sentiment" is a totally natural emotion that Hannah neither chooses nor pretends to have, but that "possesse[s] her as genuine love alone exists" (81). Besides the irony and the sideswipes the narrator makes at William, he pictures Hannah's true humility for her lover: to him, she looks up "with reverence, with admiration, with awe, with pride, with sense of obligation- and all those various passions which constitute true, and never to be eradicated love" (82). For Hannah, love is no thoughtlessly terminable contract, but a promise she cannot violate, or as the narrator states, an "insanity" that possesses the mind (126). Despite the pain and the public degradation William makes her suffer, Hannah still "bear[s] all hardships which London threatene[s]", takes on "a three week´s journey […] on foot" just because "there she might chance to pass him by in the streets" (126). The presentation of Hannah´s conflict between her loyalty to William and her devotion to her parents makes it harder for the narrative addressee to condemn her, since she again is shown sharing the values of eighteenth-century society: "if her nature could have detested any one being in a state of wretchedness, it would have been the women who had lost her honour; yet, for William, what would not Hannah forfeit?" (82). Although the eighteenth-century reader might come to the same conclusion as the narrator ("she deliberated, she prepared for her fall," 82), he or she possibly could not blank out that Hannah shares the society´s condescension towards seduced unmarried women and has internalized the concept of a women who abandons herself for the man she loves. The narrator emphasizes that Hannah tries to fulfil both the role of a loving women and of a daughter who attempts to respect her parent's "happiness" before her own contentment (82). Besides, it becomes clear that Hannah is fully aware of the severity of her seduction, since William´s ambiguous innuendo in their sexual affair ("gratitude for all the favours conferred on me") finds her "turning pale with horror" (87). One the one hand, this might be just the apt reaction regarding the rule system of eighteenth-century society; on the other, this reaction once more reveals that Hannah has totally internalized society´s rules although she has been tempted to violate them. Therefore, her presentation rather renders the reader´s understanding than his or her condemnation.
[...]