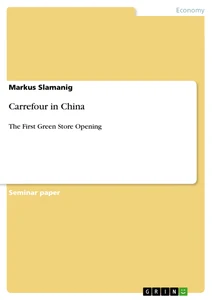 Carrefour in China
The First Green Store Opening
Seminar Paper 2012 23 Pages
Excerpt
Content
1 Introduction
2 Carrefour's Major Challenges
3 SWOT Analysis
3.1 External Forces
3.1.1 Increasing Governmental Regulations Driven by Economic Growth
3.1.2 Increasing Awareness on Environmental Impacts
3.1.3 Impact of the Beijing Olympics 2008
3.1.4 Environmental Efforts by the Competition
3.1.5 Supply Chain Problems
3.2 Internal Forces – Carrefour's Current Green Strategy and Corporate Image
4 Carrefour's Integrated Green Strategy
4.1 Overview
4.2 Global Integration
4.3 Country Level Implementation
4.3.1 Changes in Organizational Design and Business Activities
4.3.2 Implementation at Store-Level
4.3.3 Targeting Product Line Extension
4.3.4 Considerations Towards Product Design and Packaging
4.4 Integrated Marketing Strategy
5 Conclusion
6 References
1 Introduction
Carrefour entered China in 1995 with its first store opening in Beijing. It entered the market with the main objective to mix its modern western store concept with the local preferences; thus providing a store assortment mixed with Eastern and Western elements in food and design. A well-managed planning and careful management of operations, allowed Carrefour to become the number-one foreign retailer in China; consequently, China became the company's fifth largest market.
This paper illustrates the challenges that Carrefour faced when deciding to open its first green store in China. Challenges were due to a limited time line, budget constraints, and constrained resources; the fast growing market and the high competition were making the situation even more difficult to handle. All these factors and other operational problems led to an increasing complexity for new project developments. This paper discusses this matter by analyzing the competition and operational environment, using the so-called Strengths, Weaknesses, Opportunities, and Threats (SWOT) analysis. Based upon this analysis, an integrated strategy for go green is formulated; taken into account internal and external factors and forces.
2 Carrefour's Major Challenges
Carrefour is facing several challenges in its China operations. One major concern addressed in this case is the opening of the first so-called Green Store in Beijing, which is scheduled to open before the Olympic Games in 2008. A Green Store may be described as one, which operates in an economically friendly manner and, as such, reduces environmental pollution. This store will be established on a brown field area, which was previously used for industrial purposes.
The event of the planned green store opening might be the most important issue, however it cannot be treated in an isolated manner; it requires an integrated approach and thus further accompanying considerations need to be taken into account.
Carrefour's operation in China involve a business model, in which it rents land and building from major property owners (mainly in bigger cities) to place its operating infrastructure such as refrigeration equipment, air conditioning (AC) systems, displays, lighting. This separation of ownership (land&building versus infrastructure) hinders the employment of an integrated environmentally friendly business concept, because additional – environmentally friendly – developments on the building were not justified as the building is not owned by Carrefour.
In addition, the old stores which the company already operates throughout China show serious maintenance problems leading to unexpected repair and maintenance costs. This is due to some interdependent factors. Problems such as the current rewarding system for store managers – which strongly emphasizes on budget savings – hindered the deployment of an environmentally friendly store development. The narrow view of managers was a sole focus on low-cost equipment without having an eye on long-term impacts. E.g. the ACs were inefficient and therefore the refrigerated displays had to work harder, resulting in a dramatically increase in energy consumption. Repair and exchange of store facilities have been challenged by suppliers, which have no local maintenance or no spare parts available. Power shortages in China causing regular breakdowns and an improper handling of equipment by the store employees contributed in a similar way. Lastly, the time pressure in opening new stores – Carrefour announced its 2006-07 strategy to open around a hundred of new stores in China – hindered the consideration of environmentally friendly store concepts. This also leads to challenges on how to prioritize all the upcoming projects which are in the pipeline.
3 SWOT Analysis
3.1 External Forces
3.1.1 Increasing Governmental Regulations Driven by Economic Growth
As a result of China's remarkable economic growth over the last recent years (CIA, 2012), the country was getting more and more exposed by the international publicity. China is facing environmental problems, reaching from water shortages in many of its cities to polluting fossil fuel burning industries (William, 2006). Other threats, such as acid rain affecting around one third of the land area, China's unfortunate top position as one of the largest green house emitter, cause a call for action by the government (Ye, Lan, Lingyun, 2007). Energy is inexpensive and thus it does not justify expensive (energy saving) equipments, which are required to cope with environmental challenges. Historically, China's incomplete and weak legal system and lax law enforcement are often mentioned as contributing factors for the country's environmental issues (Ye, Lan, Lingyun, 2007).
In the global environmental spotlight, the government is now focusing its efforts towards a sustainable development. E.g. China is actively involved in the China-U.S. Center for Sustainable Development – comprising of businesses, governmental and nongovernmental agencies and scientists – to develop environmentally friendly enterprises; efforts are directed to model homes to test environmentally friendly materials and technologies[1] (William, 2006).
As a result, innovations in ecologically intelligent products, service and technologies are likely to increase over the mid-term (William, 2006). Although many of China's sustainable development projects are still in their early stages, it is expected to show results – especially given China's culture and 4,000 year-old tradition of resource conservation and regeneration (William, 2006). It is assumed that the government will enact harsher punishments for wasting energy, stopping the constructions that do not meet the set requirements of savings. E.g. the Ministry of Commerce announced a circular on energy-saving in the retail industry, wherein larger department- and franchisee-stores are required to take measures in energy conservation and emission reduction (China Daily, 2009).
There is already a so-called Green Market Certification by the government in place to boost food safety and green consumption, green markets, and green distribution channels. However, energy saving and waste reduction are not included as criteria. In addition, the criteria for getting certified lack objectivity and leave room for interpretation. As such, for Carrefour targeting this certification does not seem to be an effective approach (See details below).
The case further outlines the Leadership in Energy and Environmental Design (LEED) Certification, a voluntary standard, verified by a third-party and certified by the Green Building Certification Institute (USGBC, 2011). As this standard is in compliance with the ISO-Standards (See below) (USGBC, 2011), it seems to be more recommendable to Carrefour to pursue the ISO Accreditation.
3.1.2 Increasing Awareness on Environmental Impacts
The worldwide pressure from environmental groups and consumers to improve the environmental friendliness of products and of operations (equipment used in stores) is increasing. On country perspective, the Chinese consumers show an increasing awareness of the pollution problem and are now more willing to take direct actions against organizations/companies which ignore the environmental impact of their activities (Ye, Lan, Lingyun, 2007). Sources report further, that the majority of Chinese consumers are willing to boycott products made by companies which are insensitive to pollution (Ye, Lan, Lingyun, 2007).
Boycotts are a major threat for businesses as Carrefour; therefore it needs to take proper actions to address this. Especially if one consider, that China is Carrefour's 5th largest market with an expected sales growth of 25 – 30 % per year over the next five years (Child, 2006).
[...]
---
[1] Material and technologies include e.g. recyclable polystyrene roof panels and insulation, compressed earth-and-straw-bale block walls, and a 1,000-watt solar panel.
Details
Pages

23

Year

2012

ISBN (eBook)

9783656181613

ISBN (Book)

9783656181996

File size

842 KB

Language

English

Catalog Number

v192956

Institution / College

Florida International University, Modesto A. Maidique Campus

Grade

A

Tags