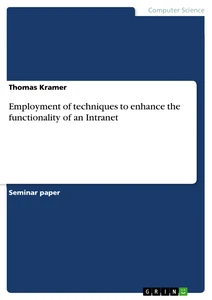 Employment of techniques to enhance the functionality of an Intranet
Seminar Paper 2000 32 Pages
Excerpt
Table of contents
1 EXECUTIVE SUMMARY
2 ENHANCEMENT OF THE COLLABORATION
2.1 TECHNIQUES
2.1.1 Electronic Mail and Messaging
2.1.1.1 Active Messaging
2.1.1.2 Intelligent Messaging
2.1.1.3 Form based systems
2.1.1.4 Rule-based agents
2.1.2 Conferencing
2.1.2.1 NNTP (Network News Transfer Protocol)
2.1.2.2 IMAP (Internet Message Access Protocol)
2.1.2.3 Discussion systems
2.1.3 Group Document Handling
2.1.4 Groupware Services and Frameworks
2.1.4.1 Group-aware applications
2.1.4.2 Group-unaware applications
2.2 PRODUCTS
2.2.1 Lotus Notes
2.2.2 Collabra Share
2.2.3 Microsoft Exchange
2.3 COMPARISON AND EVALUATION OF POTENTIAL SOLUTIONS
3 ESTABLISHING PERFORMANCE MANAGEMENT
3.1 MANAGEMENT SOLUTIONS
3.1.1 Novell ManageWise
3.1.2 Hewlett Packard OpenView
3.1.3 IBM (Tivoli) NetView
3.2 SELECTING AN APPROPRIATE SOLUTION
4 DEPLOYMENT OF A DOCUMENT MANAGEMENT SYSTEM
4.1 COMMON DOCUMENT MANAGEMENT SYSTEMS
4.1.1 Lotus Domino.doc
4.1.2 Microsoft Exchange
4.1.3 Novell GroupWise
4.2 SELECTING AN DOCUMENT MANAGEMENT SYSTEM
5 A COST-EFFECTIVE INTRANET MANAGEMENT
5.1 INITIAL PURCHASE COSTS
5.2 TOTAL COST OF OWNERSHIP (TCO)
5.2.1 Tangible costs
5.2.1.1 Additional costs
5.2.1.2 Operating costs
5.2.1.3 Training
5.2.1.4 Maintenance and Support
5.2.2 Intangible Costs
5.2.2.1 Opportunity costs
5.2.2.2 Adoption costs
6 CONCLUSIONS
7 REFERENCES
1 Executive Summary
This report addresses the senior management of the e-Fence corporation. It deals largely with possibilities to enhance the functionality of the company's Intranet. In particular the focus is on the appliance of collaboration and network management techniques and solutions that add value to the corporation.
In terms of collaboration techniques intelligent email-based messaging and discussion systems are described. They provide the basis for an improved communication among the departments and distinct employees. In particular the concept of newsgroups over NNTP protocols as well the IMAP protocol contribute significantly to the efficiency of the company by sharing calendars, resources as well as customized messaging-based applications (such as custom workflow management). Lotus's Domino-Notes solution is assessed as the most suitable groupware packet that dominates through its ease of integration, a broad range of features valuable for e-Fence and its low total cost of ownership.
To generate performance reports of the servers within the corporate network performance management over SNMP protocol is the solution. Performance management as part of network management is capable to monitor the network devices, identify errors and allow initiating counter measures proactively. Tivoli's NetView solution is evaluated to add the highest contribution to the e-Fence Intranet. Its components and tools can be aggregated to a customized solution. The third part comprises the critically evaluation of an appropriate document management system that should enable the company to benefit from time and money savings. Lotus's Domino.doc is selected as the most suitable add-on product to the already proposed Domino-Notes solution.
Finally, the principles of cost-effective Intranet management are presented. The highlight of this section is the fact that the total cost of ownership rather than the initial purchase price has to be considered when establishing or upgrading an Intranet. It counts for more than two third of all the expenses that can be expected from an IT investment.
2 Enhancement of the collaboration
The increase in competition among companies and the impact of recent recessions on the economy forced organisations to downsize and restructure their businesses. As a consequence to the enormous economic and organizational pressure, productivity and efficiency has to be improved, costs have to be minimized, flexibility has to be ensured and employee autonomy has to be extended in order to cope with the current challenges of the current business climate. In that context groupware becomes more and more important. It is a concept that intends "to foster collaboration and interpersonal productivity by automating many tasks and enhancing the efficiency of others". (Imp@ct, 2000)
It can contribute significant benefits to a company:
illustration not visible in this excerpt
(taken from Imp@ct, 2000)
The following section will present and evaluate common techniques and products used to enhance collaboration. It is focussed in particular on solutions that may be appropriate for the e-Fence corporation.
2.1 Techniques
2.1.1 Electronic Mail and Messaging
Messaging systems are email-enabled software that use email as a transport engine to exchange documents, forms or other objects. Combined with groupware those systems use particular techniques to enhance the functionality of the messaging system:
2.1.1.1 Active Messaging
Active messages are not like the ordinary messages. They move from the sender to the receiver with an executable payload like an application. This payload is basically code that is triggered by the receiver's workstation and performs a particular action. The message asks and delivers information depending on the answer from the receiver. Active Messaging helps to simplify the process of building messaging and workgroup applications. Like in Microsoft Exchange it gives the user's web browsers access to its full set of messaging and groupware functionality via Active Server Pages (ASP). All the calls and execution will take place on the server, with HTML code sent to the client application through the browser. The benefit is that any browser-based client can run the workgroup application without extra client-side coding. (Wells, 1996)
2.1.1.2 Intelligent Messaging
Intelligent Messaging is almost the same as active messaging with the little difference that it can "make associations on behalf of the receiver" (Wells, 1996). Depending on the receiver an intelligent messaging system attaches for example additional relevant information to the message that may be necessary for the receiver to understand the message.
2.1.1.3 Form based systems
Form based messages are similar to the active messages. They are sent to the receiver who fills out and submits the form. It automatically knows his way through the network to the proper receivers like the manager or the human resource department. For example such a system can be used for the submission of leave applications of the employees that will be directly posted to the relevant instances within the company. (Wells, 1996)
2.1.1.4 Rule-based agents
Rule-based agents assist a messaging system to process messages by applying rules that are set automatically or by the user itself. Such agents can reroute or forward particular messages automatically by scanning the information of the header of the address. Furthermore they can sort and filter messages into particular private or shared folders, back-up and notify the user of high priority messages or even maintain a progress log on a message on their way in a workflow. (Wells, 1996)
2.1.2 Conferencing
2.1.2.1 NNTP (Network News Transfer Protocol)
NNTP is a standard specification for the distribution, inquiry, retrieval, and posting of news articles using a server-client model. In order to be able to communicate without confusion, it is necessary for both client and server to agree on a standard or protocol. NNTP is the protocol used for a Usenet news system. An NNTP client is usually included as part of a web browser but can be a separate client program (called a newsreader) as well. (WhatIs.com [2], 2000) Many companies and ISPs use newsgroups locally. However, newsgroups have been an Intranet technology long before the term Intranet came into being. In a business setting, newsgroups are always read from a local server on a company's internal network, independent from whether the material originates from internal or outside entities. Simplified, one can consider newsgroups as efficient public email boxes. Everybody can add and read messages from the newsgroup – so information can spread very easily among all the employees inside a company. Internal newsgroups are not only be used as a distribution channel for announcements and news but also to take advantage of participatory and interactive discussions. This is especially important for the collaboration between employees who work in different departments or even different parts of the world. Internal newsgroups allow them to directly participate in a local online community. (Templeton, 1997)
Another advantage of newsgroups is that they are distributed. NNTP is supported by many standard software packages, for instance Lotus Domino or Netscape Collabra Server. Those applications are able to upload information in advance to local Intranet servers. Readers do not have to access their news from remote servers over the Internet anymore; they can fetch it at LAN speed over their local Intranet. In addition the protocol enables remote servers to mirror messages in real time at distinct sites throughout a company or around the world. If new articles arrive at a news server it initiates a connection to other predefined sister servers to deliver them with the most recent articles. In case one site goes down, everybody else can still read the messages: "The fault- tolerant, Intranet-fast, scalable design of NNTP and the ability to read HTML pages in newsreaders have made newsgroups a winning system for information distribution and community-building on corporate intranets" (Templeton, 1997) Newsgroups may be an option for the e-Fence corporation. Even if the company is located only at a single site, the exchange of information between entities like subcontractors can be of major importance since newsgroups support the communication among stakeholders.
2.1.2.2 IMAP (Internet Message Access Protocol)
IMAP enables users to manage their emails on a mail server via an IMAP capable software application. Incoming messages will not be downloaded to the local workstations. The principle is comparable to a remote file server. It is only a list of the subjects of the received messages that will be downloaded. Locally deleted mail entries will not be deleted on the server immediately. The users can determine when their messages will be removed from the server. (SMARTpeople, 2000)
IMAP has the advantage for people who often check their emails on different locations. Wherever they are they can access all their emails. Users who only access their emails at one location will not benefit from IMAP. Another disadvantage of IMAP is that each email account has only got a preset amount of disc space available. As a result the amount of space used can be reached very quickly; in most cases the user will be charged for getting additional disc
space if it is an external mail server that does not belong to the own company. In addition the stored emails are not safe on the server's hard drive because errors may easily corrupt or erase all stored data. Therefore IMAP servers are usually connected to a backup server that initiate back-ups of the hard drives every day. Despite those facts you cannot even guarantee the safety of the emails since there will always remain the possibility that unauthorized people access your mails on a server. (SMARTpeople, 2000)
Collaborative work may require the ability to configure a mailbox as publicly readable. This is possible in most of the software applications available today whereas the feature to determine the users to be authorized to access a mailbox is still not yet integrated in all of them. This particular feature is called Access Control List (ACL). (WhatIs.com [1], 2000)
In opposite of Internet mail clients, web clients of groupware systems offer a broad range of advantages over IMAP or POP by for example providing access to calendars and other groupware features. Usually Groupware solutions come rather with their own client software than using the interface of a standard browser. These clients are expensive compared with basic POP and IMAP e- mail alternatives since you get what you pay for: functionality, reliability and security. On the other hand outsourcing the corporate inbox means delivering service-level agreements for availability and reliability, as well as delegated user, alias and mailing list administration. Apart from these basic requirements, many companies still will want to take advantage of groupware features like shared calendars and resource scheduling as well as customized messaging- based applications (such as custom workflow). Therefore outsourcing may not be an option for companies with confidential information. (Backmann, 1999)
2.1.2.3 Discussion systems
Let us think about the potential collaborative value of discussion systems in a corporate Intranet. A discussion tool is an online virtual community environment designed for the active sharing of ideas. The discussion environment is asynchronous. That means that comments entered by participants do not
immediately show up on the screens of other participants (each user's browser must be told to reload the discussion page in order to show new comments).
Discussions systems share some other common characteristics. Discussions are typically threaded and exhibited in a tree-like structure of statements and responses. Messages can have attachments like images, documents or an important file. The stored messages can be scanned and sorted by date, author or even the subject. In good discussion systems the entire transcript of all messages can be searched. One can find heaps of different conferencing systems on the Internet. The most famous ones are Matt Wright's WWWBoard (http://www.stern.nyu.edu/~jwu/wwwboard/wwwboard.html), the commercial About Server products (http://www.aex.com/) or Open Meeting (http://www4. ai.mit.edu/npr/user/root.html). For local Intranet solutions software like Lotus Notes, Microsoft Exchange or Collabra Share has to be applied. Taking Lotus Notes as an example it offers a broad range of features through its discussion database. One can use the Notes client directly or even indirectly, using a Domino server by way of a web browser. (Wells, 1996)
2.1.3 Group Document Handling
A document management system belongs to one of the collaboration techniques of an Intranet. It will be explained in detail later in an own chapter since it poses a major part of the report.
2.1.4 Groupware Services and Frameworks
Particular features of applications provide a lot of groupware services. There is for instance the application-sharing concept in that a group of users can simultaneously interact with one or more program executions. All participants can see the results. Such applications can be either "group-aware" or "group-
unaware" and will be presented in a nutshell in the following sections. Examples of application sharing systems are XMX, XTV, ShowMe or ShareApp.
2.1.4.1 Group-aware applications
Group-aware applications are especially designed for being used by a group and are therefore often part of a groupware system. For this reason they are capable to accept and process inputs from multiple sources. Those programs can run either on a single computer which is fed with information from multiple sites, or as a copy installed on each workstation within the group of users. Sketchpads or whiteboards are the most important group-aware application types, which provide the participants with a "shared whiteboard" where everybody can draw or write in a shared space. Shared whiteboards for instance allow a document or image to be viewed simultaneously by multiple participants whereas all of them can make annotations on it. Examples of such systems include MBONE's wb, ShowMe Whiteboard, NCSA Collage and XTV. Collaborative design and distributed, interactive simulations are further examples of group-aware application sharing.
(Wells, 1996)
2.1.4.2 Group-unaware applications
Group-unaware applications do not have the intention to add value to a company's internal collaboration since those application are not designed for being used by multiple users. In most cases they are wrapped by a groupware system to allow the participants of multiple locations to view (and sometimes use) an application running at one of the sites. A simple example of such systems is a s creen sharing system. The output to one screen is copied to other screens of other workstations. (Wells, 1996)
[...]
Details
Pages

32

Year

2000

ISBN (eBook)

9783638111614

File size

691 KB

Language

English

Catalog Number

v1896

Institution / College

UNITEC New Zealand – Information Systems

Grade

1,7 (A-)

Tags