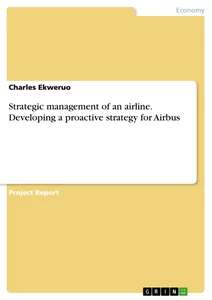 Summary
This report will give a comprehensive analysis of Airbus based on strategic analysis (internal and external) and strategic formulation and will conclude with a recommendation.

One of the most vital tools for human success is strategy. Even- though influential people for example, Barrack Obama, and Warren Buffet epitomizes luck, what really made them successful was to have a clear goal, understanding of their competitive environment and most importantly, identifying opportunity when they appeared and to have the clarity of direction and the tractability necessary to exploit these chances- effective implementation. Reason is that without a consistency of direction, based on understanding their environment and a keen awareness of how to maneuver into a position of advantage, competitors will out-compete them.

Therefore, strategy refers to having a succinct and articulate goal, and plans to achieving it - put succinctly, a good strategy is about winning.

In light of constant change and relentless competition ,strategy becomes less about building positions of sustained competitive advantage rather, more about developing the responsiveness and flexibility to create successive temporary advantages-the economic downturn in 2008-9, is encouraging new thinking about the purpose of business. Disillusion with "shareholder value capitalism" has been accompanied by renewed interest in corporate social responsibility, ethics, and sustainability of the natural environment and the role of social legitimacy in long-term corporate success.

Details
Pages

47

Year

2012

ISBN (eBook)

9783668189256

ISBN (Book)

9783668189263

File size

3.5 MB

Language

English

Catalog Number

v187839

Institution / College

University of Bradford – School of Management

Grade

First Class

Tags