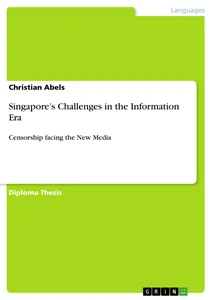 Singapore's Challenges in the Information Era
Censorship facing the New Media
Diploma Thesis 2009 52 Pages
Excerpt
List of Contents
Abstract
List of Contents
1. Preface
2. The Press Scene in Singapore
2.1. Towards Independence (1959-1965)
2.2. Independence (1965)
2.3. Singapore's Media Scene Today
2.4. Summary
3. Journalism in Asia
3.1. Freedom of the Press in Asia
3.2. Freedom of the Press
3.3. Asian Values
3.4. Asian Journalism
3.5. Freedom of the Press in Singapore
3.5.1 Freedom from the Press
3.5.2 Economic Freedom
3.6. Summary
4. The Internet in Singapore
4.1. The Internet as Information Medium
4.2. The Internet in Singapore
4.3. Summary
5. Censorship and the Internet
5.1. Legal Regulations
5.2. Filtering
5.3. Informal Restrictions for Censorship
5.3.1 Self-Censorship in Singapore
5.3.2 OB Markers
5.4. Summary
6. Conclusion
List of References
Abstract
Singapore's media system has been stable through a period of revolutionary change and impressive reform elsewhere. While new players and technologies have found its way into the media scene, the ruling People's Action Party's (PAP) upholds the media's fundamental structure. Historical racial rioting has been linked to justify the subordinate role of the press. In contrast to the Western Press which isoften denominated as the 'fourth estate' of the state, the Singaporean press is rather to support the PAP's politics.
Due to different political, historical, cultural and economic environment, authoritarian politicians in Southeast Asia argue that freedom of the press, as a Western concept, has a different meaning and weight unlike in the Western industrial nations because of its different value system. The Asian values require the harmony between the press and the state as in the 'partners in nation- building' to maintain its authoritarian governance and at the same time sharing a common interest in economic growth.
Singapore's government has promoted and established sophisticated information and communication technologies amongst the first. Nowadays, Singapore can consider itself as one of the most developed and best networked states in the world.
Feared by the challenges of the New Media and the free and open exchange which might lead to confusion and opposition to the PAP's activities, the government enacted laws and encouraged a system of censorship to tame the press. The well-functioning system consists of legal restrictions, technical filters and informal censorship, such as self-censorship.
A closer look at this pragmatic and sensitive approach of censorship, Singapore's government seems prepared to deal with the New Media and further challenges.
1. Preface
The revolution in the Information Era has touched all of us. Information and communication technology (ICT) and global connectivity respectively have made the world smaller (Gomez 2002: iii). Online users have increased exponentially. The number of online users jumped from 61 million in 1996 (Gomez 2002: iii) to almost 1.5 billion users worldwide by 2008 (www.internetworldstats.com/stats.htm).
Especially in Asia, the Internet had a vast effect in the last couple years. Internet penetration increased to 15.3% which is about half of the world's Internet penetration.
illustration not visible in this excerpt
(Chart 1: Source: Internet World Stats : www.internetworldstats.com/stats3.htm)
While most Asian countries were interested in the economic dimension of the Internet and tried to develop it, the emerging trends also entail a political challenge of the Internet (Gan and Gomez 2004: xix).
As the Internet makes it easier to provide information and to communicate (Lee 2004: 163), governments were also mindful of the political challenge that the New Media might pose. As the New Media can be used for new forms of freedom, it also causes resistance from the political elites which feel threatened to lose their political hegemony (Jean Chalaby, cited in Kenyon 2007: 105).
An interesting examples demonstrates Singapore being deemed to be one of the most developed and best networked states in the world (Gomez 2001: 152). It is also called "the world's first digital economy" (Yue, cited in Kenyon 2007: 112).
As a self-defined 'cutting edge' (Gomez 2002: iii) of technological change in the region, Singapore manages to promote the government's interests and ambitious plan to turn the state into a knowledge economy society and knowledge hub respectively in the region (Gomez 2002: iii).
What makes Singapore an even more interesting model is the fact that Singapore, in contrast to most other countries where the New Media technologies are considered to be the foundation for 'unlimited' political freedoms, Singapore's authorities seem to have found an effective way to control the new information and communication technology (Gomez 2002: 2).
Indeed, Singapore is the only government in Southeast Asia that has treated the flow of information and the digital technologies as a strategic matter worthy of strict surveillance. Singapore's authorities were able to manage the greater political space to monitor its citizens without losing their political hegemony (Gomez 2002: v).
The above mentioned leads to the question how Singapore's authorities are able to manage the increasing flow of information to their own advantage.
My thesis shows how the historically based subordinate role of Singapore's press in combination with Asian values, and the government's way of managing the Internet through legal as well as informal censorship supports Singapore's censorship system.
2. The Press Scene in Singapore
Singapore's press has a historically rooted subordinate position to the goverment. The role of the Singaporean press is to support the authorities policies rather than act as the 'fourth estate' (Rodan 2000: 172).
In this chapter, I give a brief picture of the historical development of Singapore's press, starting with Singapore's transition from British rule to independence in order to understand today's role of the Singaporean press.
2.1. Towards Independence (1959-1965)
Since the the People's Action Party won the election in 1959, Singapore's political system has been shaped by the rule of the former Prime Minister and current Senior Minister Lee Kuan Yew1 and his fellows of the PAP (Lee 2006: 1). As a result, the PAP "is the foremost feature on people's minds when they speak of political development (Gomez 2000: 2)."
Although politically stamped by the British system, the PAP preferred a strong and collaborative hand which was needed to determine the policies required for progress and prosperity (Vasil 2004: 34).
In the early times of the sovereign state, Lee Kuan Yew and his ministers were in the process of establishing a national identity by creating a feeling and solidarity among Singapore's multi-ethnic society, "making them feel they are Singaporeans instead of Chinese, Malays, Indians and Eurasians (Soh 1971: 11)."
The PAP harnessed the idea of nation-building to form its hegemony and further to provoke a feeling of shared purposes. On the one hand, it was supposed to take care of Singapore's main threat, social discord of its multi-ethnic societies (George 2005: 96), and on the other hand it was supposed to work towards common goals, such as economic prosperity. First and foremost, the PAP's aim was to promote rapid socio-economic development.
The government knew that the press was important in this process of nation-building and recognised the press' societal role and its potential of being an instrument of the nation-building (Chin 2000: 19). But the relations between journalists and especially Lee Kuan Yew were tense due to experiences in earlier years.
In late 1949, when he returned from his studies in Cambridge (England) to Singapore, the atmosphere was strained. Several press reports initiated by a Malay-language newspaper which had falsely alleged that the Malay minority was being oppressed by the Chinese majority has caused riots (Yew 2000: 218). In fact in 1950, one conflict known as the Maria Hertogh Riots befell Singapore for three days. Within this dispute, eighteen people were killed and more than 170 people were injured (Hughes 1980: 58-59). Another one happened on Prophet Mohammed's birthday in July 1964, resulting in 36 deads and many more wounded people (Yew 2000: 18). These anti-Chinese campaigns had a significant effect on Lee Kuan Yew and that generation of journalists. Lee argued for an independent press which was subordinate to an elected government though and accomplished that the government was the only one in char]ge of the national agenda (George 2001: 4).
Consequently, the journalists were sensitised to their role in affecting what was happening in the streets as well as the need to be sensitive to racial and religious content that would affect the population (Yew 2000: 218).
Lee Kuan Yew's used the incidents as an opportunity to propose his own concept in terms of politics. From now onwards, politics should exclusively belong to qualified politicians, organisations or associations which are not allowed to comment on national politics without becoming a part of or composing a political party at first (Seow 1998: 27):
"Freedom of the press, freedom of the news media, must be subordinated to the overriding needs of Singapore, and to the primacy of purpose of an elected goverment." (Lee 2000: 218)
From the government's perspective, the press as an institution had a narrow and short-term view of the public interest and therefore it could hinder 'good government' (George 1998: 4)2 The press has to accept its subordinate role in society. The tone of stories have to be respectful towards the country's leaders. Furthermore, it can be critical, but it cannot mock or gibe, or degrade public respect for elected positions (George 1998).
Besides, the press did not agree with Singapore's historic nationalist plan to emerge from colonial rule to independence in these days of the young nation (Chin 2000: 195)
The Chinese and Malay media were slow in adjusting the new situation of an independent, multi- racial republic, they rather focused on local politics. Whereas, the English newspaper, the Straits Times, owned by the British colonists, only promoted British interests, without upholding press freedom or the right to information (Lee 1998: 215)." Almost from the very start, the Straits Times was bitterly hostile to the PAP" , explained Lee Kuan Yew in his memoirs (Lee 1998: 213). As to the British, the PAP was a "Trojan horse for the Chinese speaking communists" (Lee 1998: 213), the Straits Times became vehemently anti-PAP to prevent it from winning the election in 1959 (Lee 1998: 215).
It was an open secret that the Straits Times would leave to Kuala Lumpur as soon as the PAP won the election in 1959. When the Straits Times actually transferred its headquarters to Kuala Lumpur, Lee Kuan Yew lost his remaining respect (George 2000: 69) and remembered the Straits Times as 'birds of passage' (George 2000: 69), who quit when it got tough. Since 1959, the Singapore press has evolved away from the norms set by the colonial government.
2.2. Independence (1965)
Finally, after Singapore becoming independent in 1965, the Straits Times returned to Singapore, completely changed its editorial direction, now supporting the PAP (Lee 1998: 215).
Nevertheless, Singapore's government accused the newspaper of not participating in the country's early nationalism (George 2001: 2) and therefore hindered the government from informing and educating the public on government policies (Lee 2005: 2).
Lee Kuan Yew had a poor view of journalists and questioned their qualifications to be critical of government:
"What amazes me is that this powerful instrument does not require of its practitioners special professional training nor codes of conduct to govern them. You can be a journalist without understanding the impact on the minds of millions when you write smut and circulate it through millions of copies to literate and semi-literate people (Turnbull 1995: 262)."
In the 1970s, the newspaper business flourished. There were twenty locally published papers, seven in English, eight in Chinese, three in Tamil and two in Malay. Altogether, they had a total daily circulation of around 370,000 copies, including the leading newspaper, the Straits Times with a daily circulation of almost 230,000 copies (Seow 1998: 9).
When the Singapore Press Holdings (SPH) was formed from the merger of The Straits Times Press Ltd., Times Publishing Berhad, and Singapore News and Publications Ltd. in November 1984, Singapore's press started to develop into a monopoly (Tan and Peng 1994: 28).
2.3. Singapore's Media Scene Today
Today, Singapore Press Holdings (SPH) is Singapore's leading media company delivering news and information through print, Internet and broadcasting platforms, publishing nine local dailies which command a combined circulation of more than one million copies in these days. It is licenced to publish seventeen newspapers in four languages in Singapore, including three English newspapers, three Chinese newspapers and it owns the Malay newspaper Berita Harian (Daily News), including its Sunday edition Berita Minggu (Weekly News), and the Tamil newspaper, the Tamil Murasu (SPH a).
"SPH is a publicly listed company whose controlling interests are held by Singapore's four big banks and government-owned companies (Gomez 2001: 159)."
Singapore Press Holdings 3 is one of the "most profitable newspaper companies in the world" (George 2000: 67) with 2.9 million readers every day. The close ties between the SPH and its staff and the government are build by the shared ruling ideology and interest to promote economic development. They live advantageous for both parties (Chin 2000: 199).
illustration not visible in this excerpt
(Chart 2: Source: Singapore Press Holdings, Organisation Structure: http://www.sph.com.sg/aboutus/org_structure.html)
In front, the Straits Times, Singapore's oldest and longest running newspaper which started in 1845 (George 2000: 3). Today, it is regarded as SPH's flagship publication (George 2000: 68) with a daily average circulation of 389,000 (www.sph.com.sg) in August 2008.
In addition to its sucessful newspaper business, SPH began to develop online business ventures. In June 1995, it started Business Times Online, the online edition of the English-language newspaper Business Times, and became the first online newspaper in Asia. A few months later, SPH launched another online business AsiaOne.com, a leading news and information website in Singapore and SPH's interactive media arm of Singapore Press Holdings Ltd. (Ang 2007: 4) AsiaOne.com is "one of the most heavily visited web portals in Asia. It commands a page-view of 180 million and attracts 3 million visitors per month (Lee 2005: 16)."
Besides AsiaOne.com and Business Times Online, SPH also has other Internet business, such as Straits Times Interactive and Zaobao.com (www.sph.com.sg). Zaobao.com is the online portal from the printed paper Zaobao which is the leading Chinese newspaper in Singapore. With more than 30 million pageviews a month, Zaobao.com online edition is the most-read Chinese-language online newspaper in the world (Ang 2007: 13-14).
In fact, SPH's presence on the Internet includes the online editions of its key newspapers, which together enjoy over 150 million pageviews with nine million unique visitors every month (Singapore Press Holdings Limited 2008: 3).
SPH's counterpart in the broadcasting scene is MediaCorp, a state owned group of commercial media companies which dominates the broadcasting scene completely.
Like SPH, MediaCorp is also closely linked to the government. It is a hundred percent owned by Temasek Holdings, Singapore government's wholly owned investment company. MediaCorp ' s online portal Channel NewsAsia.com (www.channelnewsasia.com), together with SPH's AsiaOne (www.asiaone.com.sg), has dominated mainstream online journalism since mid of the 1990s (Lee 2005: 5). Both represent 'the agenda of the government' (Kenyon 2007: 113). In contrast to online versions of established newspapers around the world, for example The Wall Street Journal, which moved towards charging users online readership and associated services to cover the high cost of web maintenance, Singapore's two mainstream online journalism sites remained predominantly free-of-charge until April 2005. At that point, the Straits Times Interactive moved to introduce paid subscriptions for full access to its news reports (Brown 2003: 54). But SPH has decided to provide key news free-of-charge via both the AsiaOne portal and The Straits Times Interactive site (Lee 2005: 6)."
This policy fits well in the Singapore government's 'psychological defence'4 (Lee 2005: 7) strategy to ensure that all Singaporeans - whether domiciled in Singapore or overseas - are able to keep abreast of 'home' news and government policies through a 'licenced' media source (Lee 2005: 5).
"It aims through these news outlets to build 'soft power' resources to propagate Singapore news globally, with one of its key target audience being the ever-increasing pool of Singaporeans residing overseas (Lee 2005: 5-6)."
Due to keeping track with the fast developments in the Information Era and Singapore's goal to become a global media hub, Singapore experimented with limited 'media liberalisation'in 2000 (Lee 2006: 11). In order to support Singapore's media industry to prepare the sector for global expansion, Singapore's economic framework had to shift away from monopolistic structure - at least in appearance - to take its challenge (Lee and Leo, in: Lee 2005: 4). For that reason, the government decided to give MediaCorp the licence for newspaper publishing while SPH became a two-channel broadcaster. This 'soft competition' was a financial failure and public relations disaster which ended up in a 'merger agreement' in 2004. Therein, MediaCorp regained its monopoly on broadcasting under a new entity, MediaCorp TV Holdings, which is 20% owned by SPH (Lee 2006: 12) and kept its print licence for it free newspaper Today, while SPH effectively closed its free newspaper, Streats.
2.4. Summary
Singapore's media system has been stable through a period of revolutionary change and impressive reform elsewhere. While new players and technologies have found its way into the media scene, the fundamental structure has shifted only gradually because of the PAP's hegemony as the "single most important determinant of media developments in Singapore" (George 2002: 173). Historical incidents like the Maria Hertogh case of 1950 and the Prophet Mohammed birthday procession of 1964 and the racial rioting that it has been linked to, have been cited as part of reason for the PAP's view that the media might entail 'undesirable values' (George 2002: 173).
The media corporations' interests in preserving the status quo is due to the government's guarantee of a commercially secure and success national press (George 2002: 173).
While in the early years of the PAP could not count on the support of the press to promote its policies, today the press serves the government as a 'reliable partner', as government and editors of the local media characterise themselves as 'partners in nation building' (Rodan 2000: 172). In terms of an ideological consensus, the PAP and its voters share a common interest in economic growth (Gomez 2000: 17).
Hence, cultural diversity and economic growth was used to explain restrictions on the press, and has been used to legitimise the local political behaviour (Gomez 2000: 15) within a discourse of nationbuilding (Lee and Willnat 2006: 7). Besides the historical development, Singapore's press is further influenced by Asian culture.
3. Journalism in Asia
3.1. Freedom of the Press in Asia
Discussing the media scene in Southeast Asia, for instance Singapore, Malaysia, Burma and Vietnam, it might raise the impression that freedom of press in these states is not highly appreciated. The picture of a restricted press as a general Southeast Asian phenomenon seems to be approved when taking a look at freedom of the press in most of the states in this region. According to the annual assessments of Freedom House5, the situation of the press in six of the ten ASEAN states were considered as 'not free' and merely the other four as 'partly free' (Freedom House 2008).
Map of Press Freedom 2008
illustration not visible in this excerpt
(Chart 3: Source: Freedom House:
http://www.freedomhouse.org/uploads/fop08/MOPFfinal .pdf)
Reporters Without Borders supports this impression ranking most of the eight Southeast Asian states at the lower end of its annual 'Press Freedom Index 2008'. Out of the 173 listed countries, the best placed Southeast Asian country is Indonesia ranking at 111th whereas Singapore is ranked 144th (www.rsf.org).
In many cases, the media of this region effectively arouse the impression to be an political instrument of the government in first line.
With a view to the dearth of press freedom in the region, Gunaratne (2000: 5) raises an unavoidable question, if the dearth of press freedom in Asia reflects what some identify as 'Asian values'.
This chapter is supposed to go into what freedom of press actually means. And if freedom of press can be considered as an universal value? Or might freedom of the press even have a different meaning in the context of Asian values?
3.2. Freedom of the Press
What does the frequently used term freedom of the press actually imply? The following part is supposed to take a closer look at this term.
The Commission on Freedom of the Press defines freedom of the press in year 1947 as follows:
"As with all freedom, press freedom means freedom from and also freedom for. A free press is free from compulsions from whatever source, governmental or social, external or internal. From compulsions, not from pressures: for no press can be free from pressures except in a moribund society empty of contending forces and beliefs.
[...]
---
1 Lee Kuan Yew was born on 16 September 1923 as a fourth-generation Chinese Singaporean. Educated in English at Telok Kurau Primary School, Raffles Institution and Raffles College, he studied law in Cambridge where he got grounding in economics and became interested in politics. When he returned to Singapore in 1949, he found a job as a lawyer. In 1954, he founded the People's Action Party as an uneasy marriage between a group of Chinese-educated communists, English-educated socialists and English-educated anticommunists, and became prime minister later (Josey 1974: 31-32; Lee 1998: 129).
2 Cherian George: Newspapers: Freedom from the press: http://www.singapore-window.org/80402cg.htm
3 SPH's success includes "net profits of around S$ 437 full Year Net Profit of S$437 million Singapore Press Holdings today", as reported in its full year results for the year ended 31 August 2008 (Singapore Press Holdings 2008).
4 'Psychological defence' is part of a five-pronged 'Total Defence' strategy that includes: military defence, civil defence, economic defence and social defence to make Singaporeans feel proud of their country and defend it in times of crisis (www.totaldefence.org.sg).
5 Freedom House is an international non-governmental organisation that researches and advocates on democracy, political freedom and human rights: www.freedomhouse.org.
Details
Pages

52

Year

2009

ISBN (eBook)

9783656110187

ISBN (Book)

9783656110422

File size

1.1 MB

Language

English

Catalog Number

v187527

Institution / College

University of Bonn

Grade

2,3

Tags