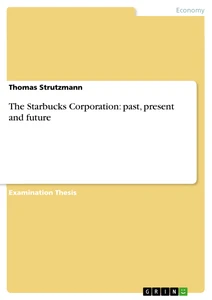 The Starbucks Corporation: past, present and future
Examination Thesis 2005 45 Pages
Summary
What were the main reasons for Starbucks success?

Mistakes which other companies did - and Starbucks not:
-companies didn?t rise enough money to finance growth
-companies franchised too early and too widely
-companies lost control of quality
-companies didn?t invest in systems and processes
-companies hired inexperienced people or the wrong
people
-companies were so eager to grow that they picked the
wrong real estate locations.
-companies didn?t have the discipline to walk away from a
site if they couldn?t make the economics work.
-All of them lost money, they didn?t use their years of
losses to build a strong foundation for growth.
You can?t create a world-class enterprise without investing it.

Details
Pages

45

Year

2005

ISBN (eBook)

9783656999386

ISBN (Book)

9783867468350

File size

16.6 MB

Language

English

Catalog Number

v186060

Institution / College

American Management and Business Administration Institute

Grade

1

Tags