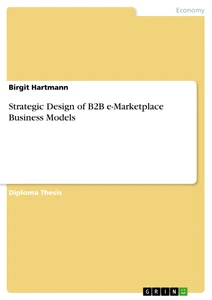 Strategic Design of B2B e-Marketplace Business Models
Diploma Thesis 2001 151 Pages
Summary
B2B Commerce enthusiasm is big – even despite the recent e-marketplace shake-out.

Internet Technology and its technical details involved in creating an e-marketplace is complex, important, and interesting, so that it was easy for many dot-coms to get lost in them. But when it comes to its base, e-business is not about bytes, but still about pure business, as the recent market development has shown.

Obviously, the market will now look more cautiously at the business model content and demands sustainable e-marketplace business model, which has been a basic reason for me to create a practical framework for the design of B2B e-marketplace models.

Breeding ground for my own e-business enthusiasm was certainly my internship at IBM Unternehmensberatung GmbH and further works within the IBM Consulting Group, where I had the chance to gain deeper insight in the creation of e-marketplaces.

During the creation of this report, I have truly been experiencing a lot of cooperative support, interesting discussions, as well as many helpful suggestions, and I would like to acknowledge the contributions of all who participated.

Especially, I wish to express my deep thanks to Martin Koppenborg, Vice President Strategic Accounts at emaro.com, an e-marketplace start-up, Frank Schmidt, Market Analyst at IBM's e-business services, and to Dr. Alexander Hirschbold, Consultant at Mercer Management Consulting, who each played a critical role in the building process.