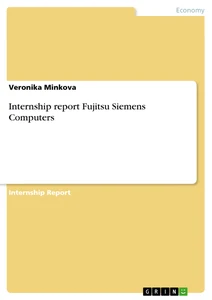 Internship report Fujitsu Siemens Computers
Internship Report 2008 16 Pages
Excerpt
Table of Content:
1. Introduction
2. Fujitsu Siemens Computers GmbH
2.1 The Holding: Fujitsu Siemens Computers BV., NL
2.2. FSC Product Portfolio
2.3. IT with a sense of responsibility
3. Sales Organization Fujitsu Siemens Computers GmbH
3.1. Sales Organisation Germany
3.2 LoB ÖA VC M/SW
4. My tasks
4.1. Developing offers (Angebotserstellung)
4.2. Orders
4.3. Briefings
4.4. Preparing the product basket
4.5. Data care & determining marketing events (Picksetzungen)
4.6. visIT 2007 Hausmesse in Augsburg
4.7. Events
5. Conclusion and Recommendations to fellow students
1 Introduction
The following report outlines my internship in the sales department at Fujitsu Siemens Computers GmbH located in Stuttgart. The first part gives overall information about the FSC foundation and company data; product portfolio; sales organization; marketing, while in the second part the focus is on the sales team I had the opportunity to work in and the activities and projects I have been involved in, on strategic and operative basis.
- Applying for internship SS07
During my fourth semester I was applying for internship openings in various international companies. As I stated in my "Personal Career Strategy" I wanted to have a closer look in the processes of a fast-moving industry. I received invitations for interviews with IT companies: FSC, IBM, HP and Intel. After a series of telephone interviews for an internship position in marketing research with Intel, I was invited in München. I had to prepare a 30 minutes presentation and I chose a recently studied topic in Business Strategy class: "The new 7 S". However the most interesting position for which I had been interviewed was with Daimler in Beijing in Customer Satisfaction department. Finally, I received three positive answers and I had to choose between marketing research in Intel, München; sales with Fujitsu Siemens Computers GmbH, Stuttgart or marketing communication in Robert Bosch GmbH, Plochingen. Finally I choose FSC and the factors for my decision-making were:
- small department
- German speaking environment
- consulting clients directly; actively participating in all sale processes
- working with eCRM systems and databases
From this point of view I am very satisfied with my decision, because I had exposure to a variety of business activities and I was able to participate actively and work directly with customers and partners. Another benefit for me is the access I had from strategic through technical company data. I learned a lot about the processes within the value chain, the trends in the IT industry, and I gained some technical knowledge in IT products and services.
2. Fujitsu Siemens Computers GmbH
2.1 The Holding: Fujitsu Siemens Computers BV., NL
Abbildung in dieser Leseprobe nicht enthalten
Tab. 1: Corporate Profile: Facts & Figures (Source: http://www.fujitsu- siemens.de/aboutus/company_information/corporate_profile/facts_and_figures.html)
Abbildung in dieser Leseprobe nicht enthalten
Pic. 1: Manifacturing and developing facilities (Source : http://www.fujitsu- siemens.de/aboutus/sor/index.html November 2007)
2.2. FSC Product Portfolio
Fujitsu Siemens Computers is one of the leading European IT providers with a strategic focus on next-generation Mobility and Dynamic Data Center products, services and IT solutions. With a platform and services portfolio of exceptional depth, the product portfolio extends from notebooks through desktops to enterprise-class IT infrastructure. Fujitsu Siemens Computers has a presence in all key markets across Europe, the Middle East and Africa, with the services arm extending coverage up to 176 countries worldwide. Leveraging the strengths, innovation and global reach of its joint shareholders, Fujitsu Limited and Siemens AG the company meets the needs of its customers: large corporations, small and medium enterprises and private users.
Abbildung in dieser Leseprobe nicht enthalten
Pic.2. FSC range of Notebooks
Source: http://www.fujitsu-siemens.de/Resources/39/888637377.pdf
Fujitsu Siemens Computers is the only IT vendor to support all leading server platforms (Windows, Solaris and Linux). This fact ensures that business customers benefit from long- term flexibility and the best possible investment protection. Freedom of choice in terms of operating systems lets the customers build integrated, highly efficient IT environments that reduce the total cost of ownership (TCO) while also supporting the seamless integration of new business processes.
[...]
Details
Pages

16

Year

2008

ISBN (eBook)

9783656049371

ISBN (Book)

9783656048978

File size

12.6 MB

Language

English

Catalog Number

v180848

Institution / College

Furtwangen University; Villingen-Schwenningen

Grade

1,0

Tags