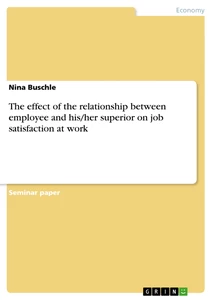 The effect of the relationship between employee and his/her superior on job satisfaction at work
Term Paper 2010 17 Pages
Excerpt
Abstract
The concept of job satisfaction is one of the most extensively researched areas in organisational management. In order to explain the concept, this study explores the topic job satisfaction and links it with the relationship between superior and subordinate. Based on the leader-member exchange theory the following research question is formulated: To what extent does the relationship between an employee and his/her superior affect this employees' job satisfaction at work? This research paper is based on a study done with a sample size of 12 consultants working in a Human Resources consultancy. Data were collected through a VBBA questionnaire, then analyzed by conducting a t-test and applied to the leader-exchange theory. The results show that there is a strong correlation between a positive relationship to one's supervisor and job satisfaction.
Introduction
Many Human Resource departments within organizations of diverse branches are facing a new challenge in terms of dealing with efficiency of consistent policies and processes (Baron & Kreps, 1999). A new trend is the concept of High-Commitment Human Resource Management, which describes a highly efficient and consistent HR system that promotes flexibility, transparent and accessible communication of organization's information for all parties as well as it aims long-term relationships with the company's employees (Baron & Kreps, 1999). This means that Human Resource specialists are also increasingly concerned about how to keep the good employers within the company. Therefore many companies and HR specialists are focusing on matters about several influencing factors that can lead to fluctuation. It is important to investigate for what reasons some employees can lose their motivation or even leave the company. According to Deluga (1998), one major reason for leaving a company or losing job motivation is the kind of relationship that occurs between an employee and his supervisor. Depending on how good or bad the relationship is, it can influence not only one's own job satisfaction, but also the motivation to stay within the company and perform well at work.
Job satisfaction is one of the most important topics in organisational studies and very relevant both for employees as well as for employers. Many organisations today are concerned with the issue of job satisfaction and employee well-being (Baron & Kreps, 1999). According to Spector (1997), job satisfaction is the most frequently studied variable in organisational behavior research. Still it is a not very easy subject to investigate, since it depends on many different factors and has many different definitions. The most comprehensible definition of job satisfaction is "the extent to which people like (satisfaction) or dislike (dissatisfaction) their jobs" (Spector, 1997, p.2). When describing an employees' view, Spector explains it the way "people feel about their jobs and different aspects of their jobs". In this study the relationship between employees' and their superior will be studied to what extent it does affect his or her job satisfaction at work.
Prior researches have proposed several explanations interpreting possible kinds of relationships between supervisor and subordinate. The most simple and apparently fairest approach suggests that supervisors use a similar or average leadership style towards all subordinates (Graen, Liden, & Hoel, 1982). In practice, nearly every person who has worked in an organization will probably have experienced a different kind of treatment from the supervisor among his subordinates. Deluga (1998) explains the supervisor-subordinate relationship with the theory of leader-member exchange. The so-called LMX assumes that there are quite distinct roles distributed by the supervisor within his group of employees. Everyone has a specific role in his/her working group and is therefore inside of a unique relationship to his or her superior. As stated by Bauer & Green (1996), these particular relationships are quickly developed due to the "supervisor's time limitations and range on a continuum from lower to higher quality exchanges". The relationship among colleagues will be secondary in this study, although it might be also a potential influencing factor to job satisfaction.
This research was executed with the usage of questionnaires answered by employees of an English consultancy company specialized in Human Resources. The main office is situated in Düsseldorf, Germany. Therefore, it becomes now relevant to formulate the following research question:
To what extent does the relationship to an employees' superior affect the employees' job satisfaction at work?
This study is intended to make a contribution to the understanding of the effect that the relationship to one's superior has on worker's job satisfaction. The effect of job satisfaction is important for organizations who are interested in the well-being of their employees. Since this interest has risen in many companies especially in the past few years, it is an interesting topic to analyze with the factor relationship with superior. The results of the study may be a stimulation for companies to implement questionnaires which will be handed in only to the employees to scale their superiors.
This paper will proceed with the theoretical framework, in order to give an insight into the definition of job satisfaction, relationship with superiors-subordinate, leader-member exchange and the relation between these terms. The method, sample and results come afterward and finally the paper ends with a conclusion and discussion. A list of Reference and the questionnaire form will appear in the last section "Appendix".
Theoretical framework
Job satisfaction
As stated by Spector (1997), the assessment of employee attitudes such as job satisfaction has become a common activity especially in organisations in which management is concerned with the well-being of their employees. For the purposes of this study, job satisfaction is defined as "how people feel about their jobs and different aspects of their jobs. It is the extent to which people like (satisfaction) or dislike (dissatisfaction) their jobs" (Spector, 1997, p.2). According to the scale Job Descriptive Index (JDI) described in Spector (1997, p.12-14) there are five major factors that influence the degree of job satisfaction: work, pay, promotion, supervision and coworkers. The factor supervision, in this research applied to the supervisor, will be considered the most relevant of study in this research.
Superior-Subordinate Relationship
According to Yammarino and Dubinsky (1992) there are numerous approaches for explaining the nature of the relationship between superiors and their employees. The way how a subordinate's and superior's relationship works can influence positively or negatively the job satisfaction of all parties. The following theory describes how the relationship between a supervisor and the subordinates can work.
Leader-Member Exchange Theory (LMX)
Leadership is one of the primary areas of study in organizational behavior. A superior always differs in his kind of relationship with every subordinate he works with. The theory of Leader-Member Exchange explains how these relationships with different members are and can develop in unique ways. The theory focuses on the two-way relationship between supervisors and subordinates (Deluga, 1998).
Supervisors usually have distinctive relationships with a selective group of coworkers, who in comparison to others get certain advantages from their superior, for example a better treatment or more access to information or resources. This group is the so-called "in-group". They are expected to be totally committed and loyal to their leader. Higher quality LMX involves interpersonal attraction, mutual trust, comfortable communication, a strong loyalty and a bidirectional influence. These employees will perceive more benefits and opportunities (e.g. more freedom in performing their tasks, career development support, etc.) (Bauer, & Green, 1996). The other employees form part of the "out-group", which usually have worse working conditions or lower levels of choice than the aforementioned in-group. This group of employees is characterized by restricted levels of reciprocal influence and support. In return, these subordinates perform their tasks according to the supervisor's expectations, but will not overperform or work beyond the standard requirements (Deluga, 1998).
According to Deluga (1998) these relationships usually start very soon after a person joins a team and goes through three different stages. The first stage is when a new employee takes a certain role, as soon as he joins a new group. He will then be estimated by his superior (and his colleagues). Is this person capable of doing his job? If yes, what are the skills he can contribute to the work content and the team? The second stage is the role-making, it means, when a role is created for the new memberHfffddfdsgfdfhbfg
. This is not an official procedure, but more a subjective decision made by the group. Trust-building is very important in this stage, and any feelings of betrayal, especially by the leader, can result in the member being put into the out-group. Relationship factors are to put in consideration as well as work-related ones. An employee who is similar to the leader in culture or gender is more likely to succeed. The third stage is called the routinisation. In this phase the social exchange between superior and employee becomes established. This means that from this stage on the employee will be fit in either in the in-group or in the out-group. Being an in-group member usually includes having qualities like empathetic, patient, reasonable, sensitive, and is good at seeing the viewpoint of his/her superior. Typical qualities of the out-group would be aggression, sarcasm and a self-centered view (Deluga, 1998).
Relationship between Leader-Member Exchange Theory and job satisfaction
The leader-member exchange theory implies that employees have a substantial need for respect, trust, autonomy, openness and discretion, which should be provided by their supervisor in order to guarantee job satisfaction. As seen before, being part of the "in-group" implies that an employee will have increased chances to have a higher job satisfaction. In counterpart, an employee who belongs to the "out-group" will not be motivated accordingly and therefore have the tendency to have a decreased job satisfaction and maybe even plan to leave the organisation. According to Deluga, "higher quality leader-member exchange is connected with supervisor-subordinate interpersonal attraction. (…) At the same time, interpersonal attraction may be associated with personality trait similarity." This means that supervisors tend to favour and categorize subordinate into the "in-group" when he shows some kind of personality trait similarity. It is also to assume that members of the "in-group" are more likely to receive better treatment such as career development support, valued promotions, favourable performance reviews and other special benefits and opportunities. All these factors can influence one's job satisfaction to a great extent. As stated by Deluga (1998), subordinates who are aware of their advantageous relationship "may further reciprocate by performing activities beyond written in-role job descriptions", which include organizational citizenship behaviour within the organisation.
Furthermore, the social exchange theory is a theory focused in explaining interpersonal relationships. Central to it there is the norm of reciprocity, which explains that people who receive favorable treatment from other people will respond positively to it. (Blau; Gouldner, in Eisenberger, Cummings, Armeli & Lynch, 1997) This positive treatment is applicable to the supervisor and the organization the employee is working for. Employees are well-aware of their organisations' and supervisors' effort concerning their well-being (Eisenberger, Huntington & Sowa, in Eisenberger et al., 1997). They are also attentive about their supervisors' leadership style and value any kind of favorable treatment. The supervisors' behavior towards his subordinates influences to a great extent the individual's affective commitment to the organization and increased effort on its behalf, which can result in a higher or lower job satisfaction of employees. It is therefore an indirect effect that might also influence the subordinates' job satisfaction and is therefore not possible to be measured directly in this research paper. After giving an overview of the research question and a definition of the variables it is correct to propose following hypothesis:
Hypothesis 1 (H1): The better the relationship between superior and employee is, the higher the job satisfaction of the subordinate will be.
[...]
Details
Pages

17

Year

2010

ISBN (eBook)

9783656621072

ISBN (Book)

9783656621010

File size

482 KB

Language

English

Catalog Number

v180674

Institution / College

Tilburg University

Grade

8,0