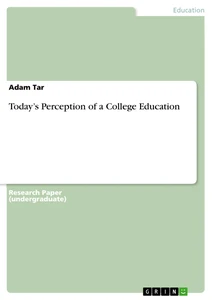 Today's Perception of a College Education
Research Paper (undergraduate) 2011 9 Pages
Excerpt
Today's Perception of a College Education
Because of a troubled economy that is showing no signs of improvement, the cost of a college education is experiencing questioning. Some may believe that it is a much better solution to take those four years and start working their way upbecause experience is key. Other's claim that there are statistics to back that the earnings of a college graduate are substantially higher than one with a high school diploma. That putting in the work, and the investment will be worth it over time. However, with the economy showing no sign of improvement, along with a very low employment rate, the number of individuals with an undergraduate degree is becoming very oversaturated. The search for a job is becoming much more barbaric in attempt to start a life, and paying off the long-term debt associated with one's education. This survey, evaluates how important a college education is perceived in today's society. The participants have been both male and female from different ages, educational levels, income levels, and states.A total of 24 participants responded to this survey, however there was an expected goal of 50.The results that have been gathered may be shocking to some, and no surprise to others.
HypotHhesis
Unemployment has been an ongoing topic of discussion on the news since early 2008. President Obama won his election with promise to develop the economy back to a prospering state, and by increasing the employment rate within the country. Almost four years later it is safe to say that little change has been made. Unemployment rates are still at an all-time high. Lisa Lambert Editor (2011) for Reuters states: "According to the Labor Department, Washington, D.C., South Carolina, Florida, Rhode Island, North Carolina, Mississippi and Georgia round out the top 10 of highest jobless rates, all of which are above 10 percent." This is very interesting data because many of the stateswith the exception of a few, are tourist areas. This supports the underlying premise that due to lack of jobs, income, high travel prices and inflation a majority of American's cannot seem to afford any luxuries, let alone an education. Reuters sates that:
The numbers are stomach-churning – both for prospective students, and their parents. Average college debt has now climbed to roughly $24,000 a head. Total student debt is projected to pass $1 trillion this year. And, since it usually can't be wiped away in bankruptcy, it can stay with you for a lifetime. "For the first time in history, student loan debt is now greater than credit-card debt," says James Altucher, author of books like Trade Like a Hedge Fund and managing director of Formula Capital. "It's a shame, because then kids become indentured servants, taking jobs and pursuing careers they don't necessarily want. Instead, if they had a five-year head start over their peers by not going to college, they could figure out how to make a lot more money – and wouldn't have to deal with massive debt.
With all of the problems that American's are facing, it would be of no surprise that American's would reconsider attending college. In fact a Reuter's survey asked its readers "Is the cost of a college education worth it?"("Is college worth it?", 2011). A total of 1,834 readers participated in this survey. The results were, 56%voted no, and 44%voted yes. The author has decided to test this for himself, to see if the results would compare, adding a few more variables into the survey.
Results Received
The survey was conducted September 19, 2011 to September 21, 2011. The link to the survey was posted on the author's main Facebook page. The participant's that took place in the survey were from Florida, West Virginia, Virginia, Pennsylvania, and North Carolina. Although there were a handful of states, a majority of the responses came from Florida, and Pennsylvania. Acquiring a wide range of states, ages, educational levels, and varying sexes was important to see if any of these variables may have influenced their perception on a college education. Every question was mandatory, and none of them could be skipped. Upon completing the survey, and analyzing the results. It would appear that Adam's hypothesis along with Reuters survey is inaccurate. Education does still seem to have an importance in today's society. When asked if the participants believed if it was necessary for today's youth to obtain a college education, 95.8% stated yes, with only 4.2% answering no. The 4.2 % came from individuals with no education besides a high school diploma. The 95.8% that answered yes, had a two-year degree or higher. The participants were given an open response question toward whether or not they think it is important for children to go to college upon completing high school. Seventy-nine percent of the respondent's believed that yes it was important. However, 12% thought that college was for people that were mature, and if need be, a potential student should take a year or two off to figure out if college is the right choice.The remaining 9% felt as though it does not matter. The participant was then faced with the question that even though times are economically hard how likely would it be for you to influence your childrento go to college. Of the 24 participants interviewed, 70% claimed they would without a doubt in their mind, 25% stated that they would want to have them deicide if it were right for them, and the remaining 4.2% claimed they would not. Although it seems that for a majority of the participant's college is definitely important, the author was also interested in how participantthought about a master's degree or higher; and if it was important for diversity in the workplace. This time the numbers were not so dominate, 70.8% believed that yes it is important to have an edge, and 33.3% believed that there was little importance. With all of this data, an educational level is needed from our participants to help analyze it properly. The participants were asked if they had a two-year degree or higher, or no degree. The percentages are as followed: 25% had a graduate degree or higher, 45.8% had undergraduate degree, 8.3% had an associate's degree, 20.8% were still in the process of obtaining a degree, and 4.2% had no degree at all. Based on these numbers, the survey demonstrated that most people believe that a college education is necessary. Although, if the participants had to do college over again would they, or if one were not educated would they do it differently given another chance? When looking at the numbers, 79 percent expressed yes they would in fact, do it over again, 12% said they would not do it over again, and 8 percent said that they would go to college if given the opportunity to again. We already know that price may be a determining factor when concerning college, so the authorasked his participants if they thought it was affordable? Out of the 24 that participated 62% expressed, yes that it was in fact affordable, and the remaining 37% said that it was not. In this situation it come down to opportunity cost, an education, which may have some debt associated with it, or getting "ahead" in the workforce. It simply comes down to the eyes of the beholder. One last financial question was asked of our participants. Do they believe there are enough scholarships available? After all, for those that cannot afford to pay-out-of-pocket for a college education scholarships are beneficial. The data shows that54% of people believed that there are in fact, enough scholarships available. Of this percentage, many of the participants stated that it is just about working hard for them and searching efficiently. The other 41% said no that there are not enough scholarship funds available. The remaining five percent admitted to not knowing if there were any scholarships funds available. What is interesting about this piece of data that in comparison with our last questions is that 62% found college affordable but only 54% said that there were enough scholarships. Therefore, there are either some people whom do not want to put the time and effort required to obtain scholarship funding, or they simply are not being informed.Consequently,this could change the perceptions of many if college is financially feasible or not. The final question the participants were asked was designed to judge their motivational level concerning college. The question asked was,if given the ability to have a college education or a million dollars, which one would you choose? The results: 20% said they would take the money, and invest among other things, 25% said they would take the free education because money comes and goes, but an education is forever. The remaining 45% said that they would take the million dollars and put it toward an education, and invest the rest, or pay off their debt. The numbers, clearly demonstrate that a college education is valued even in the toughest of economic times.
Conclusion
A troubled economy that shows no signs of improvement containing little income, and very few jobs has not deterred ones desires to obtain a college education. Society's influencers e.g. parents, teachers, friends, etc., have kept the drive and ambition alive. The long-term importance of a college education is too strong to be broken by a poor economy. The authors hypothesis was influenced by economic trends, cost of education, and articles that had supported his thoughts. The goal of the author was to take the original question conveyed to Reuter's readers and expand on it thoroughly, to analyze the results more accurately. If the number surveyed was more substantial the results may have proved the authors hypothesis to be correct.
[...]
Details
Pages

9

Year

2011

ISBN (eBook)

9783656032786

ISBN (Book)

9783656382157

File size

468 KB

Language

English

Catalog Number

v180278

Institution / College

Webster University – Sarasota

Grade

95%

Tags