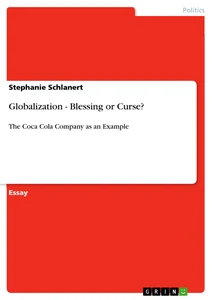 Excerpt
Introduction
We use them nearly every day, they are all around us at day and at night. We are talking about them even if we do not realize it. They are on our products of daily use, on big advertising-posters, we love them, we relay on them or we hate them - international brands.
Some brands are an expression of lifestyle, some of them are used as a status symbol or as a symbol for belonging to a certain group. Also people are using brands for showing that they are distanced from a certain lifestyle or behavior. Children grow up with a certain view on different brands. Mostly they already know from their parents which brand fits is the category "good" and which in the "bad" one. Children already have an image of the brand in their heads. This image can change, but mostly it is such a strong one, that it is not easy changing the view.
In some cases products are totally replaced by brands. For example, when people are talking about chocolate spread, there are often say "Nutella", which is an Italian product which belongs to Ferrerò. So, even if people are talking about chocolate spread in general, not a certain one, they are saying "Nutella". The brand is so deep in their mind that they do not even think about using it verbally. This is not only a local phenomena - it is like this all over the world. This is one aspect of Globalization - one brand is known nearly everywhere.
But there are less people that challenge brands. Where are certain products produced? What conditions do the workers have? How high are their wages? What are the real ingredients of the product? What is hidden behind the shining and brilliant marketing-techniques?
Unfortunately there is nobody who can be asked easily. All global brands belong to global companies which are often anonymous in the way that there are so big and consequently consist of many people, not only one or two responsible persons. They may have their call-centers etc., but there are also subjective, consequently they want only the best for the image of the product.
In this essay I will firstly defining "Globalization", secondly challenging the Coca Cola Company, putting this company with its strategies in the context of Globalization and will trying to find its advantages and disadvantages. Finally, I will trying to find out if Globalization with the Coca Cola Company as an example is a blessing or a curse.
Globalization
"Covering a wide range of distinct political, economic, and cultural trends, the term "globalization" has quickly become one of the most fashionable buzzwords of contemporary political and academic debate. In popular discourse, globalization often functions as little more than a synonym for one or more of the following phenomena: the pursuit of classical liberal (or "free market") policies in the world economy ("economic liberalization"), the growing dominance of western (or even American) forms of political, economic, and cultural life ("westernization" or "Americanization"), the proliferation of new information technologies (the "Internet Revolution"), as well as the notion that humanity stands at the threshold of realizing one single unified community in which major sources of social conflict have vanished ("global integration"). [-]"1
The Coca Cola Company in the context of Globalization
The Coca Cola Company is a very good example for the "[...] growing dominance of western forms of political, economic and cultural life [...]".2
The Coca Cola Company was established in 1886 and owns four of the world's top five nonalcoholic sparkling brands: Coca-Cola, Diet Coke, Sprite and Fanta. Moreover, there are 92,800 company associates worldwide (as of December 31, 2009) and there are headquarters in more then 200 countries. The mission of Coca Cola Company is "refreshing] the world". The whole world, not only a part of it. So they have this global view in their mission.
[...]
---
1 http://plato.stanford.edu/entries/globalization/
2 ibidem
Details
Pages

7

Year

2010

ISBN (eBook)

9783640933228

File size

424 KB

Language

English

Catalog Number

v173154

Institution / College

Vilnius University – Economics

Grade

1,6

Tags