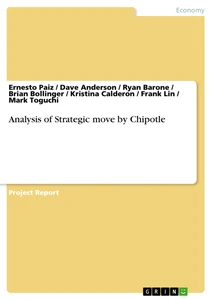 Analysis of Strategic move by Chipotle
Project Report 2011 94 Pages
Excerpt
Table of Contents
I. Wall Street Journal Article and Executive Summary
A. Wall Street Journal Article
B. Executive Summary
II. External Analysis
A. Industry Definition
B. Five Forces Analysis (Exhibit 2)
C. Macro Environment Forces Analysis
D. Competitor Analysis
E. Intra-Industry Analysis
F. Summary of External Analysis
III. Internal Analysis
A. Strategy Statement
B. Strategic Position Definition
C. Chipotle Financial Analysis
IV. Analysis of the Strategic Move and its Effectiveness
A. Designing the Strategic Move
B. Value-Cost Profile
C. Business/Corporate Level Strategy
D. Competitive Dynamics
E. Scenario Analysis
F. Strategic Move Effectiveness
V. Recommendations
A. Short-Term and Long-Term Recommendations
B. Strategy Implementation
C. Social Responsibility
VI. Conclusion
VII. Main Appendix
VIII. Financial Appendix
IX. Bibliography
I. Wall Street Journal Article and Executive Summary
A. Wall Street Journal Article
Chipotle's Asian Chain In Works May Be Named ShopHouse-Filing By Annie Gasparro
NEW YORK (Dow Jones)--Chipotle Mexican Grill (CMG) may be one step close to the launch of its new Asian restaurant chain opening later this year.
The quick-casual burrito chain filed a U.S. federal trademark registration for the name "ShopHouse Southeast Asian Kitchen" last month, according to public trademark records, indicating it has settled on a name for the new concept.
Janney Montgomery Scott analyst Mark Kalinowski, who discovered the filing, said, "The 'Southeast Asian' part of the name itself strongly hints that, the new Asian restaurant will not limit itself to the cuisine of any one country."
Chipotle announced its intention to launch an Asian concept in November. The company said it is developing the menu and will open one location this year. However, a spokesman said Chipotle isn't disclosing any details of the new chain now.
The goal is to bring Chipotle's defining characteristics to a new cuisine. The Denver-based chain is known for its fresh food, which comes from sustainable sources, and its interactive ordering, as customers go down the line choosing each ingredient they want to include in their taco or burrito. Chipotle plans to carry over the same service model, price point and design with its Asian chain.
The status of the trademark application for "ShopHouse" is "New Application: Record initialized not assigned to examiner," according to the trademark website.
Chipotle posted strong fourth-quarter earnings last week, with same-store sales up 13% from the prior year, almost all of which was driven by traffic growth. But some analysts are concerned about its future given a continuing immigration probe regarding workers in several states and its particularly high vulnerability to rising commodity costs. Several analysts have downgraded their ratings in the past few days. Nevertheless, shares of Chipotle closed up Monday by 1.6% at $272.95.
B. Executive Summary
Chipotle Mexican Grill, hereafter referred to as Chipotle, is a fast-casual restaurant that specializes in a limited menu mainly consisting of burritos, tacos and burrito bowls. Chipotle is known for its ability to offer products made from sustainable, organic ingredients, while remaining price competitive with other fast food chains. Chipotle refers to this differentiation as "food with integrity" and it is the driving force that has propelled the company to where it is today.
Since its foundation in 1993, Chipotle has been tremendously successful, growing into a corporation that is now worth roughly $8.5 billion (56). Chipotle's growth is a direct result of the quality of its products, the consistency of its service and the perceived differentiated value it has established in the minds of consumers. Chipotle stands apart from others in a highly concentrated industry because it does business differently in terms of its food, restaurants and advertising. While most fast food chains rely on advertisements that promote menu gimmicks, such as limited-time price reductions, new items, value menu offerings and more, Chipotle focuses on showcasing its quality ingredients. It also generates excitement for its food through a number promotional events and word of mouth.
Strategic Move
Even though the restaurant and bar industry is saturated, there are not many competitors that offer organic ingredients within the industry. To take advantage of the recent surge of consumers who demand healthier, organic food, Chipotle has decided to enter into the fast-casual Asian restaurant market with a new chain named ShopHouse Southeast Asian Kitchen, hereafter referred to as ShopHouse. Staying true to its position as a focused differentiator, Chipotle will operate ShopHouse under the same philosophy that has made it so successful, offering sustainable gourmet ingredients at reasonable prices.
Major Issues
The restaurant industry is heavily saturated, making it difficult for new entries to achieve profits during early years of operation. Only about 40-50% of restaurants that do survive the first year of operation will remain successful in the future (52). Specifically, the Asian restaurant market is also heavily inundated, especially within certain geographic areas like California.
Another main issue with Chipotle's strategic move is the potential for brand confusion and weakening. Because the Chipotle name has become synonymous with Mexican food, there may be apprehension when it comes to customers considering an Asian food restaurant that is backed by Chipotle. Chipotle has experience with a very limited set of food ingredients and flavor profiles, suggesting that it may not have the familiarity or proper knowledge to create a quality Asian-style food product. A ShopHouse failure could not only standout as a detriment to the scalability of the "food with integrity" mission, but it could also weaken the Chipotle brand as a whole. If there are any missteps in terms of the decisions Chipotle makes with this new endeavor (i.e. not using organic ingredients), customers will attribute any flaws or weaknesses to the overall Chipotle brand.
Key Analysis
The restaurant and bar industry is moderately unfavorable to enter, due to an intense threat of rivalry and the large number of potential substitutes. Those restaurants that do not maintain a sustained competitive advantage will fail. This is because buyers have full and complete power, as it is their disposable income and personal preferences that propel the entire industry.
Due to this industry makeup, it is not adequate for Chipotle to open a new type of restaurant and expect it to be successful just because it serves good food. Rather, Chipotle must focus on implementing the tactics that have allowed them to flourish up until this point. Relying simply on the Chipotle brand name for success will not be sufficient, as many customers have come to expect a certain standard of dining experience from the corporation. Failing to provide that standard in a competitive environment driven by powerful consumers will decrease customer loyalty and overall business.
Looking at the macro environment and its impact on the restaurant and bar industry, many consumers are planning to eat out less due to both the recent recession and a social shift towards healthier dining. This movement is causing the need among consumers to establish greater control over the types of food they consume while paying closer attention to how that food is prepared. To encourage consumers to dine away from their homes and to accommodate this expanding consumer segment, restaurants will have to alter their menus to provide differentiated value through superior food quality or lower prices.
Other macro environmental factors including ethical concerns about genetically modified foods and foods containing artificial hormones are also shaping the immediate future of the restaurant and bar industry. Favorably for Chipotle, it has already instituted a strong differentiated position which can easily satisfy changing consumer tastes, has established a supplier network and loyal customer following that will allow for success in light of these macro environmental shifts.
The broad restaurant and bar industry allows for many to be considered competition. Six major competitors, McDonald's, Yum! Brands, Wendy's/Arby's Group, Burger King Corporation, Doctor's Associates Inc. (owner of Subway), and Jack in the Box (owner of Qdoba) occupy 35.5% of the market. The remaining 64.5% is made up of smaller competitors including Chipotle Mexican Grill, Panda Express, Panera Bread and Pei Wei (17). Implementing strategies that are aligned with their core competencies, each competitor brings something different to the market. From providing multiple product offerings through different restaurants, as Yum! Brands has done with KFC, Taco Bell and Pizza Hut, to capitalizing on brand strength to adapt menus for different geographic markets and shifting customer preferences as McDonald's has done, each competitor has an established strength. Chipotle's strengths that lie within its mission, food and branding which are not easy to imitate, and when compared to Chipotle's closest competitor Qdoba, it is evident that Chipotle is delivering more value to its current customers. By adapting the same high-quality standards to ShopHouse, Chipotle can expect to hold relatively superior value over its competitors.
Considering the makeup of the restaurant and bar industry, macro environmental forces and major competitors, Chipotle is not only in a prime position to capitalize on current customer preferences, but it is also financially organized for growth, with free cash flows greater than $200 million. With a near zero debt to equity ratio over the last five years, Chipotle does not have to worry about meeting long-term debt obligations in the future. Likewise, Chipotle's ability to pay off short-term debt is above the industry average and above the averages of its competitors. This healthy financial position allows for Chipotle to maintain a large amount of financial leeway, free from the restrictions that large amounts of debt might impose. Overall, a substantial cash commitment will be necessary to introduce new products through ShopHouse and other endeavors, and the company appears to have adequate internal capital thereby limiting the need any outside financing.
Final Recommendations
All things considered, Chipotle has made a good decision in deciding to test its "food with integrity" mission within the Asian restaurant market. Not only does it have a proven track record of success with its way of business, but it has established a loyal set of consumers who will follow the Chipotle brand into the increasingly popular segment. According to Euromonitor estimates, U.S. sales of Asian fast food expanded by 4% in 2010, which is considered a very strong showing during a year when many sectors were still beginning to climb out of the 2009 recession (55).
Because of this segment's popularity and potential for sustained revenue, in the short term, it is recommended that Chipotle continue to test the market. This will be accomplished by spending an estimated total of $2.6 million (1% of the company's total cash) in opening up three ShopHouse locations in Denver, CO and Los Angeles, CA, in addition to the already planned Washington D.C. restaurant. These additional locations should be established near large college campuses in order to capture high traffic, repeat buyers. With these tests, it is recommended Chipotle not only tracks product sales to determine popular items, but it also needs to engage the customer through surveys in order to gain better demographic insights and facilitated performance reporting. Then, with the data collected from these tests, Chipotle can evaluate the scale and potential of opening additional ShopHouse restaurants on a much larger scale.
If Chipotle experiences success with these new restaurants, the main benefit is an entirely new stream of revenue for the company. Even though the industry is crowded, and ShopHouse would be one of many Asian restaurants, there is a huge potential for profit. In 2008 a mid-priced, full-service restaurant chain that resembled PF Chang's, called Bengal Coast, garnered considerable fanfare upon opening its doors. The restaurant offered a menu that combined the tastes of India, Malaysia, Thailand and Indonesia trough an upscale, yet-affordable setting. While the restaurant grabbed early success, it closed in 2010. Bengal Coast's successful entrance into the market portrays the fact that there is in fact demand for the type of food ShopHouse will be featuring. It also goes to show that good food isn't enough to carry a restaurant. Chipotle has an established competitive advantage that puts them on a level apart from its competitors, and for that reason, it has a great opportunity to capture a large share of the Asian food segment.
It is of great importance that Chipotle maintains access to high-quality, natural ingredients if it decides to expand into new markets. These ingredients not only make the food taste better, but they are also a major unique selling point that Chipotle holds over competitors.
Currently, Chipotle maintains a network of supplier relationships which have been fully developed over the years, resulting in the restaurant being considered a preferred customer by most. Looking at the long term, however, it is recommended Chipotle implement a strategy to ensure a sustainable supply of ingredients. In the wake of the company's foreseeable growth, along with the growing market demand for natural and organic ingredients, supplier capacity may eventually become a constraint.
To hedge against this, Chipotle must work to develop partnerships by prioritizing and seeking out suppliers who can provide the most valuable ingredients such as natural chicken, beef and pork. Ideally, with these partnerships, Chipotle would attempt to purchase an equity stake, ensuring the company voting rights. Likewise, Chipotle's overall objective is to ensure it establishes some type of permanent control over the partner's decision making.
Chipotle's strategic approach to establishing partnerships should be to gradually build up its arrangements over the next 5 – 10 years, starting with the "higher value" suppliers. Because the threat of shortages in supply for many of its current ingredients is not in the immediate future, Chipotle does not need to react instantaneously. Additionally, the company will not consider that a partnership is necessary with all its suppliers, and as the organic movement becomes even more mainstream, some "lower value" ingredients may become more abundant, and thus not worth the investment of a partnership. These newly established Chipotle partnerships will be yet another competitive advantage for the company should ingredients begin to become scarce.
So far, Chipotle has modified customer expectations, building strong brand equity as a result. Now, with the decision to move forward with ShopHouse, Chipotle appears to be in an opportune position for success, as upfront costs are anticipated to be minimal and outside competition offering high quality cuisines in a fast casual environment are close to nonexistent. Chipotle's comfortable amount of financial resources allows them to experiment with the ShopHouse concept without much monetary consequence. Lastly, with the focus to saturate the market with product offerings that are viewed as superior, and looking at the company's track record of success, it is expected that Chipotle continue securing itself as a leader and innovator within the fast-casual industry.
II. External Analysis
A. Industry Definition
Chipotle operates within the restaurant and bar industry, but is specifically part of the fast-casual restaurant industry. A fast-casual restaurant is an establishment that promises rapid service, higher quality foods, and a more enjoyable atmosphere than that usually offered at a typical fast food restaurant. In the U.S., the fast-casual industry falls between fast food and casual dining. The typical cost per meal is $8–$15; full table service is not offered.
B. Five Forces Analysis (Exhibit 2)
Threat of Rivalry
The threat of rivalry in the bar and industry is highly competitive and moderately unfavorable. There are numerous rivals in the industry, no matter what the buyer's price point and preferences are, which makes the rivals' role in the industry very unfavorable. Marketing and advertising are very important for differentiating from other establishments in the same industry. The industry growth is just now starting to pick up again after the Great Recession. As the economy and wallets of the buyers are improving, the industry is expected to grow about 2-3% (1). High costs limit the threat of rivalry. Food, energy and rents are at an all time high, which means that not all establishments/rivals will be able to survive (53).
Barriers to Entry
The restaurant and bar industry has very few barriers to entry, allowing new establishments to enter the industry easily if they have the money and drive. It is easy and cheap for buyers to switch to the new entrants. The main thing that does limit new entrants is that incumbencies have an advantage with the buyers because of familiarity. Whether new entrants will last or not, depends on their marketing/advertising, the location, the preferences of the buyer and most importantly, their product.
Supplier Power
The power of suppliers is fairly neutral. The food suppliers tend to supply to both the restaurant and bar industry and the supermarket industry. Because Chipotle offers unique ingredients, the quantity of food suppliers it has access to is limited. This gives the available suppliers more bargaining power. However, it is very easy for Chipotle to switch suppliers when their standard suppliers are not able to provide them with what is needed to serve their customers. Also, raw material suppliers only have a couple outlets they can sell to and they have fairly high costs they need to cover, so they may need to compromise in order to keep customers.
Buyer Power
Buyers have a high degree of bargaining power in the restaurant and bar industry. Their preferences, opinions and profits determine the success of a new establishment. They have many options with low switching costs. However, buyers disposable income, which is largely out of their control, determines their ability to eat out, not necessarily their want/desire to do so.
Threat of Substitutes
There are an endless amount of substitutes, which not only gives the buyers more power, but also increases the competition between all the substitutes and easily allows for new entrants. If price point is an issue, the buyer can always find a cheaper substitute, including another establishment or eating at home. If food preference is an issue, there are numerous options. These circumstances lead to the threat of substitutes being extremely high.
Role of Complements
The role of complements, such as carbonated soft drinks, clearly helps Chipotle and other restaurant and bar establishments, as they add to the value of the food and complete the experience for the buyers.
Level 3 Analysis
illustration not visible in this excerpt
The restaurant and bar industry is unfavorable to enter. According to the 2007 Economic Census, there were about 2 billion establishments in the restaurant and bar industry (2). This is a huge turn-off to new entrants as this represents an endless amount of competition. Another negative aspect of the industry is the complete power that the buyers have. Their disposable income and preferences drive the entire industry. The neutral status of the supplier power and the very positive role of the complements allow for a few favorable reasons to enter the restaurant and bar industry.
C. Macro Environment Forces Analysis
Globalization
Companies are always looking for new ways to increase their revenue. Since the majority of the world's population growth is occurring in Asia (16), companies have been expanding their operations to that market, specifically China. The restaurant industry has followed suit in this trend as many companies such as Subway and McDonald's fueled their revenue growth by overseas expansion. According to the AlixPartner Restaurant & Foodservice Industry Review conducted in December of 2010 (1), successful expansion to foreign countries is one of the critical factors that will define the success of companies operating in the restaurant and bar industry.
Social: Healthy and Home Eating
The AlixPartners review also revealed that 50% of those surveyed planned to eat out less because they are trying to eat healthier (1). By eating out less, consumers have greater control in the types of food they consume and how it is prepared. To increase the traffic of health conscious consumers, restaurants will have to expand their menu to accommodate this expanding consumer segment.
The recent recession forced many people to eat at home more often. This caused pressure on the restaurant industry to provide differentiated value such as superior food quality or lower prices for the same quality level. Data suggests that eating at home is becoming more of a "habit" and restaurants are already feeling its effects: "Restaurants traditionally have led other types of businesses out of a recession. This time, they're at least a year and a half behind retailers" (3). A recent study suggests that some people are cutting back on eating out regularly and are opting to eat out only on special occasions.
Technology: Internet
Internet based companies are influencing traffic levels at restaurants. Groupon, which launched in 2008, allows consumers to get deep discounts on products and services if enough people sign up for the deal. Restaurant deals are often featured on this website. OpenTable, which went public 2009, provides real-time online reservations for restaurants and has provided service for more than 200 million restaurant goers (8). Restaurants that successfully negotiate deals with internet based companies like Groupon and OpenTable are likely to enjoy higher customer traffic.
Government /Political: Foreign Crisis and Farm Bill
Oil prices have significantly increased in 2011 (Exhibit 4). This has primarily been due to the political unrest in the Middle East and North Africa. This crisis has caused oil prices to become volatile. The recent nuclear power crisis in Japan is also expected to drive oil prices up later this year. As reconstruction activities gain momentum, daily oil consumption may increase by 400,000 barrels to 750,000 barrels (7). As oil price increases, the amount of discretionary money consumers have will decline, decreasing the amount of money consumers have for leisure activities such as eating out.
The Farm Bill "governs federal farm and food policy, covering a wide range of programs and provisions" (9). Decisions made from the Farm Bill affect many different areas such as trade laws, food safety, pricing and the environment. The recent 2008 Farm Bill contained a component that encouraged the development of biofuels, which can lead to a higher demand (and price) for certain crops. Companies operating in the restaurant and bar industry who proactively follow the Farm Bill will find themselves better prepared to respond to the outcomes of this bill.
Ethical Concerns: Genetically Modified Foods and Growth Hormones
Genetically modified "is a special set of technologies that alter the genetic makeup of organisms" (11). Scientists have applied this technology in the agricultural industry and have produced genetically modified foods that are considered superior to the natural state. Results show that these foods have higher crop yields and often spoil significantly slower than natural foods. Although this technology has been beneficial for the food industry, a significant group of people are concerned about eating genetically modified foods (Exhibit 5). "Potential human health impacts, including allergens, transfer of antibiotic resistance markers, unknown effects" are causing some people to question its safety (11). The negative view of genetically modified foods can play to the advantage of restaurants who promote the use of natural and organic foods.
Americans eat millions of pounds of beef annually. In order to grow cattle quickly for consumption, they are injected with artificial hormones such as Zeranol, Trenbolone, and Melengestrol (12). Some scientists believe that consumption of these hormones may have adverse effects, especially on more susceptible populations such as children and pregnant women. Companies in the restaurant and bar industry that offer hormone free meat will attract customers who believe that growth hormones are detrimental to one's health.
Economic Trends: U.S. Recession and Commodity Cost
Due to the economic crisis, customers are forecasted to spend 5% less in 2011 (1). This will cause profitability pressure as many restaurants in the restaurant and bar industry will either have to lower prices or increase quality at the same price level to compete for business. Furthermore, a restaurant's traffic level may be affected significantly by the offering of deals or specials. Data suggests that the trend of deal finding is becoming more and more popular and consumers are selecting restaurants based on what deals are available. This is evident by the fact that "60% of consumers plan to take advantage of coupons and promotions" (1). To make matters worse for restaurants, deal finding is becoming the standard for many consumers: "From all indications, 'the year of the meal deal' looks like it may be turning into 'the era of the meal deal'" (1).
Food commodity prices have been on the rise and are beginning to eat away at restaurant's profits. McDonald's, the world's largest hamburger chain, reported revenue on April 21, 2011 that exceeded expectation but their stock price declined significantly due to investors' concerns of rising food prices. McDonald's expects food prices to increase by 4-4.5% this year (6). Since profit margins will decrease, companies are faced with a tough decision on whether or not to offset the increase in food prices with higher menu prices.
Demographic Trends: Women and Diversity in the Workplace
Starting in the 1970's, the percent of money spent on food rose about 44% as the number of women entering the job market increased (3). More and more women continue to enter the workforce (Exhibit 6). In fact, about half (49.8%) of all paid jobs are held by female workers according to the report "Six Disruptive Demographic Trends: What Census 2010 Will Reveal by the University of North Carolina" (5). Since Americans are the highest restaurant spenders in the world, the trend of women entering the workforce should continue to benefit the restaurant and bar industry.
85% of the U.S. population growth in the last few decades has been due to the non-white population (5). As the U.S. continues to grow into a multinational country, restaurants that take notice of this trend and diversify their menu with global cuisine will become more competitive.
D. Competitor Analysis
The restaurant and bar industry is a mature market that is heavily fragmented and entrenched with stiff competition. Competitors try to differentiate themselves using various marketing tactics, price points and menus targeting consumer dietary trends. Competitors are also looking to take advantage of opportunities in international markets.
Competitors
Chipotle's competitors (Exhibit 7) are not directly part of the fast casual segment as that segment has never been truly defined. Instead they are defined more broadly as part of the restaurant and bar industry. Exhibit 8 depicts the market share of Chipotle's top competitors: McDonald's (13%), Yum! Brands (10%), Wendy's/Arby's Group (6.5%), Burger King Corporation (5.1%), Doctor's Associates Inc., owner of Subway (5.9%), Jack in the Box, owner of Qdoba (1.5%), the rest of the market (64.5%) is made up by smaller competitors such as Chipotle, Panda Express, Panera Bread and Pei Wei. The six major competitors command 35.5% of the market share, making the industry unappealing for new competitors (17).
Primary Competitors
Chipotle's primary competitors are Panera Bread, Taco Bell (Yum! Brands), McDonald's and Qdoba (Jack in the Box) (Exhibit 9). Panera operates in the growing fast casual industry and is seen as one of Chipotle's biggest competitors. Qdoba has a similar menu and promotes a similar brand message as Chipotle. Qdoba has experienced some success and is quietly expanding throughout the country. Taco Bell (27) is a close competitor because it offers Mexican style food and is a low cost alternative to Chipotle. McDonald's is also a primary competitor as it is a dominant player in the fast food industry, commanding the largest market share.
Business Strategy
The various competitors have positioned themselves within the market where they believe they can achieve the most success. (Exhibit 10 ) Taco Bell has taken a cost leadership position as it aligns with the strategy Yum! Brands has also used with its other brands (KFC and Pizza Hut). Taco Bell offers a niche Mexican-style menu at low prices. McDonald's strategy falls under cost leadership, as it offers a menu with an assortment of products along with a wide range of prices. Panera has chosen a broad differentiation strategy. Panera offers a menu that consists of unique breakfast, lunch and dinner options. Panera is able to differentiate itself because other fast casual restaurants do not offer breakfast, lunch and dinner options. Qdoba's business strategy is similar to that of Chipotle, as both its strategies fall under focused differentiation. Both companies offer a niche menu and are perceived as highly unique by customers. Both Chipotle and Qdoba promote a healthy alternative to fast food along with high-quality products. Chipotle and Qdoba can be seen as the Coca-Cola and Pepsi of the Mexican-style fast casual industry.
Corporate Strategy
The various corporate strategies that follow were taken from the firm's 10-K filings. The corporate fillings give insight into the various strategies that these companies have taken which they believe will give them an advantage over the competition.
Chipotle (19) operates under a single business strategy in that it generates revenue only from corporate owned restaurants. This strategy has worked for the company, as it has been able to run a completely focused operation that has experienced tremendous growth. McDonald's (21) has developed a dominant business strategy in which it operates both franchises and corporate owned restaurants, while 70% of its revenues come from its corporate owned restaurants. McDonald's franchises have contributed healthy flows of revenue and have also helped the company mitigate some of the risk that comes along with the opening of new restaurants. McDonald's has benefitted from strong brand awareness and serving a uniform menu, although the company does offer regional variations of its products in international markets. Panera Bread Company (23) uses a single business strategy in which it only uses franchises to generate revenue. Panera's strategy is to become the first choice for consumers and attempts to do so by offering breakfast, lunch and dinner options. The company also offers catering as another way to differentiate themselves from the competition. Jack in the Box (25) is a multi-brand company, which also includes Qdoba, and uses a related linked strategy, which allows the company to generate revenue from two business units that share a few common attributes. Both brands offer differentiated products with different value propositions with the expectations that each company can attract more consumers. Yum! Brands (27) is also multi-brand company, including KFC, Taco Bell and Pizza Hut, and uses a related constrained strategy which allows the company to generate revenue through numerous linked franchises. The three brands offer differentiated products and have allowed Yum! Brands to capture the second largest percentage of the market behind McDonald's.
Implementation
The competitors in this industry all have implemented strategies that are aligned with their core competencies (Exhibit 9). The strategies have varied from offering multiple products, such as Yum! Brands has done with KFC, Taco Bell and Pizza Hut, to implementing combinations of both company owned and franchised restaurants. These competitors have also taken various strategies on where their restaurants are located. McDonald's and Taco Bell have built restaurants almost everywhere unlike companies such as Chipotle, Qdoba and Panera who have chosen specific locations like endcaps of strip malls in order to differentiate themselves further from the typical fast food restaurants.
Chipotle has been able to differentiate itself through word of mouth advertising, its focus on healthy ingredients, food preparation and building close relationships with its suppliers. Chipotle has benefited from the shift towards healthier food options and more ethnic food choices. Chipotle's ability to build strong relationships with its suppliers and distributors has allowed it to continuously acquire high-quality organic ingredients. Chipotle has capitalized on the marketing of these differences with both creative billboards and social media campaigns. As a result it has experienced high growth with great brand awareness.
McDonald's has leveraged its strong brand, food consistency and business model to not only grow in the U.S. but also internationally. McDonald's ability to adapt its menu to foreign cultures has attributed to its sustained success. McDonald's has also begun adding healthy menu options to attract more health conscious consumers.
Jack in the Box is in rebuilding mode, attempting to revitalize the flagship Jack in the Box brand as same store sales have been steadily declining (17). The company is trying to capitalize on the success that Qdoba has been experiencing along with opening new franchises to benefit from the higher margins. Jack in the Box is also providing enticing low price value meals to continue to generate revenue.
Yum! Brands is able to take advantage of the three powerful brand names under them to continue to build customer awareness. Yum! Brands, similar to McDonald's, has leveraged its strong brand to grow internationally. Yum! Brands differentiates Taco Bell from other Mexican-style restaurants by offering a low price menu. Yum! Brands also combines its restaurants in one location, such as having both a Taco Bell and KFC in the same store thereby giving consumers more options.
Panera has built cafes that offer warm relaxing environments where customers can enjoy items from its unique menu. Panera also uses a mix of traditional and non-traditional media to create brand awareness. Its unique supply-chain that procures high-quality, fresh dough on a daily basis also creates another point of differentiation.
Value minus Cost (Willingness to Pay)
Qdoba was selected in the analysis of the value minus cost due to the fact that Qdoba has the most similar menu to Chipotle. Values such as base price, brand recognition, quality premium, availability, variety, store experience, customer service and corporate social responsibility were used to rate the value of each company. Basic price, COGS, inventory turnover and gross profit margin were used to rate the costs of each company.
Exhibit 11, Value Analysis, illustrates that Chipotle has a higher perceived value (8.83) in comparison to Qdoba (4.16). This perceived value is attributed to Chipotle's brand recognition, store experience, quality and corporate social responsibility. Chipotle has done a fantastic job about creating brand awareness, educating consumers about the healthier choices that are offered as well promoting its corporate social responsibility on its website. Qdoba on the other hand has not done as good as a job about creating brand awareness or any other differentiating features. Qdoba has an opportunity to raise its low perceived value as it can leverage the resources of its parent company Jack in the Box and its larger menu over Chipotle.
Chipotle also has higher relative costs (Exhibit 12) (4.68) compared to Qdoba (2.43). The higher relative cost is attributed to the healthier organic ingredients that Chipotle uses in comparison to Qdoba, as well as additional cost of goods sold. As the company continues to grow Chipotle should be able to reduce its COGS through operational efficiencies and economies of scale. Chipotle currently enjoys a healthy gross profit margin (27%) (17) and as the company becomes more efficient it will be able to increase its profitability and deliver more value to its customers. Qdoba has a relatively low cost structure partly because it benefits from the economies of scale that the parent company, Jack in the Box, has created. An additional reason for Qdoba's lower cost structure is that it is using ingredients that are not as high of quality as Chipotle's ingredients.
As Chipotle continues to grow, the company will only become more successful at delivering additional value to its customers. In the value minus cost framework (Exhibit 13), it is evident that Chipotle is currently doing a better job at delivering value to its current customers compared to Qdoba. In the future, Chipotle will have to continue to increase the value it delivers to its customers, which will allow it to continue to charge premium prices and be perceived as the healthiest option in the market.
Comparative Financial Analysis
In order to understand the overall health of a company like Chipotle, it is important to complete a financial analysis for the company as well as its competitors and the industry. Although Chipotle is in the fast casual restaurant business its overall competition includes any service that may be a substitute for Chipotle. The majority of fast casual restaurants are still private and so focusing on public companies that have had a significant time in the market gives a better idea of Chipotle's competitiveness.
Overall stock price is not the best indication of a company's health as factors such as outstanding shares and dividend payments play an important role in price per share. However Exhibit C (Historical Stock Price) shows the tremendous growth that Chipotle has experienced in the past five years and relative to its competitors this is very significant. In 2006 Chipotle had a share price of roughly $50. In 2011 the share price rocketed to around $270 representing an annual growth rate of 40%. In comparison, Panera who is a direct competitor in the fast causal restaurant market had an annualized growth rate of 20%. Neither company distributes dividends or had a stock split during these five years. Both McDonald's and Yum! Brands distribute dividends to their shareholders and therefore the growth rate of their share price is not expected to be very high. Jack in the Box however has seen its share price suffer in the last five years indicating that it may need to find new areas of growth to compete in a saturated market.
The Price/Earnings Ratio of a company in its simplest form states how much an investor is willing to pay per dollar of earnings. A high P/E ratio typically indicates that investors are expecting large growth rates in the future. Exhibit D (P/E Ratio) shows that Chipotle's P/E ratio has been consistently higher than its competitors as well as the industry average in the last five years. Since 2006 Chipotle's P/E ratio has declined, indicating that investors are expecting earnings to slow down in the future. This may be relevant to why Chipotle is looking to expand into the fast casual Asian restaurant market. At the end of 2010 Chipotle had a P/E ratio of 27.5 followed closely by Panera's 22.8. The remaining three competitors were all below the industry average of 19. This may be a leading indicator that investors think consumers will be more favorable to health conscious fast food.
Exhibit E (ROA) shows the efficiency of management in using assets to generate earnings (ROA). The industry average as of 2010 was roughly 13% with Chipotle, McDonald's, and Yum! Brands exceeding the industry average this past year. Panera and Jack in the Box fell short of the industry average with Jack in the Box taking a substantial hit in 2010. It is important to note the trend in ROA over the past five years as every company saw an increase except for Jack in the Box. Its ROA fell from 7% to 5% further strengthening the idea that Jack in the Box needs to make some strategic changes for the future. Chipotle, on the other hand, was able to double its ROA within the 5-year period indicating greater efficiency and profitability for its shareholders. Exhibit F (ROE) shows the amount of profit a company generates with the equity invested by shareholders, also known as return on equity (ROE). This is one financial ratio that Chipotle falls below the industry average of 37.5%. However, this average may be skewed due to companies like Yum! Brands with ROEs of over 100%. Chipotle and most of its competitors were around the 20% mark, which is more than acceptable for a public company.
Operating margins are an important factor in comparing how efficient a company has become in generating revenue. Generally low capital-intensive companies such as software and tech companies have higher operating margins, closer to 30%. High capital-intensive companies, such as those in the automobile industry will have lower operating margins typically less than 10%. Exhibit G (Net Operating Margins) shows the net operating margins of the five companies against industry average. McDonald's in the last two years has been outperforming the industry with operating margins over 20% while Yum! Brands and Chipotle are a distant second at 10%. Jack in the Box is seeing operating margins decrease as it has fallen below 5% in 2010. It is important to point out that Chipotle's operating margins have increased year-over-year since 2006. This is a sign that points to higher operating efficiencies and lower costs, both of which are positives to the future of the company and its shareholders. Tied closely to operating margins is a company's earnings per share (EPS), probably the most used metric in determining the appropriate share price of a public company. Unlike operating margins, earnings per share take into account the volume of the products sold. Therefore small margins on a very large volume of products can mean significant earnings for a company and its shareholders. As shown in Exhibit J (EPS), Chipotle's earnings per share are significantly higher than any of its competitors. In 2010, shareholders saw earnings of $5.64 per share, an annualized growth rate of 34% since 2006. This validates the large growth seen in Chipotle's market cap/share price since 2006. Panera and McDonald's also saw a large EPS growth since 2006 but still ended in 2010 with only a fraction of Chipotle's EPS. McDonald's EPS has remained relatively flat over the five years while Jack in the Box saw a reduction in its EPS after 2009. This has become a noticeable pattern with Jack in the Box and should be creating some concern for its investors.
Lastly, in order to better understand the financial obligations of Chipotle and its competitors, the ratios of Debt to Equity and Assets to Liabilities have been looked at. The debt to equity ratio tells investors how leveraged a company is with respect to financing its growth with debt. A highly leveraged company might raise a flag with investors as this can lead to a company defaulting on its loans and going bankrupt. The industry average for companies like Chipotle is just over 1, meaning its debt is just slightly more than the invested equity. As shown in Exhibit H (Debt to Equity), Yum! Brands has a significantly high debt to equity ratio at more than 3 times the industry average. This is tied directly to its very high return on equity discussed previously. Chipotle, Panera, McDonald's, and Jack in the Box are all under the industry average with Panera and Chipotle having a near zero debt to equity ratio over the last five years. This is a great sign for its shareholders, as both companies do not have to worry about meeting long-term debt obligations in the future. As the debt to equity ratio measures a company's ability to pay off long-term debt, the current ratio (Assets/Liabilities) measures a company's ability to pay off short-term debt. As shown in Exhibit I (Current Ratio), Chipotle once again beats the industry average as well as its competitors with an average current ratio of 4.0 over the last five years. Panera falls just behind with an average current ratio of 3.25 since 2006. McDonald's, Yum! Brands and Jack in the Box are all close to the industry average of 1.4. In summary, Chipotle and Panera are the best situated to handle both short and long-term obligations thereby minimizing risk to shareholders.
Implications
Competition in the industry will only intensify as companies compete to draw more foot traffic and increase same store sales. Consumers are becoming more health conscious and seeking out restaurants that offer healthier food options. Competitors such as McDonald's and Taco Bell are making inroads into Chipotle's space by offering healthier, inexpensive value meal options. According to Mintel's 2010 Fast Casual report, Taco Bell has experienced success by offering $2 value meals, which has attracted more customers due to the Great Recession. Mintel also reports that consumers are more willing to continue to go back to these restaurants as the economy recovers because consumers know that they can continue to get more for less. Even though consumers understand that companies such McDonald's and Taco Bell offer healthier food options, they understand that lower prices do not equate to high-quality, healthier ingredients (28).
[...]
Details
Pages

94

Year

2011

ISBN (eBook)

9783640931934

ISBN (Book)

9783640932078

File size

2.1 MB

Language

English

Catalog Number

v173070

Institution / College

Santa Clara University

Grade

B

Tags