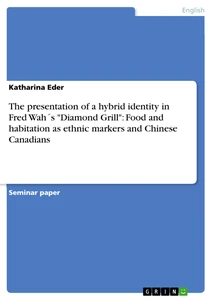 The presentation of a hybrid identity in Fred Wah´s "Diamond Grill": Food and habitation as ethnic markers and Chinese Canadians
Term Paper (Advanced seminar) 2010 31 Pages
Excerpt
Table of content
1. Introduction
2. Biography
3. On the symbolic meaning of food
4. Fred Wah´s "Diamond Grill"
4.1. What is a "biotext"?
4.2. Introduction and "plot"
4.2.1. Identity, ethnicity and other important themes
4.2.2. Representation of the café
4.2.3. Language
4.3. Food as a metaphor in Diamond Grill
5. Conclusion
6. Bibliography
1. Introduction
The following seminar paper is concerned with the presentation of a hybrid identity in Fred Wah´s Diamond Grill and the cultural significance of food. In the beginning, the most important stages of the author´s life shall help to embed the story in its historical and socio-cultural context. After a detailed discussion on the symbolic meaning of food, with various examples providing insight into the many functions that food takes in daily life and human existence, as well as its crucial role in the context of communities, the paper will shift its focus to the text itself. The term "biotext" and its emergence will be discussed and information on identity, ethnicity, other important themes and issues in the text and the language employed by Wah will be given. The last part of this paper constitutes its centrepiece, in which food as a metaphor and its cultural significance as a multilayered strategy and trope in postcolonial life writing will be discussed. The culinary language employed in Wah´s innovative discourse of Diamond Grill makes the concept of food a metonymy of the elaboration of identity and culture. The use of food as a metaphor in the author´s culinary memoirs will be discussed, and the way in which the metaphor of food provides an axis for the understanding of Wah´s explorations of his socio-cultural background will be explained in more detail.
2. Biography
Born in 1939 in Swift Current, Saskatchewan, to a Canadian-born Chinese-Scots-Irish father, Frederick Clarence Wah, and a Swedisch-Canadian mother, Corrine Marie Erickson, Fred Wah can be considered one of the most innovative and important writers and critics to have emerged from Western Canada in the second half of the 20th century. Wah graduated with a Bachelor´s degree in English and Music at the University of British Columbia in 1958, and can be counted as one of the founding fathers of TISH: A Poetry Newsletter. While he was still at university, Wah´s main interests were Creative Writing and poetry. Since 1965, Wah has published twenty-four books of poetry, the most recent entitled is a door (2009). Wah was awarded the Governor-General´s Literary Award in 1986 for Waiting for Saskatchewan. So Far won him the Stephanson Award for Poetry (1992). Diamond Grill, the "biotext" that this paper is concerned with, was published in 1996 and won Wah the Writers´ Guild of Alberta´s Howard O´Hagan Award for Short Fiction. For his book of essays Faking it: Poetics and Hybridity, published in 2000, he was awarded the Gabrielle Roy Prize for Criticism (2001). Together with Robert Creeley, Wah studied at the University of New Mexico in 1963-1964. In 1964 he moved to Buffalo in order to study linguistics with Henry Lee Smith Junior and poetics with Charles Olson at the State University of New York. There he graduated with a Master´s degree and became editor to The Magazine of Further Studies, The Niagara Frontier Review and contributing editor to the Open Letter magazine which was founded by Frank Davey in 1964.
The beginning of Wah´s writing is characterized by his life-long exploration of a disjunctive, improvisational poetics, whereas his first book of poetry, Lardeau (1965), especially shows his early interests in Jazz. It seems to be important to Wah to locate the poet in a specific time and place. The books emerging out of this phase of Wah´s poetics were Mountain (1967), Among (1972), Tree (1972), Earth (1974), and Pictograms from the Interior of B.C. (1975). This period culminated with Loki Is Buried at Smoky Creek: Selected Poems in 1980.
In later years Wah began to incorporate prose into his poetry, beginning in 1981 with Breathin´ My Name with a Sigh and Waiting For Saskatchewan in 1985. His mixture of prose and poetry signalled the understanding of his "hyphenated" identity, whereas Wah emerged as an important figure in the expression of racialized poetics in North America. The publication of Diamond Grill (1996), which can be regarded as a biotext about racial anger, and Faking It (2000), his book of essays on hybridity and poetics, were central in this context. Wah´s works that emerged in the 1990s together with various visual artists incresingly articulated his political engagement and located issues of identity and race within the area of widened concerns about the influence of globalization. This aside, Wah also exerted great influence on many generations of young writers all over Canada in teaching them. Wah also functioned in the Racial Minorities and Social Justice Committees of the Writers´ Union of Canada (TWUC) and from 2001-2002 served as its president. He took up a position in the English Department at the University of Calgary in 1989, to which he devoted himself until he retired. However, Wah continues to write, publish, and perform public readings. Together with his wife he is an active member of Vancouver´s Kootenay School of Writing Collective. Both of them still write, travel and hold seminars and talks all over the world. Wah retired in 2003, and ever since lives in Vancouver together with his wife, the scholar and critic Pauline Butling.
(cf. Rudy, Fred Wah: The Digital Archive, http://fredwah.artmob.ca/)
3. On the symbolic meaning of food
There are many functions that food takes up in daily life and human existence. It does not only serve as a necessary energy source in order to survive, but it also essential in the context of social well-being. Food plays a crucial role in the context of communities. Almost at any encounter with people gathering, there is food to be found. It proves to be absolutely essential in order to create a sense of community. When we think of barbecues, coffee houses, pubs, fancy restaurants, or even picnics, the social importance of food and eating cannot be overstated. Furthermore, on the basis of food we can actually determine important sociocultural parameters, such as growing prosperity or changing consumption patterns and popular culture, which the global proliferation of food venues reflects.
When it comes to the acquisition and the maintenance of power and social relationships, food acts as an important mechanism as well. In his ethnography of France, Pierre Bourdieu (1984) discovered a close tie between social class and aesthetic taste, and concluded that taste is frequently a marker when it comes to the distinction of classes.
Nowadays, people gather in gourmet dining rooms, family restaurants, cafeterias, or sandwich delis. "Dining out" or having lunch in commercial restaurants has become an economic mainstay of every urban centre almost all over the world. The origin of restaurants is to be found in the eigenteenth century, when chefs opened their own business after being freed from servitude to the nobility following the French Revolution (cf. Whitaker 2001). Dining out was a sign of nobility and wealth and a sign of class and status. Only members of the upper classes were able to patronize restaurants then. During prohibition in North America, when stigmas attached to these establishments due to alcohol consumption disappeared, it became more popular to eat out and families began to visit restaurants more frequently.
Especially in the Western hemisphere most people are too busy nowadays to actually cook during the week. An ever expanding workforce of both men and women and urbanization made the option of dining out increasingly popular. Dining is a social event and during the week businesspeople meet to discuss their business strategies, interview for new jobs, or woo clients. Workers congregating at noisy, overcrowded eateries are to be found during the week, whereas at the weekends restaurants prove to be a popular spot either as a courtship venue for young couples, a meeting point for a family outing, or a gathering place for friends.
For most cultural groups food possesses some meaning, which often turns out to be symbolical. For example Chinese people enjoy a vegetarian dish on New Year´s Eve which is called jai. Each individual ingredient has special meaning. Lotus seeds stand in for male offspring and are supposed to ensure the latter. Wealth on the other hand is represented through dried bean curd, ginkgo nut and black moss seaweed. Good luck on the other hand, will be provided through bamboo shoots. Since a duck turns red when it roasts and red dishes are a symbol of happiness, roast duck is a popular meal on New Year´s Eve too. Sticky rice cakes and their sweetness symbolize a sweet, rich life, whereas its layers are supposed to provide abundance and prosperity during the upcoming year. However, tofu is a taboo on New Year´s Eve, since its white shade stands in for misfortune and even death (cf. Parkinson 2007).
Food can also be a sign for cultural renewal, which becomes obvious when we have a look at Vietnam. Jackson-Doling (2000) claims that much of the renewed economic and social vitality of Vietnam´s culture pivots on food, which is discernible in Ho Chi Minh City, where each morning is characterized by food stalls appearing magically on the sidewalks in front of old shop houses. The new prosperity the country enjoys nowadays and the cultural renaissance of Vietnam´s culinary traditions are signalized through signs such as the clusters of tables and chairs surrounding a hot couldron containing soup set on an open fire.
In Cuba on the other hand food plays an important context in the way that many people open folk restaurants, so called paladare, on the back of their homes. Those private, small restaurants are not only crucial regarding many people´s economic situation, but also rekindling an interest in their ethnic cuisine. Furthermore, they offer an insight into the everyday life of Cuban people (cf. Futrell 1998).
So called warung food stalls mushroom in the late afternoon on roadsides in Jakarta, Indonesia. They are also to be found on sidewalks, in parking lots or any open space. People passing by choose their food, and sit down enjoying their meals on temporary wooden benches and tables set up around the decorated tents. Each warung specializes in a particular menu, and since the economic downturn in 1997, some performers and singers have set up their own warung stalls in order to attract as many people as possible. On the weekends warung have also become a popular gathering place for young people. In China there are similar kind of "street restaurants", which are important spots for social exchange and communication. Those so called xiao fanguan ("little food shops") offer fast and cheap food and are actually little soup kitchens, serving rice or noodles and attracting people without a lot of money. They are usually located on the outside of the bottom floor of apartments in Shanghai. People meet up there not only to eat but also to talk about everything under the sun (cf. Fedorak 2009).
The fact that food has become increasingly globalized becomes obvious by the example of the marketing of fast food in Japan, which brought along the consequence of a naturalization and appropriation of so-called Western fast food, such as McDonald´s, Burger King or Kentucky Fried Chicken.
Sharing a meal is important in Japan as a way of strenghtening friendship bonds and familiy ties, whereas the meaning of fast food in Japan has changed tremendously over the last years. When fast food outlets and their "meals" were first established, they were adapted and really modified in order to fit Japanes cultural patterns, such as for instance by adding rice burgers and corn soup to a standard menu. Throughout the years, foreign fast food became so naturalized that by Japanese people is is almost considered as distinctly Japanese nowadays. The same thing happened with Chinese ramen noodles, which are also considered Japanese these days. Indeed, fast food outlets have been appropriated to the point where many Japanese people regard McDonald´s and Co. as Japanese companies and don´t attribute any exotic or foreign features at all to them (cf. Fedorak 2009).
Traphagan and Brown (2002) conducted an ethnographic study of eating patterns in Japanese fast food restaurants in Mizusawa. Their aim was to investigate the cultural meaning and values Japanese attach to such meals. The approaches they listed in their research were casual conversation, free listing, interviews, and detailed observation of social interaction and eating habits in the fast food outlets. One of their main conclusive points was that the proliferation of these restaurants really facilitated intergenerational communal eating and quality family time, which is a rare thing in Japan due to the rigid work and career ideology the culture has. When a Japanese family enters a fast food restaurant the father and the children go to hold a table while the mother orders meals for the whole family and later on distributes the food. This is consistent with Japanese culture, since the mother is still the one who is responsible for feeding the family. Even older Japanes people are sometimes sighted in McDonald´s and the lot, whereas more frequently they visit Japanese ramen noodle shops, which also offer "fast food". The only notable exception is that grandmothers and daughters, grandchildren and daughters-in-law often visit fast food restaurants together, which fosters intergenerational intimacy. Japan boasts the second largest number of McDonald´s outlets of any country, whereas Western cultural imperialism is usually made responsible for the number and popularity thereof. However, Traphagen and Brown allocate this proliferation to the alterations caused by modernization and globalization processes, such as for instance the booming car culture, rather than Westernization per se. Fast food is not really a new phenomenon in Japan, considering all the stand-up noodle shops, street vendors serving roasted sweet potatoes, or take-out establishments, which constitute an integral part of this hard-working and fast-paced society (cf. Traphagen&Brown 2002).
Counihan (1999) points out the fact that men and women define their gender roles, status, position, and their whole identity through the production, the distribution as well as the consumption of food. Another example for the demonstration of the symbolic meaning that food can hold is the tamale. In myriad ways it gives insight not only to the symbolic dimension of a dish, but also the interplay of gender roles and identity in relation to food. Tamales are a popular regional delicacy of the North American Southwest. However, each locale, including California, Mexico, Texas, Arizona and even Central America claims to have the recipe to the best version. The recipe is orally passed on from generation to generation and each type of tamale owns a rich oral tradition including the best ways to prepare and distribute the dish.
The symbolic meaning of the tamale becomes apparent with respect to the Tejano migrant farm workers, who live at Prairie Junction, Illinois for about six months each year. The tamale is a highly anticipated treat for them which marks festive and even sacred events. Furthermore, it highlights the woman´s role as the nurturer of the whole family, and ritually emphasizes the woman´s domestic role, while its preperation and sharing is important fort he reaffirmation of kin ties. Crucial in this context is also the tamale feast, which functions to commemorate special events such as for instance the end of the harvest which is celebrated. The feast may also be used by a woman to obligate other women she wishes to integrate in her social support network. The woman gains influence in the way that she shares the production of food, uses it to make friends and allies, and maintains control over its distribution (cf. Counihan 1999).
[...]