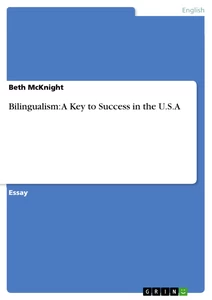 Bilingualism: A Key to Success in the U.S.A
Essay 2010 4 Pages
Excerpt
Bilingualism: A Key to Success in the U.S.A
As I'm writing this article I'm slowly typing my thoughts and translating the words in my head from my native dialect of Waray to my National language Tagalog and into English. As a Filipino immigrant I have a unique perspective on why it is important for immigrants to learn to read and speak English. It is significant for us immigrants to learn English when we move to America. Learning English is very important because it improves one's opportunity of getting a good job. Learning English helps communicate with Americans and other non-English speakers. Finally, it also enriches and broadens one's social life. For these reasons, I believe it is important to learn and clearly speak English in this country in order to make a living, for better communications with others, and to have a more meaningful social life, but that it is also important for native English speakers to learn another language fluently.
First, learning English is very important because it improves one's opportunities for getting a good job. For a person to get a job he or she must first meet the requirements of the employer. The ability to read and write English enables them to communicate with a far larger group of customers that an American business would probably work with. Otherwise, "when immigrants don't learn English, they are doomed to remain second class citizens (or never become citizens). They are forced to take low paying jobs, their children are raised in poverty, often don't finish school, take low paying jobs themselves, raise their own children in poverty and remain in this cycle." (Poisl). Therefore, the ability to speak English is significant for an immigrant to enhance their chance of getting a better job, and providing a higher quality of education and life to their family, which are two of the things that so many coming to America seek.
Secondly, learning English is essential in helping to communicate with Americans and other non-English speakers. As my own experience from early in my immigration here in the USA, I struggled to learn to speak English. There was a time that I didn't want to meet my husband's friends because I was ashamed of my thick accent and very slow English. I could relate to the story Amy Tan told about her mother: "when I was fifteen, she used to have me call people on the phone to pretend I was she." (Tan). Tan's mother, a Chinese lady, spoke imperfect English and often was not taken seriously because of her thick accent and imperfect English. Even though I studied English from the age of seven and have lived in the U.S. for almost four years, I refuse to have business over the phone. I have a hard time understanding the accents of people on the phone or vise versa. In this case, it is why I am in school, learning the formal English and to get a better education leading to a success of living in the American dream, to have a better job and in appropriate level of living. My experience, and the experience of Tan's mother, demonstrates why it is important for immigrants to learn English and to communicate better.
[...]
Details
Pages

4

Year

2010

ISBN (eBook)

9783640847976

File size

386 KB

Language

English

Catalog Number

v167879

Grade

.92

Tags