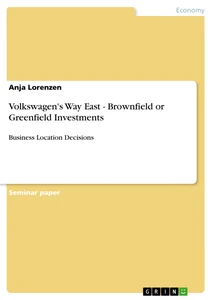 Excerpt
Table of contents
List of Abbreviations
Table of Figures
Executive Summary
1. Introduction
2. Volkswagen AG
3. Theory
3.1. Brownfield Investments
3.2. Greenfield Investments
3.3. OLI Model
4. Volkswagen's case
4.1. Brownfield Investments – Skoda Auto a.s.
4.2. Greenfield Investments – Kaluga/ Russia
5. Theory related to Volkswagen's way east
5.1. Brownfield Investments
5.2. Greenfield Investments
6. Implications and Recommendations
7. Conclusion
Appendix
References
List of Abbreviations
illustration not visible in this excerpt
Table of Figures
Fig. 1: Skoda Auto Group structure
Fig 2: Volkswagen's location in Russia.
Executive Summary
In terms of a rising competitive environment the way east gets more and more important. It does not only lead to a reduction in costs but operating in the eastern parts of Europe can result in advantages for the whole company. Volkswagen overtook their JV partner Skoda and this gave them access to the local cluster. This is an advantage, that companies which do not invest in brownfield investments do not have right from the beginning. Therefore, the kind of FDI and the region are very important and can determine the companies future success. Volkswagen's greenfield investment in Kaluga, Russia will also be explained, based on the advantages and disadvantages that the two different FDI offer. The different VW investments will then be linked to Dunning's eclectic paradigm, the OLI model.
1. Introduction
Because of today's globalisation the meaning of gaining an competitive advantage gets more important to raise advantages in comparison to your competitors. Many companies are moving to east European countries to lower their production costs because labour expenditures in these countries are much smaller than in their home countries. Those advantages are achieved through foreign direct investments (FDI) like brownfield and greenfield investments. Besides lower production costs, FDI often offer other advantages than just cost savings, e.g. such as entry to other markets. Volkswagen (VW) started a joint venture (JV) with Skoda before they acquired their partner and this gave the German car manufacturer the possibility to enter a new market and already having a network in this area. These clusters offer the focal company knowledge, know-how and other advantages that companies, which are not located in these areas, do not have access to. While brownfield investments have other advantages like a fast entry to the new market, greenfield investments can sometimes overweigh those advantages, depending on the company's strategy. VW started a greenfield investment in Russia's Kaluga last year because of the Russian's market potential and they want to make sure that they are located in this country, which offers advantages like lower taxes. Setting up a facility without a partner might be advantageous if the focal firm has large technology and know-how resources and if it is afraid of the partners opportunistic behaviour. In addition, no cost and time intensive restructuring processes are needed and the company will face no problem with implementing their strategy. On the other hand, this kind of investment might be more expensive and the time to the market entry is longer. The choice of location can help the company to make their market entry a success because it can offer access to import networks, e.g. to suppliers which have high potential regarding the market know-how.
In the following parts VW's experience through their Skoda brownfield investment and their Kaluga greenfield investment is described, esp. focussing on the facts why VW choose those two locations. The advantages and disadvantages of the locations as well as of the two different kinds of FDI are described and VW's case is linked to Dunning's eclectic paradigm, the OLI model, which is based on ownership, location and internationalisation advantages.
2. Volkswagen AG
Today, Volkswagen AG (VW) is Europe's leading and one of the biggest car manufacturers in the world. The "Gesellschaft zur Vorbereitung des Deutschen Volkswagen mbH" was founded on 28th May 1937 and the name was changed to "Volkswagenwerk GmbH" in September 1938. At that time the construction of their main plant in Wolfsburg, Germany started.[1] While VW was a state owned company till 1960, the legal structure of the company changed that year and so did the company's name first to "Volkswagenwerk Aktiengesellschaft (AG)" and later to "Volkswagen AG". Today, VW's largest shareholder is the German car manufacturer Porsche with a share of 18,5 per cent, while 40 per cent are still state owned.[2] Their headquarter is located in Wolfsburg and they operate 44 production plants in twelve European and six Asian and American countries where they produce around 24 500 cars per day.[3] From 2005 to 2006 the number of VW's employees decreased by 5,8 per cent to 324 875 while their sales increased by 10,2 per cent in the same period. In 2006 they achieved sales revenues of 104.875 million Euro (EUR) which resulted in an EBIT of 2.750 million EUR.[4] Besides the own Volkswagen brand VW produces the following brands: Audi, Bentley, Bugatti, Lamborghini, Seat, Skoda and VW commercial cars.[5]
VW's internationalisation strategy started in 1952 with the founding of "Volkswagen Canada Ltd." and "Volkswagen do Brasil Ltda." on year later. In 1955 and 1956 "Volkswagen of America, Inc." and "South African Motor Assemblers and Distributors Ltd. SAMAD" were founded.[6] During the following years VW founded other companies all over the world and they started to join other companies and took them over. Because of the increasing globalisation they moved to low cost countries such as China and East Europe[7]. With following this strategy, especially the Central and East European (CEE) countries have experienced huge changes in their car industries. VW's strategy in those countries, e.g. through brownfield and greenfield investments will be discussed later.
3. Theory
This paper examines VW's way to CEE countries under considering FDI as Brownfield and Greenfield investments. Before regarding VW's followed strategy, an explanation of those two different FDI types is necessary. Additionally, an explanation of Dunning's eclectic paradigm, the OLI model, is given and it will later be related to VW's case.
3.1. Brownfield Investments
When internationalising many companies are faced with uncertain markets, different cultural and political systems as well as tax and import/export limitations. Hence, several firms prefer to acquire other companies or to set up JVs with local corporations which have a good knowledge of the different circumstances. Brownfield investments, such as JVs, international joint ventures (IJV) and mergers and acquisitions (M&A) are "…defined as the purchase of the stocks of an established firm in the host country by another firm headquartered outside the country,…, in an amount sufficient to confer control."[8] While this strategy often reduces the time to market and costs it still includes some risks. Especially in JV's the lose of knowledge, know-how and competitive advantage often happens because of the partners opportunistic behaviour.[9] Because many acquired firms are often completely restructured, e.g. change of management or upgrading and rebuilding of plants, the distinction between brownfield and Greenfield investments is not always easy.[10]
3.2. Greenfield Investments
"A greenfield entry into a foreign market involves the establishment of a new affiliate in a host country by another firm headquartered outside the country, alone or with one or more partner."[11] Based on Cheng's opinion, this FDI strategy is very attractive because it is the company's choice where to locate, e.g. in areas with weak labour organizations or close to the focussed new market, and they do not have to coordinate their tactic with other company's strategies. Besides the easy implementation of the focal's firm strategy, this kind of FDI is advantageous if the focal company is very technology based and so they can make sure not to lose competitive advantage.[12] On the other hand, the internationalisation strategy based on Greenfield Investments requires an excellent knowledge of the new market as well as of political and cultural differences. The investing company also has to be aware that they have to set up a new network around them and start new relationships with local companies.
3.3. OLI Model
The ownership, location and internationalization (OLI) theory was introduced by John H. Dunning in 1977. Based on this eclectic paradigm Dunning explains the entry mode decisions of multinational enterprises (MNE) in regards to the three mentioned strategic fields.
Ownership advantages deal with the firms internal assets such as the company's size, monopolistic power and its resources. These are advantages that are exclusive and unique to the focal company because of its nationality or specific nature and the fact, that a company has advantages in comparison with other firms located in the country they want to enter. Dunning argues that companies, that have a great competitive advantage, are more likely to enter foreign markets and equipped with huge knowledge, they often go this step alone.[13] An example of an ownership advantage is VW's entry into China, because they started as a first-mover.[14]
The location advantage deals with specifications that the focused countries have. Those are for example market size, market structure, political systems, infrastructure and production costs because different locations offer different resources. Dunning suggests that companies, which have a high degree of immobile, natural or created endowments that supports a presence abroad, are more likely to develop their ownership advantages through FDI abroad.[15] Volkswagen entered China through a JV. They chose China because of its market potential and especially their location in Shanghai had several advantages like the positive economic development.[16]
[...]
---
[1] VW (2007): http://www.volkswagenag.com/vwag/vwcorp/content/en/the_group/history/1937-1945.html,
29.10.2007
[2] VW (2007): http://www.volkswagenag.com/vwag/vwcorp/content/en/the_group/history/2003-2006.html,
29.10.2007.
[3] VW, 2007, page 5.
[4] VW, 2007, page 2.
[5] VW (2007): http://www.volkswagenag.com/vwag/vwcorp/content/en/brands_and_companies/automotive_and_financial.html 29.10.2007.
[6] VW (2007): http://www.volkswagenag.com/vwag/vwcorp/content/en/the_group/history/1949-1960.html, 29.10.2007.
[7] Worrall, Donnelly, Morris, 2005, page 9.
[8] Cheng, 2006, page 203.
[9] Arrunada, Vázquez, 2006, page 139.
[10] Cheng, 2006, page 203.
[11] Cheng, 2006, page 203.
[12] Worrall, Donnelly, Morris, 2005, page 4.
[13] Dunning, 2000, page 164.
[14] Moon, 2005, page 167.
[15] Dunning, 2000, page 164.
[16] Moon, 2005, page 167.
Details
Pages

22

Year

2007

ISBN (eBook)

9783640810284

ISBN (Book)

9783640810079

File size

882 KB

Language

English

Catalog Number

v165342

Institution / College

BI Norwegian Business School

Grade

1,3

Tags