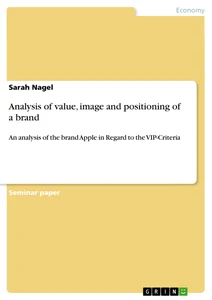 Analysis of value, image and positioning of a brand
An analysis of the brand Apple in Regard to the VIP-Criteria
Term Paper 2010 29 Pages
Excerpt
Inhalt
1. Executive Summary
2. Introduction
3. Methodology
4. Findings
4.1. Introduction to the Brand Apple
4.1.1. Apple´s Brand Strategy
4.1.2. The emotional Brand World of Apple
4.2. Brand Image and Position
4.2.1. Brand Positioning
4.2.2. Image
4.3. Brand Value
4.3.1. Defining and measuring Brand Values
4.3.2. The Apple Value
5. Conclusion
6. Recommendation
7. References
7.1. Books
7.2. World Wide Web
7.3. Articles, brochures, journals
TABLE DIRECTORY
Table 1: Subbrands of Apple
Table 2: Main Customer Segments of Apple (by Chazin, 2007)
Table 3: Positioning analysis on the basis of Keller four dimensions
FIGURE TABLE
Figure 1: Development of Apple sales till 2004
Figure 2: Current Apple product range
Figure 3: Apple - A brand arousing emotions
Figure 4: Positioning definitions (Sengupta, 2005)
Figure 5: Image statement by Rothfeld (2008)
Figure 6: Apple vs. PC Advertising
Figure 7: Innovative Image of Apple
Figure 8: Customer-perceived value definitions (Snoj, Karda and Mumel, 2004)
Figure 9 Interbrand Value Calculation
Figure 10: Possible Brand Values by Moser (2003)
Figure 11: Consumers opinion about Apple´s brand values
Figure 12: Estimation of Apple development by professionals
Figure 13: Brand Ranking Milward Brown
Figure 14: Steve Jobs dominates the Apple Events
Figure 15: Steve Jobs welcomes Phil Schiller for representing Apple
Figure 16: Apple´s latest innovation: the iPad
1. Executive Summary
Apple is a strong brand that stands for high prices and stylish technological products. Its core values, innovative easy to use, different and stylish in design contributes to the image of the brand: innovative but managable products for people who "think different". Apple created an "army of Apple evangelists" because of its strong and lasting brand values (Kotler et al., 2009, p.443). Despite this strength and effectiveness the brand faces also weaknesses. For example Steve Jobs is a main contributor to the brand´s success - but an unsecure assets (as he could leave the company again - on purpuse or not).
2. Introduction
Apple is one of the biggest computer companies in the world. It was founded in 1976 and is headquartered in California. At the end of 2009 Apple owns 217 stores in the US and 56 stores internationally (Linzmayer, 2004). Apple Inc. is a masterpiece of a "Silicon Valley" start-up company as it was born in a garage by two young computer freaks (Janacek, 2007). The companie´s customers are consumers, small and mid-sized business, education, enterprise, government and creative customers Bloomberg Businessweek, 2009). After facing success and hard times as well (see figure) Apple now is a master in building a strong brand that achived incredible brand loyalty. Eventhough Apple is a technology company Apple the brand emerged to a lifestyle brand (Trott, 2008).
illustration not visible in this excerpt
Figure 1: Development of Apple sales till 2004
(Trott (2008), Figure 1.9. The rise and fall and rise of Apple)
3. Methodology
Kapferer (2008) discussed the difficulty of clearly detaching branding terminologies like image and positioning or value and equity. Due to the diverse usage of different authors there exist many definitions that drift apart. Therefore the author gives short definitions of important terms under respective paragraph. After an insight into Apple´s branding strategies and structure, the brand positioning and image will be scrutinised. In order to analyse Apple in regard to all VIP criteria (Parrott, 2010) the value of Apple will be analysed in addition in regard to non-monetary and monetary values. All discussed points include theoretical point of views (that represent tha companies strategic view) and consumer point of view by considering blog entries and survey data dealing with the brand Apple. As a conclusion the main findings are extracted and by having an outlook about future possible challenges and weaknesses a resulting suggestion concludes this report.
4. Findings
4.1. Introduction to the Brand Apple
4.1.1. Apple´s Brand Strategy
According to Alliance Consulting Group a fundamental success factor of a brand is the product line architecture. The product line architecture defines subbrands, types or variations of all branded products and displays what markets the companies and its brand targets. Before the iPhone and the iPad were launched Apples targeted the three main market categories: stationary computers, transportable computers ad portable MP3-Player. Now the product range can be divided as following:
illustration not visible in this excerpt
Figure 2: Current Apple product range
(own construction of the author based on http://store.apple.com/us, 23.05.2010)
Despite the transportable and stationary computer sector, the iPod with iTunes and the iPhone, the newest launch, the iPad, completes the line range at the moment. Those main product lines include different types of the products a wide of accessories and software products (http://store.apple.com/us, 23.05.2010).
All Apple products are marketed under the umbrella or corporate brand "Apple" and possess own subbrands with different benefits (de Moij, 2005):
illustration not visible in this excerpt
Table 1: Subbrands of Apple
[...]
Details
Pages

29

Year

2010

ISBN (eBook)

9783640766604

File size

1.5 MB

Language

English

Catalog Number

v160761

Institution / College

University of Bedfordshire

Grade

1- (A-)

Tags