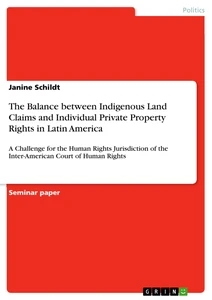 Excerpt
Inhaltsverzeichnis
Introduction
The History of Indigenous Land Claims
The Difficulty of Property Rights Definition
Indigenous Property Rights and the IACtHR
Balancing of Indigenous Land Rights and Private Property – the IACtHR Approach
Conclusion
Bibliography
Introduction
How can indigenous property rights be guaranteed in today's societies? In many countries with a large indigenous population this is an ongoing political struggle at the center of which stands the question how to balance traditional indigenous land rights and modern private property rights. TheUN Declaration on the Rights of Indigenous Peoples[1]was initially not signed by Canada, USA, New Zealand and Australia.[2]The countries argued inter alia that the article on indigenous land rights could not be brought in accord with their domestic legislation and the private property rights they have to protect.[3]In international law no common standard for indigenous land rights exists and individual countries have found different approaches in their domestic legislations often subordinating indigenous rights or restricting them on various grounds.[4]Frequently, indigenous collective claims are weakened because legislation only recognizes individual rights to property as legitimate.[5]
The Inter-American Court of Human Rights (IACtHR) has evolved a firm protector of indigenous land rights. In its landmark decisionsMayagna (Sumo) Awas Tingni Community vs. Nicaragua (2001), Moiwana Community vs. Suriname (2005), Yakye Axa vs. Paraguay (2005),Sawhoyamaxa vs. Paraguay (2006)andPueblo Saramaka vs. Suriname (2007)it has underlined that traditional collective land rights fall under the protection of property in the American Convention on Human Rights (ACHR) and are thus equivalent to individual private property rights. This paper will look at the role of the IACtHR in the protection of indigenous land rights in Latin America and will discuss how it confronts the balancing problem between the two forms of property rights. Thereby, it is argued that especially because the challenge stays unresolved in many Latin American countries, the implementation of the progressive decisions of the IACtHR is frequently delayed.[6]
The History of Indigenous Land Claims
A major obstacle in guaranteeing land rights to indigenous communities has been the strongly Western, individualistic notion of property. In pre-Conquista Latin America, indigenous communities held land collectively which was then conquered by the Spanish Crown and stayed in its exclusive dominion. The concept ofjura regaliaevolved defining that land titles can only be given out by the government to individuals and that all other land remains state property. In this two-folded definition, there was no room for communal ownership.[7]As Gilbert puts it: "Indigenous notions of property were deemed too 'primitive' to be recognized under 'civilized' law."[8]With the end of colonial times, the land rights situation did not improve. Inspired by the concepts of 'nation-state' and 'territorial sovereignty', the doctrineuti possidetis[9]was applied conserving colonial borders while denying the existence of indigenous land rights. Until well into the 20th century, the leading policy concerning "primitive" indigenous peoples was assimilation.[10]Only after World War II, the development of a stronger regionalism led to a greater understanding and acceptance of indigenous peoples and an acknowledgment of their rights to property in international human rights law. One of the biggest successes was the steady recognition of collective property rights.[11]
In most Latin American countries today, legislation on indigenous rights is sophisticated.[12]Paraguay for example has an Indigenous Communities Statute since 1981 that grants inter alia the right to obtain land necessary for development and wide autonomy in land management. In the Constitution, specific indigenous rights are recognized and their status as ethnic groups with separate cultural identities acknowledged. Moreover, Paraguay is one of the 17 countries that have ratified the only binding agreement on indigenous rights, the ILO Convention 169.[13]The problem in Latin America is rather the non-implementation of strong legislation, the lack of a precise body of regulations to enforce legislation, no clear legal definition of ownership or usage rights, a slow and inadequate administration and insufficient forms of consultation with indigenous peoples.[14]
[...]
---
[1] No international consensus on the definition of "indigenous people" exists, which makes the defence of the human rights of them difficult. Also the differentiation from minorities is contested. This discussion cannot be outlined in this paper. For further insights it is refered to Del Toro Huerta, 5.
[2] Australia and New Zealand have signed the Declaration after a change in governments.
[3] Elke Groß and Ekkehard Sieker, "Recht auf Selbstbestimmung für Indigene Völker – UN-Deklaration nach 20-jährigen Verhandlungen,"Hintergrund, October 1, 2007, http://www.hintergrund.de/20071002126/globales/umwelt/recht-auf-selbstbestimmung-f%C3%BCr-indigene-v%C3%B6lker-%E2%80%93un-deklaration-nach-20-j%C3%A4hrigen-verhandlungen-v.html.
[4] Mauricio Iván Del Toro Huerta, "The Contributions of the Jurisprudence of the Inter-American Court of Human Rights to the Configuration of Collective Property Rights of Indigenous Peoples,"Yale Law School, http://www.law.yale.edu/documents/pdf/sela/Del_Toro.pdf.
[5] Alexandra Xanthaki,Indigenous Land Rights and United Nations Standards: Self-Determination, Culture and Land(Cambridge: Cambridge University Press, 2007), 246.
[6] In 2008, seven years after the judgement and six years after the IACHR's deadline, the Mayagna (Sumo) Awas Tingni were granted a land title by Nicaragua. The judgements against Paraguay have not been implemented. In 2008 the deadline for return of the land to both communities passed without action. President Lugo has signed a draft bill ordering expropriation of the private owners on grounds of social interest but it was rejected in Congress in October 2009. In the cases against Suriname, deadline for re-drafting legislation passed in the 2005 case while for the most recent case it continues until 2010. According to the IACtHR Montitoring Report, a National Commission on Land Rights was created but it has no funding and no clear mandate. Suriname has requested the help of the UN Special Rappoteur for drafting a law on indigenous land and resources but continues to actively apply existing discriminative legislation.
[7] J. Gilbert,Indigenous peoples' land rights under international law: from victims to actors(Ardsley: Transnational Publishers, 2006), 94 - 95 In the USA, similar non-recognition could be observed. In the belief that only private ownership of land could civilize tribes and turn them into farmers, indigenous land was broken up into individual parcels. Australia pursued theTerra nulliusdoctrine holding that territory that has never been subject to the sovereignty of a state, including indigenous lands, can be acquired through occupation.
[8] Ibid., 95.
[9] Uti possidetisis an international law principle that holds that at the end of a conflict or in this case the Spanish occupation, property remains with its possessor unless a treaty holds otherwise. In South America among others it has been used to ensure that new frontiers followed the original colonial boundaries. By applying this principle, the indigenous communities were explicitly not recognized as the original possessors of the land.
[10] Roque Roldán Ortiga,Models for Recognizing Indigenous Land Rights in Latin America, Biodiversity Series 99 (Washington: The World
Bank Environment Department, 2004), 1.
[11] Del Toro Huerta, "The Contributions of the Jurisprudence of the Inter-American Court of Human Rights to the Configuration of Collective Property Rights of Indigenous Peoples," 3-4.
[12] Countries have gone very different ways in recognizing indigenous land rights. Some included them in their Constitutions while others did not but then ratified ILO Convention 169. Only four countries, Guyana, Suriname, Uruguay, and El Salvador have not legally recognized indigenous rights. For a more detailed overview it is refered to Roldán Ortiga, 2ff.
[13] Roldán Ortiga,Models for Recognizing Indigenous Land Rights in Latin America, 8-9.
[14] Ibid., 23.
Details
Pages

10

Year

2009

ISBN (eBook)

9783640727483

ISBN (Book)

9783640728138

File size

450 KB

Language

English

Catalog Number

v159973

Grade

1,7

Tags