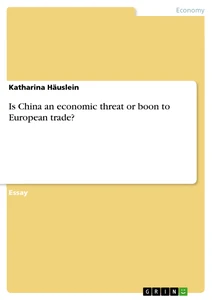 Is China an economic threat or boon to European trade?
Essay 2009 4 Pages
Excerpt
Is China an economic threat or boon to European trade?
The opening of China's economy to compete with other countries and the allowance for foreign businesses to invest in the country led to rapid economic growth because of growing exports and investment from other countries. With China's entry into the World Trade Organization (WTO) in 2001, its exports and levels of investment increased considerably[1] and in April 2008 the WTO announced that China had become the world's second-biggest exporter of goods, second only to Germany. The US had turned out to be number three. This shows the dramatic growth of China's economy. Furthermore, it can be observed that its export structure is changing. Export shares of labour-intensive products are decreasing whereas medium- to high-technology products are increasing.[2] All these aspects result in a spread of concerns about China's development and its effect on European trade. This paper tries to answer the question whether China is an economic threat or boon to European trade by presenting some important aspects regarding China's development and its consequences.
An obvious threat to European trade might be that China is rapidly acquiring more and more knowledge about the production of technological products. Once, China focused mainly on exporting textiles, but today about 43% of its total exports are electronic and machinery-related goods[3]. Nowadays, China might still need support from more established foreign industries, but the country is constantly developing towards autonomy. Therefore, China might become a serious competitor to middle- or even high-technological industries, for example to businesses located in countries which are successful in this sector like the USA and Germany. The presence of this threat for our industries can be seen in the example of Huawei – a Chinese telecommunications equipment maker. Its equipment and services are considered good enough to beat Siemens. Additionally, another illustrative example is the case of the company Zhenhua Port Machinery, because this business has about two thirds of all worldwide port crane orders in 20063.
[...]
---
[1] http://www.imveurope.com/features/feature.php?feature_id=79
[2] http://www.fpif.org/wto/china.html
[3] http://www.chinasourcingblog.org/2008/10/china-and-hightechnology-threa.html