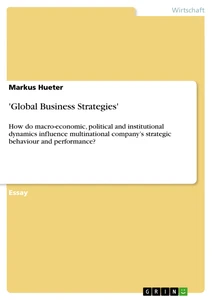 'Global Business Strategies'
How do macro-economic, political and institutional dynamics influence multinational company's strategic behaviour and performance?
Essay 2010 8 Seiten
Leseprobe
Inhalt
Executive Summary
Introduction
Macro Economic Challenges
P.E.S.T.-Analysis
Balanced Scorecard
Porters Five Forces
Drivers for Globalization
Conclusion
References
Executive Summary
This essay sets out to discuss the environment in which multinational companies such as Qantas are operating and what control strategies can be applied to monitor and manage their activities to leverage their competitive advantage across the airline industry.
Introduction
The Qantas Group's principal activities are operating international and domestic air transportation services for leisure and business travelling, freight and logistics services as well as associated support activities including information technology, catering, ground handling, engineering and maintenance (www.qantas.com.au). Qantas with its dual strategy brand Jetstar flies now to more than 173 destinations in 42 countries and operates a fleet of 246 aircraft. The airline will operate a 20-strong Airbus 380 fleet by 2015. The group is also part of the Oneworld global marketing and code-sharing alliance, which consists of 11 leading Airlines. Qantas' stakeholders are its shareholders, employees, customers, business partners and the community. Indirect stakeholders include the media, governments and non-governmental organisations. They all have a major influence on the business, its strategy and therefore its performance. It is to mention that the Qantas Group is in the unique position of having two outstanding and well established brands in both the premium and low fares categories with Qantas and Jetstar, consisting of the subsidiary brands Jetstar Asia being the largest low fare, "no frills" Airline in the Asia Pacific Rim, based and operating from Singapore. The Qantas group holds 49 percent of the Jetstar Asia shares. Jetstar Pacific is Vietnam's first low cost carrier operating since 2008. The Qantas group holds today a 30 percent stake through foreign direct investment.
Macro Economic Challenges
Operating from within an exceptionally challenging global environment Australia's largest Airline revealed that it had maintained profitability in the first half of 2009, while competitors descended further into loss making areas under the effects of global recession. Although profitability has remained, its annual result for the financial year ending June 30th 2009 had dropped 88 percent to AUD117 million, down from AUD969 million the year before (http://www.asianaviation.com).
Chief Executive Officer Alan Joyce of Qantas revealed that the carrier was forced to make challenging decisions in 2009 which resulted in the elimination of hundreds of management positions and over 1500 operational Jobs, in its quest towards a flatter and leaner cost operation to maintain shareholder's confidence. The Australian domestic market is a particularly difficult market in terms of demographics and geography. Australia's population is small and highly concentrated along the eastern seaboard. In terms of national coverage this means that any new airline intending to enter this market has to fly essentially the same routes. In addition it is evident that the Australian air traveller has high expectations and demands a high frequency of flights between the major airports. This condition commands a greater number of planes, a larger number of crews, pilots, thus resulting in a higher cost yield per mile flown. The airline industry is an intense and complex economic entity. First and foremost, it is a service industry. No physical product is given in exchange for the service consumed. A seat or a pallet position in the cargo belly that is not sold when the airplane takes off is lost revenue. Australian air transportation can be characterized by strong unions, high fixed costs, unstable demand and immense emphasis on security and safety. To survive in this rapidly changing environment Qantas and Jetstar Australia has to continually adopt suitable strategies as well as adequate operational structures and tailor them to a sound configuration in the current competitive atmosphere.
P.E.S.T.-Analysis
A frequent method to examine the environment, both national and in foreign countries, is to use the theory of the PEST-Analysis which is the short form for Political factors, Economic factors, Socio-cultural factors and Technological factors. Political upheavals exist in all nations and regions. It stems from various reasons such as wars, revolutions or common changes in political leadership, foreign laws or government policies. MNC's deriving significant shares of their profits outside their home country are highly exposed to the political environment in foreign countries. The broad macro-economic factors affecting the Airline industry are high and unstable fuel prices decreasing overall yields. The entrance of low cost carriers both domestic and on long haul flights, have forced legacy carriers such as Qantas to cut costs to compete with those new entrants (i.e. Virgin, Tiger-Airways). Global and local aviation de-regulations, natural disasters, safety, terrorism and in particular consumer price sensitivity are the main factors that can upset the industry. Further economic drivers are identified with unemployment rates, exchange rate exposure and purchasing power from potential consumers. On a global scale the industry shows dismal financial results. Industry statistics published by the International Air Transport Association (IATA) revealed that the global commercial airline industry generated net profit losses of USD 9.9 billion in 2009 (www.iata.org/pressroom/facts_figures/fact_sheets). Forecasts for 2010 are more optimistic with USD 2.5 billion net profits budgeted. Surprisingly, despite the apparent low return on investment, the industry also suffers from over capacity. Furthermore, after many "open skies" agreements now in place and worldwide de-regulation efforts, numerous entrants attempt to start new airlines. It appears to be fairly simple to fund airplanes through leasing arrangements.
[...]
Details
Seiten

8

Jahr

2010

ISBN (eBook)

9783640680993

ISBN (Buch)

9783640680924

Dateigröße

468 KB

Sprache

Deutsch

Katalognummer

v155923

Institution / Hochschule

The University of Sydney

Note