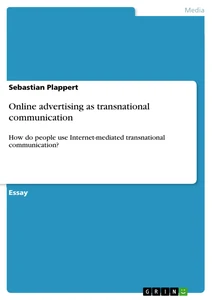 Online advertising as transnational communication
How do people use Internet-mediated transnational communication?
Essay 2007 8 Pages
Excerpt
ICOM 817 Transnational Communication
Sebastian Plappert
How do people use Internet-mediated transnational communication?
Online advertising as transnational communication.
In a world, where physical distance continues to be rendered meaningless, transnational communication is of increasing importance for the everyday live. Not only in the field of business, but also in individual spare time activities, has international communication increased. New means of communication connect places far away from each other and travel times are smaller than ever. Therefore, a growing number of individuals is confronted with different cultures and experiences transnational communication. One technology in particular, the internet, enables individuals to receive information from all over the world directly into their home. While people are able to access local as well as global information from wherever they are, at the same time they are targets of online advertising. Accordingly, emanating from the perspective of the advertising industry, this essay will examine the role of internet users as consumers. After briefly considering the effects of globalisation on advertising, the paper will describe the most prominent methods of online advertising, before exploring the applied concept of addressing users as consumers in the World Wide Web.
Global advertising
However, globalisation seems to have an equalising effect on advertising. All around the world people have not only increasingly similar basic needs; they have also a similar choice of products, offered by the same companies (Assael 1998, p. 501; Bullmore 2000, p. 48; Czinkota & Ronkainen 1993, p. 67). Since communication and mobility is easier than ever before, cultures are exposed to influences of other cultures. Some scholars go as far as to state that capitalism and democracy are universal phenomena, which will eventually be reached by all cultures (Fukuyama 1992). The world seems to get closer together, in an economic as well as in a cultural sphere. Specific ideas and values are travelling around the world, which could lead to cultures assimilate each other (Friedmann 1994; King 1990; Robertson 1992). Advertising reacts on and intensifies these developments. If an increasing number of people can be reached with a declining number of separate advertisements, the more cost effective the campaign will be (Levitt 1983). By perceiving the whole world as one market, advertisement for products has to address the population whole world (Alden et al. 1999).
On the other hand, just because of the wide arrange of perspectives globalisation offers, people do not have to respond to that. The more options available, the more difficult it is to chose. Even by recognising the effects of globalisation, "the spread of Western consumption patterns and popular culture around the world is not creating a universal civilisation" with a universal culture (Huntington 1996, p. 58). Not at least, this becomes obvious in the creation of individual identity. While the world becomes global, more people tend to feel the need for identifying with common local attributes like language, values and beliefs; in other words: local culture (Lusting & Koester 2006). This leads to the notion, that advertising cannot be globally uniform, but has to consider cultural issues of each culture approached (Mazzarella 2003; Mueller 1991).
Methods of online advertising
Following Rogers and Thoson (2000), online advertising could be categorised into different types. First, banners, as graphical images on web pages, provide short messages or brand names with the possibility to click on them for further information. Even though the average clicking rates are low, banners raise the brand awareness in general. By adding bright colours or animations higher attention could be generated, but best results are achieved by personalising the content by providing choices in drop-down menus (Brown 2002). Limiting the information leads to higher quality in the sense of matching the users' interests and, therefore, increases effectiveness (Dou et al. 2001).
A second method is the use of pop-ups. Whereas pop-ups are widely considered as annoying (Edwards et al. 2002), they result in more click-throughs than banner-ads (Cho et al. 2001). However, pop ups appear when users enter particular websites and are contextually linked to those sites. Therefore, the content of pop-ups is related to the user's interest and might be perceived as valuable (Edwards et al. 2002).
[...]
Details
Pages

8

Year

2007

ISBN (eBook)

9783640664672

ISBN (Book)

9783656482475

File size

455 KB

Language

English

Catalog Number

v153937

Institution / College

Macquarie University

Grade

C

Tags