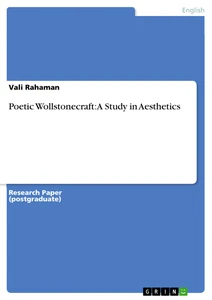 Poetic Wollstonecraft: A Study in Aesthetics
Research Paper (postgraduate) 2010 10 Pages
Excerpt
Poetic Wollstonecraft: A Study in Aesthetics
By
Dr. Valiurrahaman
Lecturer in English Literature
Mahadev Mahavidyalaya, (MGKVP) Varanasi, UP, India.
The life of such a woman was bound to be tempestuous. Every day she made theories by which life should be lived; and every day she came smack against the rock of other people's prejudices. Every day too--for she was no pedant, no cold-blooded theorist--something was born in her that thrust aside her theories and forced her to model them afresh. She acted upon her theory that she had no legal claim upon Imlay; she refused to marry him; but when he left her alone week after week with the child she had borne him her agony was unendurable…
FromThe Common Reader II, Virginia Woolf
She died in child-birth. She whose sense of her own existence was so intense, who had cried out even in her misery, "I cannot bear to think of being no more--of losing myself--nay, it appears to me impossible that I should cease to exist", died at the age of thirty-six. But she has her revenge. Many millions have died and been forgotten in the hundred and thirty years that have passed since she was buried; and yet as we read her letters and listen to her arguments and consider her experiments, above all, that most fruitful experiment, her relation with Godwin, and realise the high-handed and hot-blooded manner in which she cut her way to the quick of life, one form of immortality is hers undoubtedly: she is alive and active, she argues and experiments, we hear her voice and trace her influence even now among the living…
FromThe Common Reader II, Virginia Woolf
Mary Wollstonecraft, a classic in the world of feminist, had viewed also on beauty and sublimity of /in art and literature. She was a born genius, though never composed poetry. Her heart's revelation can be found in some incomplete dramas, fictions, letter and polemical writings like A Vindication of the Rights of Man/Woman. She had to suffer after the birth of her daughter, Fanny, Imlay's deception. She was never disheartened, though she committed unsuccessful suicidal attempt twice. After each attempt she found herself a unique creative energy and sympathetic touch with the poor and helpless which made her anti-aristocratic, anti-imperialistic, anti-anarchist, and anti-non-humanist/humanitarianist. She developed Enlightenment revolution of woman's rights and freedom. Her modesty and chaste charity was always inclined to the poor and helpless creatures of the country, esp. women.
We Indians know her name in the feminist world, as we have been taught from our 10+2 classes onward. But she was also a good rhetorician in practical way that she could never know, nor much perceived by others.
In the study of rhetoricians we start from Aristotle and Longinus as father figures of European aesthetician and then we come directly to Horace, Plutarch, Sidney, Dryden, Edmund Burke, Kant, Rousseau, Wordsworth, Coleridge, Pound, Diderot etc. We, seldom, find the name of a woman to be a rhetorician, esp. in the history of English literary criticism.
The paper endeavors to represent Wollstonecraft's views on poetry, poet and beauty. We shall develop argument along with many a rhetoricians before and after, who have spoken or written, her on the 'poetic', beauty, and sublime in writing. Thus being a polemical and political, she had a better sense of aesthetics and feelings toward literature & philosophy.
Wollstonecraft's eminence as a feminist thinker has been long acknowledged: her claims (implicit) as an aesthetician have rarely been seriously, never thoroughly considered. She has been considered only referentially here or there in essays written with interest to either feminist theory or literature. It is therefore, her vision toward beauty in literature, its touch to heart must be analyzed in detail.
Influence of Aristotle'sPoetics, Horace'sArs Poetica, and Longinus'On the Sublime,English aesthetics and literary criticism is well – considered in many critics' books like Wimsatt'sHistory, Scott James'sThe Making of Literature, and M.H. Abrams'sThe Lamp and the Mirrors etc. They instructed us for maintaining, contemplation, decorum, organic whole, completeness, beauty and sublime in literature, art and music. Their impact remained over centuries onward. They are still working as remainder cipheration of multiplicating theories up to Northrop Frye, Derrida and Delueze. After Wollstonecraft Coleridge'sBiagraphia LiterariaWimsatt & Brookes'The History of Literary Criticism, Atkins'History of Criticism,The Sacred WoodandSelected Essaysof T.S. Eliot have been written, sold, re-written and metacriticism of Elizabeth Drew and Lewis upon them but we do not find Wollstonecraft any where even in the index of any of them. Yes, due to some emergence of Feminist approaches (after Virginia Woolf who had written an essay in her name, entitled, "Mary Wollstonecraft"), however, she came into the light of common study recently.
[...]
Details
Pages

10

Year

2010

ISBN (eBook)

9783640643400

ISBN (Book)

9783640644001

File size

524 KB

Language

English

Catalog Number

v152503

Grade

Tags