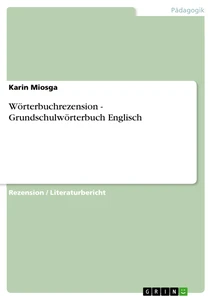 Wörterbuchrezension - Grundschulwörterbuch Englisch
Rezension / Literaturbericht 2008 3 Seiten
Leseprobe
Grundschulwörterbuch Englisch
Autorin: Karen Richardson (auch Autorin der Texthörspielszenen)
Illustriert von Hans-Jürgen Feldhaus.
Berlin u. München: Langenscheidt. 1. Auflage 2007.
The "Grundschulwörterbuch Englisch" is a dicitonary especially made for German primary school pupils who learn English as their first foreign language. When children start to learn English as their first foreign language, mostly in class 3 in Germany, the use and necessity of a special dictionary was evident. The "Grundschulwörterbuch Englisch" is such a wordbook and it tries to fulfil the exigencies of young, primary school English learners.
The dictionary is made up of twenty sections which all deals with another special theme. The topics are: My family and friends; my home, my room, my toys; my body; feelings; clothes; my day; at school; hobbies and sports; food and drink; shopping; in the town; on the farm; at the zoo; at the fairground; around the year; on holiday; birthday; Christmas; opposites, numbers, colours, shapes and prepositions. At the end of the dictionary there are lists of words first given in English to German than given in German to English. An attachment to this dictionary is a special audio CD with that the kids can playfully learn to use English.
At the beginning of the wordbook a short introduction is given which tells the pupil how to use the dictionary. Than all the chapters are named so that the kids can choose which one they want to work with.
Each topic starts with a topic picture and a headline that shows with which word group the pupils get confronted in the following chapter. Around the picture are pictures and items that describe the pictures. The following pages cover all the words the pupils need to know about the given topic, for instance "My family and friends". The English item is in heavy blue type and leaps to the eye directly. There is a German translation of the item next to the English one. So, the children can conclude the meaning of the word either from the given picture behind the word or from the translation. Mostly they might do it with the help of the translated item. As a subsidiary, there is an English sentence which is translated into German below the item, too. The word itself is marked in blue, but only in the English version, what can make it a little difficult for the pupils to find out the reference. However, the used word is given with a translation firstly, so that is might not become a big problem for the kids to use the word correctly. The example sentences have a fairly easy structure (e.g. "Max is my brother" (p. 8) or "We speak English" (p. 9)). Sometimes there are words pupils learn at a later point in their language acquisition (e.g. "tent"). However, there is a German translation just below the English sentence pupils can determinately cope with such vocabulary.
[...]
Details
Seiten

3

Jahr

2008

ISBN (eBook)

9783640593330

Dateigröße

401 KB

Sprache

Deutsch

Katalognummer

v148193

Institution / Hochschule

Universität Vechta; früher Hochschule Vechta

Note

1,3

Schlagworte