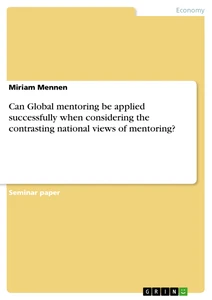 Can Global mentoring be applied successfully when considering the contrasting national views of mentoring?
Term Paper 2006 12 Pages
Excerpt
Introduction
Nowadays, we live in a world of global business where "markets are larger, more complex, and more closely integrated than ever before" (Walker et al, 2003, p.2).
It can be pointed out that large corporations appear as the driving force behind this development, removal of trade barriers allows them to produce and operate globally. This emergence results in an interrelation or linkage of economic, social, cultural and technological factors in our 'borderless, global marketplace' (Morrison, 2002). Companies soon realised that they need a strong corporate culture with high emphasis on information flows and exchange in order to learn and sustain competitively. As human capital becomes more central than financial capital, high emphasis is put on employee integration and connection to elaborate new innovative solutions (Bartlett and Ghoshal, 1995). The rising emergence of global managers, who have an overall picture of the organisation and the markets it is operating in, brings the increasing necessity of global management training with it. Mentoring programmes therefore are enjoying a high level of interest as they can benefit organisations in gaining competitive advantage by developing and connecting people. (Stanek, 2001)
Mentoring can be described "as a one-to-one relationship between an older/more experienced person (the mentor) and a younger/less experienced person (the mentee) sustained over a number of years" (Bright, 2005). The mentor will be an example for the mentee who "teaches, coaches, supports and guides a mentee towards developing and fulfilling the mentee's potential" (Levinson et al, 1978). Global mentoring is simply defined by Stanek (2001) as an expansion from the pairing of two or more individuals to include the matching of individuals form other cultures for the purpose of information exchange and personal development. Douglas and McCauley (1997) recommend bolstering existing programmes with mentoring programmes in order to accelerate information exchange and training for global managers.
However, when taking into consideration different national views of mentoring, it will be difficult to apply a single global mentoring programme as it is suggested in various literatures. Therefore, this article aims to outline mentoring styles (primarily Western and Japanese) which could cause difficulties when applying a single global mentoring style.
Literature Review
In terms of career development programmes, companies often choose mentoring in order to motivate their staff through improving their skills and setting career goals. In the following, the benefits to all the participating parties are outlined.
Benefits for the company
- Easier recruitment and induction
- Eases the difficult procedure of assimilating new recruits and to overcome the counter-productive problems of culture shock
- Employees are more likely to stay longer with the company and become more productive
- Cultivates an increased sense of commitment and loyalty in the protégé
- Motivation
- Helps to reduce frustration and impatience
- Stable corporate culture
- Protégé can observe techniques, routines and manners of the mentor in order to develop his or her own managerial skills with understanding the corporate values
- Leadership development
- Tells the protégé how authority and control is achieved within the organisation which is a crucial source of motivation for a prospective manager
- Improved communications
- Builds up communication networks as the protégé is accepted by the senior as well as by the junior managerial level
- Rich communication networks enhance productivity and efficiency
Benefits for the Individual
- Easier induction for those coming straight form university or moving to a new country
- Improved self confidence
- Learning to cope with the formal and informal structure of the company
- Career advice and advancement
- Managerial tutorage
- Benefits for the less talented employee
Benefits to the mentor
- Improved job satisfaction
- Increased peer recognition
- Career advancement
(Clutterbuck, 1991)
- Formal vs. Informal Mentoring
Most mentoring programmes are formalised in western companies in a connected way to organisational goals and objectives. Usually they are four people involved in the formalised mentoring process and the clearer all members are about their aims, the more successful will the programme will be.
[...]
Details
Pages

12

Year

2006

ISBN (eBook)

9783640571130

ISBN (Book)

9783640570898

File size

481 KB

Language

English

Catalog Number

v145497

Institution / College

University of Sunderland

Grade

62 % - B

Tags