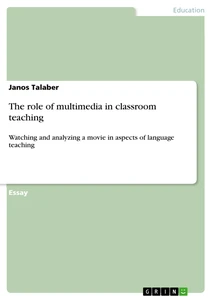 The role of multimedia in classroom teaching
Watching and analyzing a movie in aspects of language teaching
Essay 2009 22 Pages
Excerpt
Declaration of copyrights
Except as noted, the information below applies to dr.Talab é r J á nos (ID:109714DA), such as this essay, which is defined as his own product of mind. All texts, images, logos and information contained in this essay is the intellectual property of the writer, unless otherwise registered and are protected under the U.S. Copyright Act 17 U.S.C. 101-810 (provided it is also published in the USA or on the Internet) as well as under the Hungarian Civil Code (Act. 1959. évi IV. törvény/91.§-138.§) (within the borders of Republic of Hungary).
Copyright gives the owner exclusive right to reproduce, distribute, perform, display, or license a given work. The writer declares that he has not violated the copyrights of other authors and publishers, he avoided plagiarism and that all the things except for notes are the production of his own intellectuality.
I. Introduction
THE face of education and attitudes to language teaching have been changing recently due to the modern techniques that many teachers have to meet. Although this process of changing is going slowly, teachers should be aware of the fact that 'gone are the days when chalk dust was floating on the air,'1 as teachers assume it in America.
However, this change, which many teachers should keep in mind, does not mean that we are to ruin the 'castle of teaching approaches and methods ' which had been built before, it means that rather than only relying on the basic approaches, we have to reorganize and modernize our methods and approaches of language teaching by initiating the use of different digital techniques. Experts' opinions vary widely in this field. Moreover, there seems to be a territorial division between the European and Non-European countries. Whereas in America computers and DVD techniques play a very important role in the language teaching procedure, here, in Europe, schools not only lack the experts in using computers and DVD techniques but they also have inadequate equipment.
As for the opinions, many teachers are biased in the field of using these digital devices. Some consider it to be a very useful thing, "multimedia classrooms provide a combination of visual as well as audio stimulation that greatly enhance the learning experience…."2, but according to other opinions, computers and DVD are not always important in teaching, though they are valuable tools, "while these are valuable tools, these are not yet as imaginative and mind-stretching as perhaps they might be."
Throughout the outstanding history and development of digital techniques it became obvious by the end of the 20th century that multimedia is a must that be involved in LT procedure. Nevertheless, it provides us more. We would without any doubts say that there is not any communicative class that could be imagined without the use of digital techniques. Be it either the OHP, the BEAMER®, the DVD player or the SMART BOARD®, we use them even more frequent than we used to apply them a decade before.
In this short essay we would like to present a lesson clustered around a DVD movie. We would analyze it and would also wish to show how movie watching can help LT and lead to a real life English LA. Moreover, we are going to include a detailed lesson plan in which we highlight the important language skills. Finally, we would really wish to share our experience, practice and opinion on digital DVD techniques within the frame of "ordinary" language teaching processes. So dear reader - stay tuned.
II. Materials and Methods
Watching and analyzing movies are not weird things in our high school. Every semester we analyze two or three movies during curriculum classes. In addition, we usually hold a so- called optional MOVIE CLUB every month where we invite our colleagues as well. Then we watch a movie and students get a questionnaire that they are supposed to fill out. Afterwards we collect the forms and check out the answers. The best answers will be awarded. Those who take part in this extra out-of-school club will be awarded a "plus" point heedless of their answers; however, the grade "five" is given only to those replying properly. The students' age ranges from 12 to 18, just in accordance with the age limit of the films. We never watch movies with the limit of the age of 18, and we exclude the following categories: horror movies, war movies, extreme fantasy, extreme sci-fi, porn, sex, and erotic movies.
The movies are rather taken from the 1990s or from the beginning of the 2000s. We never watch movies presented up-to-date in the movie theater. We never watch lovey-dovey films and soap operas. We also exclude political films and documentaries. We prefer to choose movies that were awarded with Oscar Prize® or Emmy®; however, due to lobby reasons it is not always true that the best will win these prizes. We also tend to choose movie with moral agendas and we do initiate a conversation of the morals with the students afterward. Students are also asked to summarize the plot and the personal opinions are wholeheartedly welcome. In our retrospective study we questioned 40 students, two language groups, about their habits and attitudes to movie classes.
[...]
---
1 www.unite.ucans.com (12.01.2009)
2 www.unite.com/future.htm (12.01.2009)
Details
Pages

22

Year

2009

ISBN (Book)

9783640534722

File size

496 KB

Language

English

Catalog Number

v143822

Institution / College

University of Debrecen – Regnum-M Educational co.

Grade

Tags