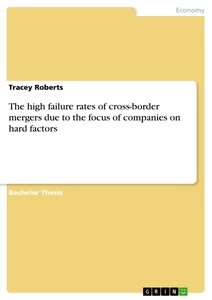 Excerpt
Table of Contents
Glossary
1. Introduction
1.1 Issue
1.2 Aims and Objectives
2. Literature Review
2.1 Types of Merger
2.2 Motives for Merging
2.3 Rates of Failure
2.4 Challenges of Cross-border Mergers
3. Methodology
3.1 Secondary versus Primary Data
3.2 Quantitative and Qualitative Data
3.3 Structure of the Dissertation
4. Corus
4.1 Company Information
4.2 Why did British Steel and Hoogovens merge?
4.3 Results of Corus' Merger
5. Aventis
5.1 Company Information
5.2 Why did Hoechst and Rhône-Poulenc merge?
5.3 Results of Aventis' Merger
6. Analysis of Corus' and Aventis' Mergers
6.1 SWOT-Analysis
6.2 Porter's Five Forces
6.3 In-depth Analysis of Corus' Weaknesses
6.3.1 Strategy
6.3.2 Dealing with Economic Threats
6.3.3 Collaboration with Stakeholders
6.3.4 Cultural Conflict
6.3.5 Communication
6.3.6 Change Management
6.3.6.1 Personnel Development
7. Critical Future Success Factors
8. Conclusion
Appendices
Appendix 1
Appendix 2
Appendix 3
References
Glossary
Abbildung in dieser Leseprobe nicht enthalten
1. Introduction
1.1 Issue
In today's economy of globalization, technological change, an increase in innovation and shorter product life cycles have led to intensified international competition.
The result is an increase in productivity and capital requirements due to high R&D and growing quality costs. Cross-border mergers have become a predominant form of global expansion and a common possibility of adapting to changing market conditions (Buchner, 2002, p. 21). As the described economic development will continue and may become even stronger, the requirement for cross-border mergers exists (Gösche, 1991, p. 153). However, statistics show that the failure rate has been quite high (see p.13, 2.3).
The author will investigate critical success factors, that are often neglected and the main cause of failure. By failure the author does not mean a complete failure, but that the merged company has not achieved its expected goals.
Based on preliminary research and existing knowledge, the analysis of critical success factors will mainly refer to soft factors. In cross-border mergers cultural issues in the form of organizational and national culture play an important role (Gertsen et al., Cultural Dimensions in International Mergers and Acquisitions, 1998). Furthermore, the author will focus on change management, as mergers bring along major changes that have enormous impact on managers and employees. In this context the effect of knowledge management and communication will also be analysed (Buchner, Der Mensch im Merger, 2002). As these issues will have to be considered at certain stages within the merging process, emphasis will also be laid on due diligence and the integration process (Galpin & Herndon, The Complete Guide to Mergers and Acquisitons, 2000).
There is a need for this topic to be examined to find out which various factors have impact on the transaction process and thus exploring methods for improving the success rate. It is important to show that when dealing with employees' reactions towards change and when having the right strategic approach, cross-border mergers can be a successful tool in today's global economy. As some companies give priority to hard factors, they are not familiar with critical soft factors (see p. 15, 2.4) and therefore have problems taking them into account. This, however, is necessary when companies intend to expand through merging. Although, cross-border mergers have become a preferred means in international business to establishing own subsidiaries abroad, the failure rate remains quite high (see p.13, chapter 2.3).
Based on these issues, the author intends to explore the hypothesis "The failure rate of cross-border mergers is so high, because the majority of companies mainly focus on hard factors. "[1]
In order to explore the hypothesis, the objectives described below have to be undertaken.
1.2 Aims and Objectives
The aims of the dissertation refer to exploring key reasons of failure in cross-border mergers by analysing practical examples in form of case studies. The author's aim is to explore critical success factors that are not given enough attention by companies when consolidating. Furthermore the goal is to analyse how the success rate can be improved through strategic due diligence and by laying more emphasis on the planning and integration phase.
In order to meet these aims, the author will compare Corus, a less successful cross-border merger, with Aventis a more successful merger.
The objectives by which the author is going to meet the aims are the following:
- To analyse empirical studies on failure rate investigated by consultants and scientists
- To analyse reports on cross-border merger challenges
- To explore articles in newspapers and business magazines to examine Corus' internal and external environment by applying strategic tools
- To examine which critical success factors have been neglected by Corus
- To analyse newspaper articles on Aventis' critical success factors
- To compare Corus' and Aventis' strategic approach and procedures
- To generate improvement strategies on how mistakes could have been avoided or minimized
- To give recommendations and reach a conclusion
The objectives will be analysed from the companies' main stakeholders'[2] and shareholders' viewpoints, but will not deal with public policy issues.
2. Literature Review
Before examining the hypothesis, the author needs to be familiar with the topic's background and get deeper insight into the basic principles of mergers, why they take place and what challenges exist that the failure rate is so high. The literature review is based on books, articles and reports from newspapers, journals and the internet.
2.1 Types of Merger
"A merger is a voluntary and permanent combination of businesses whereby one or more firms integrate their operations and identities with those of another, and henceforth work under a common name and in the interests of the newly formed amalgamation."(Bennet, 1999, p. 192). Companies usually come together voluntarily, as they try to seek synergies. "In a merger of equals, the two institutions are presumed to have equivalent power to make decisions within the consolidated entity." (Dr. Johnson, 1999, p. 33). In practice, however, mergers of equals do not take place very often. It is more often the case that one partner dominates, which gives the other partner the feeling that the merger is actually a takeover. In contrast to mergers, acquisitions refer to taking over another company by purchasing the target company (Gösche, 1991, p. 191).
M&A are a means of complementing forces to achieve strategic goals, but a different approach to integrating another company.
Depending on the company's aims, there are different types of mergers distinguished by the relationships between the two companies.
Horizontal mergers refer to the consolidation of companies producing the same products. This type of merger often takes place in industries where products' life cycles are in the declining stage (Sudarsanam, 2003, p. 97). It usually leads to quick synergetic effects involving least risk.
"The merger of firms operating at successive stages of the same chain from creation to the sale of a product represents vertical integration." (Sudarsanam, 2003, p. 97). Backward integration has the aim of improving resources on the supplier side, and forward integration has the aim of securing sales on the distribution side (Gösche, 1991, p. 38).
Concentric mergers refer to two companies consolidating that produce related products and wish to diversify. However, difficulties arise, if the partner's business does not relate to the purchaser's core business (Gösche, 1991, p. 38).
Conglomerate mergers refer to consolidating with a company that deals with entirely different businesses (Wöhe, 2002, p. 304). Usually, few synergetic effects are achieved and the follow-up costs can be high (Gösche, 1991, p. 38). Compared to the other types, the prospects of success are very low.
2.2 Motives for Merging
A company usually has several aims, so that merging is not the actual aim, but a means for achieving goals. The overall aim is to secure future growth and to increase company value by achieving synergies through sharing resources with a partner (Wöhe, 2002, p. 305).
Companies combine forces to be more competitive and have access to international markets, as it is quicker and cheaper than developing organically or establishing a subsidiary abroad.
An aim in the procurement area is to improve a company's market position towards suppliers by reducing costs through joint procurement. Furthermore, risks can be minimized by ensuring the supply of raw materials, especially when a strong dependency on external suppliers exists, e.g. in the automobile industry (Wöhe, 2002, p. 306).
A common aim in the production area is to share R&D and to have access to new procedures to overcome obsolete production technology (Wöhe, 2002, pp. 306-307). While scale economies are achieved when costs are spread over an increased output of a single product, scope economies are realized when costs are spread over an increased range of output of different products (Sudarsanam, 2003, p. 108).
When changes in demand and income level threaten sales, companies can diversify by offering new products either on existing or new markets (Wöhe, 2002, p. 307). The objective of diversification is to become more complex to "survive the next economic downturn or unpredicted changes in consumer preferences and in their competition" (Rubenstein & McNeice, 2003, p. 2).
Companies tend to consolidate when there is an economic downturn in the hope of achieving synergies to increase share price (Galpin, 2000, p. 5). Not so good reasons for merging with another company are:
- To "do something" otherwise the company will be going backwards
- Me-too; i.e. responding to the fact that competitors are consolidating
- "To fill a short- or medium-term profit gap, without ensuring first that this will provide a genuine economic profit" (Grundy, 2003, p. 6)
Merging with another company should not be a defensive measure without having precisely examined whether the strategic approach is feasible, as it determines synergetic effects. Synergy "comes about as a direct result of the combination of two operations into one company and would not have been realized had the companies remained separate." (Galpin, 2000, p. 162) When searching for synergies, it is important to focus on how the combination of existing capabilities can lead to new benefits.
According to Dr. Johnson, it is the right time to merge if the strategic plan can be accomplished best by combining with another enterprise (Dr. Johnson, 1999, p. 23). This, however, is not enough to ensure a successful merger. Even though, the other company may have important resources, there are many other factors that play an important role when merging. It is not only about synergies, but also about cultural issues, environmental factors and the way post-merger integration is implemented.
Merging is a tool that enables companies to achieve an improvement in performance and increased competitiveness to encounter international pressure and be ready for changing environmental circumstances (Gösche, 1991, p. 23). "M&A remain important strategic tools for companies to gain new business opportunities, know-how and markets" (Anon, 2004, Business Spotlight, p. 29). Nevertheless, the failure rate remains quite high.
2.3 Rates of Failure
Major consulting firms including Price Waterhouse Coopers, McKinsey and KPMG report that two thirds of all mergers fail (Rubenstein & McNeice, 2003, p. 1). In the 1990s there was a period of merger mania. A study by KPMG shocked the business world in 1999: "The study found that only 17% of the mergers examined had led to an increase in the equity value of the companies after one year. 30% of mergers created no value and 53% actually destroyed value." (Gibson in Business Spotlight, 2004, p. 29). Furthermore, KPMG found out that 60% of the main reason for failure are the people and cultural differences in the integration process (Gösche, 1991, p. 29). Typical process problems refer to a too rough analysis and to laying more emphasis on a quick closure of the transaction. This leads to neglecting planning activities which are necessary to achieve the aims after having completed the deal (Sewing, 1996, p. 70).
According to KPMG, Accenture and McKinsey
- "50% drop off in productivity in the first 6-8 months"
- "47% of top management leave within the first year"
- "62% show zero growth over three year period"[3]
DDI, a global human resources consultancy based in Pittsburgh has found out that "incomplete communication, poor leadership and incompatible company structures drive costs up after merger agreements have been signed." (Anon., 2004, Business Spotlight [online]).
Key symptoms of failure include the loss of staff, poor customer service and inefficient supply chain (Gibson in Business Spotlight, 2004, p. 29). The prospects of success, however, can be increased by planning the merger systematically.
Studies have shown that a high percentage of mergers fail to meet their aims, although they should have been successful according to economic and financial aspects (Sewing, 1996, p. 66). Therefore, obviously economic and financial success factors are necessary, but no guarantee for successful mergers.
"Conventional M&A thinking is based on sound economic principles" (Rubenstein & McNeice, 2003, p. 1). The majority of companies focus on legal, financial and economic aspects and are not aware of the fact that merging is a complex process bringing along major changes that also include soft factors, and that their exclusion can result in financial losses (Rubenstein & McNeice, 2003, p. 1).
"The driving force of the "merger mania" is the pressure to create ever-larger corporations capable of competing in the most important markets in the world."[4] Although a range of sources indicates that the majority of mergers' profitability does not meet management's predictions, the merger wave appears to show no sign of abating[5] (see App.1, pp. 47-48). "We are in the early stages of the next merger cycle in Europe" (Paulo Pereira, Head of European M&A at Morgan Stanley).[6] As there is an increase in global mergers, it is important to be aware of existing challenges.
2.4 Challenges of Cross-border Mergers
Cross-border mergers refer to the consolidation of companies that have their headquarters in different countries (Sewing, 1996, p. 21). Global mergers are more complex due to political, economical, legal and social differences (Sudarsanam, 2003, p. 108). Even though the EU facilitates cross-border transactions through having more integrated financial markets and a common monetary policy, differences still remain (Dr. Johnson, 1999, p. 3). Fiscal policy may be converging, but there are still no harmonized tax systems and not all member countries have the euro as a currency. Cross-border mergers are more risky due to the lack of knowledge of a country's international labour laws and accounting systems, which can prevent effective integration.
Challenges, however, not only refer to hard factors, but also to soft factors, which tend to be neglected more often. Companies tend to focus on operational and financial aspects of the deal. "Shareholder value, return on capital employed, and market share were listed as the top three performance measures used to monitor success of the M&A process." (Galpin, 2000, p. 233) Attention is primarily given to shareholder interests, but far less to the factors that provide the basis for the merger's long-term success after the deal has been completed, i.e. people issues. Companies find it difficult to deal with soft issues, because they cannot be easily measured and do not occur in the balance sheet (Mergers and Acquisitions, the HR Dimension).
A study by Kantor shows average priorities:
- 26% Strategic business development
- 22% Operations
- 15% Marketing / Sales
- 13% Finance
- 8% Customer Service
- 8% Human Resources Management
- 4% Communications
- 4% Management Information Systems[7]
Firms tend to forget, that "what ultimately makes mergers (…) work are the people, and, collectively, the cultures of the companies merging or cooperating."[8] It is important to develop an HR strategy, which "is seen as the link between human resource management and the organisation's strategy." (Lundy & Cowling, 1996, p. 47)
The hard HR approach deploys human capital as a commodity of achieving profitability. Decisions are often based not on what is right for the personnel but on what is right in the longer term for the company's customers, shareholders and profits (Galpin, 2000, p. 107). The soft approach, however, treats people as a valued asset and regards motivation, involvement, communication and leadership as crucial ingredients (Reilly, P., 2002, What is Human Resource Strategy?).
A study on 45 CFOs of Fortune 500 companies revealed that cultural differences were the prime reason for the failure to achieve synergies in M&A (Gertsen, 1998, p. 79). Although data show that cultural incompatibility is the biggest barrier to successful integration, this area is the least researched during the due diligence process.
"Cross-border mergers not only bring together two companies which themselves have different organizational cultures, but two companies whose organizational cultures are rooted in different national cultures" (Gertsen, 1998, p. 85). Culture refers to values, norms and behaviour (Sewing, 1996, p. 26). Organizational culture is defined as "the way we do things around here" (Galpin, 2000, p. 26), e.g. management and communication styles.
"Differences in culture create obstacles for cooperation and integration between groups" (Gertsen, 1998, p. 148). This, however, does not have to be the case, as it depends on how the acculturation process[9] is managed. Differences play a role in the integration process, however, the existence of differences itself is not enough to create a culture clash. Furthermore, companies from the same nationality do not automatically have the same organizational cultures. Even within a nation subcultures exist. Especially today, in times of globalization it is often the case that there are employees and managers from different national backgrounds within an organization. Different national cultures do not necessarily have to create additional barriers to the development of productive joint corporate cultures. It depends on the way the different cultures are managed.
The lack of market and culture knowledge is often linked to geographical distance (Grundy, 2003, p. 19). It is true that geographical distance makes integration and controlling efforts more difficult, however, geographical nearness does not generally imply similar economic regulations and cultures that are easier to overcome. What is required is to refine the way companies manage the post-merger integration process. They need to adopt an approach that looks beyond the pure mechanics (financing, technology, marketing). "People are paramount, and collectively, culture is the key."[10]
Taking these challenges into account, the author will examine the hypothesis by applying the following methodology.
3. Methodology
3.1 Secondary versus Primary Data
In order to find out why the failure rate of cross-border mergers is so high, it is important to carry out desk research by analysing secondary data that already exist.
If data have already been generated there is no need to go out into the "field" and to find new results. Documents are usually cheaper and easier to access. Documents can be used to provide basic knowledge, important background information and as reference to support own findings. They also help to find data that cannot be obtained by using primary field research. Furthermore, the authors' different perspectives on a certain topic stated in documents can be compared and evaluated.
Whereas books such as "The Complete Guide to Mergers and Acquisitions" by Galpin and Herndon and "Smart Things to Know About Mergers and Acquisitions" by Grundy give a detailed in–depth view of on which different subtopics to concentrate when exploring the hypothesis; reports, newspapers and magazines including the "Business Harvard Review" and "Business Spotlight" provide the author with information that is up-to-date. Articles in business magazines or published by international business consultants reveal empirical and statistical data. Secondary data providing the reader with further knowledge enhance the author's perspectives. However, when using documents it is crucial to validate the information given, as they might be biased. Moreover, the author must clarify when she has used a piece of work that is not her own and give reference to all documents used.
For further evidence and as a link between theory and practice, the author will analyse and compare two case studies. Case studies reveal in-depth and qualitative information on social processes.
The author will compare a successful and less successful cross-border merger. She chose to compare Corus, the merger between British Steel plc and the Dutch company Koninklijke Hoogovens, which was less successful, with Aventis a more successful merger between the French company Rhône-Poulenc and the German company Hoechst. In order to have a viable basis of comparison, the author chose two cross-border mergers that do business in similar industry sectors. Both firms come from the manufacturing sector, as Corus produces steel and Aventis pharmaceutical products. Moreover, both mergers took place in 1999, which enables the author to find enough information on the merging process, as the outcome of a merger takes time. Furthermore, the author chose cross-border mergers that took place in Europe, as this implies similar circumstances as far as the EU is concerned. Although the author will emphasize soft factors, she will take both the companies' internal and external environment into account.
Primary data are collected by gathering data that do not exist in the field. When conducting research it is important to consider ethical issues including confidentiality and anonymity (Saunders, 200, p. 122). The dissertation will be merely based on secondary data, as this is a complex and sensitive issue, on which companies are reluctant to give information or refer to existing literature and reports. Secondary data not only provide richness in terms of quantity but also quality, as documents with vital information can be found, so that this research approach will offer access to sufficient rich data. This dissertation mainly deals with social processes, and therefore qualitative data. In order to still achieve a viable and value-added dissertation, it is crucial to contrast, analyse and evaluate documents objectively and critically, and to challenge existing assumptions by developing new ideas.
Triangulation, the involvement of more data techniques, not only improves the quality of research, but also allows viewing the topic from different perspectives. The author will use different types of documents including books, business reports and articles. Comparing data enhances validity of data, when some consistency between methods exists (Denscombe, 1998, p. 84 f.).
3.2 Quantitative and Qualitative Data
Quantitative data relate to statistics rather than description. According to social scientists quantitative data have the advantage of being measurable, comparable and representative. In order to ensure data that is representative, a large amount of data is needed, which can be a challenge in terms of time and money. The quantitative data the author will gather in this study derive from business journals and statistics compiled by consultants or scientists.
Qualitative data refer to social processes and soft data rather than measurable results and rely on interpretative methods. Furthermore, qualitative data are descriptive representing people and social processes, and can therefore only be used if they are interpreted by the author. The advantage of qualitative research is that it provides more in-depth information. A disadvantage is that it is time-consuming, as the author first needs to gather all information available and interpret it afterwards. There is also the risk of biases due to the high level of subjectivity involved, because qualitative data are "produced by the way they are interpreted and used by researchers. […] The researcher's identity, values and beliefs cannot be entirely eliminated from the process" (Denscombe, 1998, p. 208).
Validity means that "the data reflect the truth, reflect reality and cover the crucial matters." (Denscombe, p. 241, 1998). In order to ensure validity it is important to obtain qualitative data as systematically as possible. Furthermore, it is important that the techniques applied relate appropriately to the topic to ensure accurate results.
The results of this dissertation should not be generalised, as qualitative research is bound up with the author's interpretation. This is why the topic has to be approached with an open mind detached from presumptions. It may be that some results with regard to causes of failure are representative for other companies, but the extent to which findings can be generalized depends on their applicability. "Although each case is in some respects unique, it is also a single example of a broader class of things." (Denscombe, 1998, p. 36). When reporting the findings of a case study it is important to include necessary information about how the case study compares with those of other companies to enable the reader to make an informed judgement about external validity.
3.3 Structure of the Dissertation
The author will give a brief overview of Corus, analyse its reasons for merging and present the consolidation's results. Additionally, there will be a brief overview of Aventis, why it merged and how successful it was. After having provided the reader with background information, the author will compare both companies by doing a SWOT-Analysis and applying Porter's Five Forces. This section will be followed by analysing Corus' weaknesses more in-depth and by examining why Aventis was more successful. Furthermore, there will be a section on how Corus could improve its performance, and finally the dissertation will close off with a conclusion.
[...]
---
[1] Statement developed by the author of this dissertation based on preliminary research
[2] Employees, Customers, Trade Unions
[3] Anon., n.d., Integration, http://www.synergyassociates.com/cultural
[4] Wheelan, S., 1999, British Steel and Hoogovens merge, www.wsws.org
[5] Anon., 2001, Corus announces large-scale redundancies, www.eiro.eurofound.eu.int
[6] Mergers and Acquisitions, Europe's coming merger boom, Why European firms are preparing for a summer of love, 2005, www.economist.com
[7] Anon., n.d., Integration, http://www.synergy-associates.com/cultural
[8] Anon., n.d., Integration, http://www.synergy-associates.com/cultural
[9] Acculturation process is the blending of different cultures and "the development of jointly shared meanings fostering cooperation between the joining firms"(Larsson 1990 in Gertsen et al, 1998, p.29)
[10] Anon., n.d., Integration , http://www.synergyassociates.com/cultural/Services.htm
Details
Pages

66

Year

2005

ISBN (eBook)

9783640452675

ISBN (Book)

9783656842569

File size

685 KB

Language

English

Catalog Number

v137585

Institution / College

New College Durham

Grade

2.0