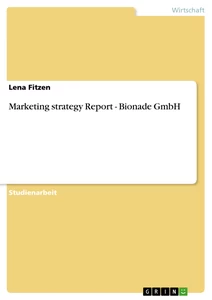 Marketing strategy Report - Bionade GmbH
Hausarbeit 2006 47 Seiten
Leseprobe
Executive Summary
This report shows the marketing strategy plan for the next 5 years for the beverage company Bionade GmbH. It is based on an external and internal marketing audit of this organisation (appendix). The product performed well. Sales rates increased about 350% over the last years. They did not do any big marketing campaigns. To achieve the planned sales forecast over the next year and to protect the current market leader ship in the segment of healthy functional drinks, a marketing mix will be established.
The current external environmental forces are mainly support the organisation's business. Changed consumer patterns regarding a higher consumption of healthy food, as well as the faster lifestyle and the bad image of global companies in the group of younger adults are the main reasons for the increased sales of Bionade. The brand is characterised as unique, innovative, healthy, value added, credible, social and "green". The marketing strategy is based on a mass market penetration strategy in the domestic market and a new market entry strategy in the international markets. The main objective is to keep the current competitor advantages of the unique product in hole. The main task for future is to increase brand awareness and sales by marketing communication and the development of the product line.
Additionally in future the current distribution strategy in cooperation with the distribution company of Coca Cola Company will be used to get into all traditional retail channels in the domestic and the international markets. In a long time view own sales offices should be open in the main markets to organise distribution, marketing and communication in these countries.
The price in the domestic market will increase up to a compared price level of classical soft drinks. Bioande has the chance to be a "mass" product by a high level of quality. But the differentiation is not done by the price. The transfer in the international markets will be follow a clear and credibility branding strategy.
[...]