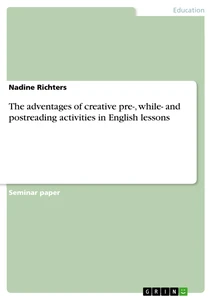 The adventages of creative pre-, while- and postreading activities in English lessons
Seminar Paper 2009 11 Pages
Excerpt
Content
1. Introduction
2. Creative methods in the lessons
2.1 Aims and advantages
2.2 Pre-reading-activities in detail
2.3 While-reading-activities in detail
3. A practical approach to a post-reading activity for "Peter's Beach"
4. Summary
References
1. Introduction
Creative approaches to textual work play an important role in EFL[1] lessons as they offer a great potential with regard to developing language skills and intercultural learning and as they are very popular among pupils. In terms of the negative results of PISA, the approach to reading comprehension has immensely changed. Didactics have found out that tackling (literary) texts in the traditional way hardly motivates learnes to achieve good results. Therefore, it is more useful to centre topics and literary texts which have significance for the learners, treat them in a different way and employing new methods, such as reading different texts in the English lessons (for example "Harry Potter") and applying creative writing. Reading, writing, learning English should make sense to the pupils. "ESL [2] /EFL learners need a reason to read."[3] Fortunately, these changes are even visible in the current curricula guidelines.
In my term paper, I will lay the focus on pre-, while- and post-reading-activities with regard to literature. Firstly, I will present the aims and advantages of while- and post-reading-activities, then I will carry out a practical approach by suggesting a short story ("Peter's Beach") and presenting some post-reading-activities and discussing them.
2. Creative methods in the lessons
2.1 Aims and advantages
There are many pupils who have difficulties in gaining an access to the English language and its literature. To make the pupils sensible towards intercultural awareness and aspects referring to English speaking countries, though, it is important to carry out a great deal of creative methods during literature sessions. In her article, Caspari defines creative methods:
"[...] Arbeitsformen, die nicht einen primär distanznehmenden, analytischen, verobjektivierenden Umgang mit dem literarischen Werk fordern, sondern zu einer eher subjektiv-individuellen, intuitiven, imaginativen und teilweise auch spielerischen oder emotionalen Auseinandersetzung mit dem literarischen Werk anregen, ohne jedoch analytische und reflexive Prozesse prinzipiell auszuschließen."[4]
Moreover Caspari names an advantage of using creative methods in the lessons: "" [...] denn mit Hilfe kreativer Verfahren lassen sich nicht nur Ziele der Textlektüre, Textanalyse und Textinterpretation im engeren Sinn erreichen. Sie enthalten darüber hinaus das Potential, zentrale allgemeine Ziele des fremdsprachlichen Unterrichts wirkungsvoll anzubahnen."[5] General aims appear in the "Common European Framework" concerning language skills. They involve language activities but they are not necessarily speficif to languages.[6]
With regard to the target language, there are five performances that belong to the "communicative language competences"[7]: writing, reading, speaking, listening comprehension and intercultural learning. These competences are listed in the "Bildungsstandards der KMK" in year 2003. If one embeds creative taks in the lessons, one covers all of these competences.
Particularly, intercultural comprehension plays a major role in teaching foreign languages. Creative methods are, for example: creative writing, performing scenes, creating a photo-story, making a video. These creative methods are divided into three stages: pre-, while- and post-reading-activities which will be explained in the further course of this termpaper.
By doing creative tasks, intercultural skills are effectively taught for the pupils have to try to comprehend the single perspectives of characters appearing in the literary texts. That can be done if the pupils have to write a text from a different perspective and especially in the first person narration. Um Fremdes nicht vorschnell nach den eigenen Vorstellungen zu beurteilen oder gar zu verurteilen, ist für Fremdverstehen ein Perspektivenwechsel bzw. eine zeitweilige Perspektivenübernahme erforderlich.[8]
[...]
---
[1] = E nglish as a f oreign l anguage.
[2] = E nglish as a s econd l anguage.
[3] Sasson (2007), "Improving ESL Reading Skills – Teaching Strategies: Pre-Reading-Activities for the ESL Learner".
[4] Cf: Caspari, Daniela (1994), p. 349.
[5] cf.: Caspari (2001), p. 169.
[6] Cf: "The Common European Framework", p. 9.
[7] I have copied that term from "The Common European Framework, p.9.
[8] cf: Caspari (2001), p. 170.
Details
Pages

11

Year

2009

ISBN (eBook)

9783640335367

ISBN (Book)

9783640335800

File size

395 KB

Language

English

Catalog Number

v126866

Institution / College

University of Hamburg – Fachbereich Erziehungswissenschaften

Grade

sehr gut

Tags