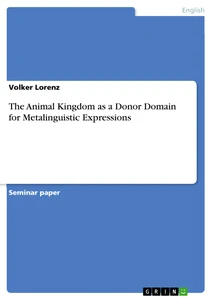 The Animal Kingdom as a Donor Domain for Metalinguistic Expressions
Seminar Paper 2007 21 Pages
Excerpt
Table of Contents
1. INTRODUCTION: A SHORT SURVEY OF METALINGUISTICS
2. FAUNA-BASED EXPRESSIONS
2.1 FAUNA-BASED EXPRESSIONS WITHIN METALINGUISTICS
2.2 EFFECTS OFF AUNA-BASED EXPRESSIONS
3. OBJECTIVES AND EXPECTATIONS
4. METHODOLOGY
4.1 PREVIOUS WORK FOR THE SEMINAR HOME ASSIGNMENT
4.2 ONLINE RESOURCES FOR BESTIAL EXPRESSIONS
4.3 AQUESTIONNAIRE FOR NATIVE SPEAKERS
5. ANALYSES OF FAUNA-BASED EXPRESSIONS' USAGE
5.1 PRELIMINARIES
5.2 THE EXPRESSIONS IN QUESTION
5.3 ANALYSIS BY NOVELTY (ACCORDING TO FIRST APPEARANCES )
5.4 ANALYSIS BY PRODUCTIVITY (ACCORDING TO TOTAL NUMBER )
6. CASES OF DOUBT
6.1 CASES OF SIMULTANEITY
6.2 CASES OF FORESTALLING
7. SUMMARY
8. CONCLUDING REMARKS
9. REFERENCES
1. Introduction: a Short Survey of Metalinguistics
A property of human language which makes it stand out among the ways living creatures communicate is its reflexive capacity (cf. Lucy: 9). This capacity manifests itself as what is called metalanguage, i.e. reference to general regularities of language, reports or explicit descriptions of linguistic action, indexical forms varying with the actual event of speaking, or prosodic variation forming illocutions. (cf. ibid. seqq.).
Representations of speech acts can be given as a repetition of most or part of the speech as it was perceived (e.g. "He said 'Give an example.'"), as a characterization of the speech act without overt repetition of the utterance (e.g. "He made an invitation."), or as a mixture of both. (e.g. "He invited her to give an example."; cf. ibid.). A speech act characterization may either be abstract and neutral (e.g. "He said 'Give an example.'") or expressive (e.g. "He commanded 'Give an example.'"); introduced by adequate verbials, it may even be highly imagistic (e.g. "He yipped 'Give an example.'"). "Metaphor comes into play when the verbial is borrowed from a domain that involves the production of sounds in another context than verbal communication (eg thunder)." (Vanparys: 32). This process of 'borrowing' not only serves reasons of diversifying or colouring speech representation, but also reveals the producer's (and most times also the receiver's) psychological and cultural frames. Accordingly, Schön (256) describes metaphorical utterances as "symptoms of a particular kind of SEEING-AS, the "meta-pherein" or "carrying over" of frames or perspectives from one domain of experience to another."
Of course, cultural frames are not a phenomenon of recent times only. This was put very nicely by Gee (54):
Words have histories. They have been in other people's mouths and on other people's pens. They have circulated through other Discourses and within other institutions. They have been part of specific historical events and episodes. Words bring with them as potential situated meanings all the situated meanings they have picked up in history and in other settings and Discourses.
It is therefore not enough just to pursue a synchronic analysis of contemporary metaphorization within metalinguistics. In order to reach the core of imagistic metalinguistic expressions and to get at least a glimpse of their potential situated meanings, a diachronic analysis is in order. "Any text (oral or written) is infected with the meanings (at least, as potential) of all the other texts in which its words have comported. Studying the meaning potential of texts, in this sense, is an important part of discourse analysis. (Gee: 55).
2. Fauna-Based Expressions
2.1 Fauna-Based Expressions Within Metalinguistics
The introduction proved metalinguistics a diversified field worth exploring, especially its imagistic branch involving metaphoricality. In 1995, Paul Pauwels and Anne-Marie Simon-Vandenbergen, starting from the premise that the purpose of metaphoricality is "to structure abstract domains by means of projections from more concrete domains" (ibid.: 35), ventured out and explored body parts as a structured concrete domain of metalinguistic expressions. Yet, of course, this is but one donor domain available for the creation of metaphorical expressions, and metalinguistics draws heavily from other domains as aggression, sounds, visual perception, etc. (cf. Vanparys: pass.)
The scope of this paper will be rather narrowly set, as it focuses on but one particular donor domain for metaphorical metalinguistic expressions: the animal kingdom. Why this seemingly marginal object? As Vanparys (32) points out, "various linguistic action verbials (eg scream, shout, whisper, yell, ...) pick out the acoustic quality of the reported speech event as their major meaning component", and among these linguistic action verbials specifying the acoustic quality of a particular reported speech event "two donor domains stand out for their prominence: animal sounds and music. Indeed, a whole range of verbials expressing the production of sounds by animals can be applied to human communication." (ibid.).
2.2 Effects of Fauna-Based Expressions
Concerning the connotative quality of animal-based metaphors, recent research came to the conclusion that these expressions convey a negative meaning (cf. Simon-Vandenbergen: 84seq., 94, 96, 102). Simon-Vandenbergen (107) points out in her paper:
The donor domain of animals gives rise to expressions conveying a negative evaluation of LA [i.e. linguistic action] mainly for two reasons:
- the focus on the similarity in sound between animal noises and human speech conveys the meaning of stupidity
- animal behaviour is used as a donor domain because of the feature 'aggression' (e.g. horn in, bark).
Even though this statement holds true for most expressions based on the animal domain, one also finds a few more positive descriptions, especially when looking at bird sounds: chirm ('melodious chatter' OED), chirp ('to talk in sprightly and lively tones, to give utterance to cheerful feelings' OED), chirrup ('to speak or sing in sprightly tones' OED), coo ('to converse caressingly or amorously' OED), and warble ('to utter melodiously', 'to express or celebrate in song or verse' OED). Nevertheless, based on the OED definitions, most other animal-based expressions do indeed refer to utterances being made angrily, discordantly, feebly, harshly, inarticulately, inconsequently, noisily, shrilly, snappishly, or unintelligibly.
3. Objectives and Expectations
Since previous research was focused primarily on imagistic metalinguistic expressions in general, fauna-based expression were treated rather as a marginal sub­branch, thereby disregarding the differences that may be found among these varied expressions. This paper therefore focuses wholly on metalinguistic expressions having the animal kingdom as their primary donor domain, thus paying attention to the different classes of animals having stood godfather to animistic neologisms, and hoping to determine to which degree and at which period of time the classes of animals took influence on the formation of these metaphorical expressions.
Linguistically, the focus is on verbials and their diachronic development, with nominalizations being occasionally examined as well. An analysis of these expressions motivated by the animal kingdom depicts not only their value judgements, which were explored by Simon-Vandenbergen (cf. 107), but also possible tendencies and reasons which may have caused speakers to modify their language to include certain bestial sounds at certain times.
To be expected from a diachronic analysis of the verbials' first appearances and their predominant usage time are differences according to 1) the animal classes producing the respective sounds (e.g. mammals vs. birds, or 'common' animals indigenous to the British isles as dogs or cows vs. more 'exotic' animals as snakes or lions), 2) those connoted positively and the bulk connoted negatively for aggressiveness, as well as variations with 3) volume and pitch of sound and with 4) speed, duration, frequency, and quantity of the utterances (cf. Pauwels & Simon-Vandenbergen: 55seqq.). Since Simon-Vandenbergen stated that "animal sounds are a typical donor domain for loud, stupid talk" (id. 96), while "[t]he opposite of loud speech, viz. soft, quiet speech, appears to be less salient[...]" (id. 97), it can be predicted that verbials for loud, senseless or aggressive talk abound and are thus by far more typical for metalinguistic expressions.
4. Methodology
4.1 Previous Work for the Seminar Home Assignment
An earlier research into this field was done by me on 25 verbials, which I had compiled from my personal knowledge of the English language and from trying to transfer equivalent German expressions into English, which were then looked up in the Oxford English Dictionary (OED) for entries of their appearance throughout time and analyzed according to their dates of first appearance. The results of that research already showed that, regarding their judgement values, most of the expressions looked at bear a negative mark, even though there are some positively connoted expressions based on bird talk. With regard to the historical development, the 18th and 19th centuries appeared most productive of neologisms, resulting in an abundance of animal-based expressions in the 19th century. Focusing on the expressions' first appearances, there were but few useful results with regard to the dichotomies of loudmouthed vs. softspoken utterances or metaphors based on 'common' vs. more 'exotic' animals. What seemed more salient was the difference between the relatively early expressions based on mammals, compared to the later appearing expressions based on birds, which might be due to mammals sharing more common features with human beings, thus making them more 'prototypically human' and more fit for personifying metaphorical expressions.
4.2 Online Resources for Bestial Expressions
In order to increase the selection of animal-based verbials to be examined in this paper, I made use of four online resources, namely the 'Beastly Garden of Wordy Delights', 'Sounds Animals Make', 'Sounds of the World's Animals', as well as Roget's New Millenium Thesaurus. (For details of the links, please see the references list.) Apart from that, also the OED online quite often provided cross-references to the single entries, thus pointing out other verbials. All in all, this basis of research led to a total number of 65 expressions to be examined.
4.3 A Questionnaire for Native Speakers
In preparation for my research I designed a questionnaire, which I distributed via an online mailing list to native speakers. Somewhat surprisingly, although I stuck with a single page of relatively straightforward questions, nearly all of the participants found the questionnaire quite exigent and very difficult to answer. Despite the somewhat sluggish response, I finally received filled out questionnaires from eleven native speakers from the UK, Ireland, the US, and Canada, among which were also four biologists. Below are listed the questionnaire's four question complexes, along with a short summary of the speakers' respective answers: unless an answer was given only given once, the percentage of each expression among the answers is indicated after the respective expression.
Complex 1 provided tendencies for those expressions which may, according to dictionaries, be used for different kinds of animals; this showed clear preferences for example in the cases of chatter, cheep, jabber, squeak and squeal. Complex 2 was designed to serve the same purpose for some of the diversified bird-based expressions, and though not as revealing as the first one, still showed preferences for at least some of the verbials. Complexes 3 and 4 finally had the aim of finding more animal-based verbials, especially some less well-known of 'exotic' animals. Even native speaker seem unsure about the sounds of these animals, as can be seen from the mix of verbials for dolphins or the missing answers for giraffes (which, according to an online source, may bellow, bleat, grunt, and their youngs mew). This suggests that but few expressions are derived from such animals, preferring more 'common' ones as birds, bovines, canines, or felines.
[...]
Details
Pages

21

Year

2007

ISBN (eBook)

9783640309276

ISBN (Book)

9783640307319

File size

511 KB

Language

English

Catalog Number

v125548

Institution / College

http://www.uni-jena.de/ – Institut für Anglistik/Amerikanistik

Grade

1,3

Tags