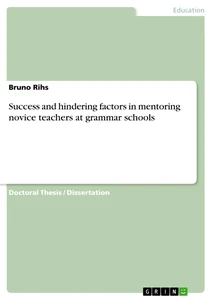 Success and hindering factors in mentoring novice teachers at grammar schools
Doctoral Thesis / Dissertation 2008 44 Pages
Excerpt
Content
Acknowledgments
Abstract
1. Introduction
1.1 General Mentoring Context
1.2 Mentoring context at grammar schools in Lucerne
2 Research issue and research questions
3. Methodology
3.1 Theoretical Perspective
3.2 Research Design
3.2.1 Description of the sample
3.2.2 Data collection and analysis
3.2.3 Difficulties and limitations of the design
4. Findings
4.1 Individual issues
4.1.1 Success and hindering factors for mentors
4.1.2 Success and hindering factors for mentees
4.1.3 Conclusion
4.2 Relationship issues
4.2.1 Assessing and advising
4.2.2 Gender aspects
4.2.3 Age and experience
4.2.4 Conclusion
4.3 Style and Approach issues
4.3.1 Content focus vs. Process focus
4.3.2 Psychosocial vs. Career function
4.3.3 Supporting vs. Confronting
4.3.4 Conclusion
5. Discussion and Literature Review
5.1 Individual issues
5.2 Relationship issues
5.3 Style and Approach issues
6. Critical reflexion
References
Acknowledgments
I wish to thank my Supervisor, Dave Megginson for his wonderful help and support throughout the course. From him I have learned what mentoring and coaching can really mean. I am thankful for his friendship during those tiny steps on a long and winding path. His empowerment has made me take the risk for this journey and helped me to trust in the process.
In addition, I would like to thank Vreni Stirnimann and Moni Sager for their support during interview transcription. Everybody who does qualitative research knows how much time this part takes and how important it is to keep to the right meaning when translating from spoken to written content. Moreover Swiss German is only similar to High German and needs quite a high and sensible competence of interpretation. Finally, there are two persons who deserve my deepest thanks and respect for their continued support during the writing of this dissertation, my partner Maria and my Indian friend Nupur. I could not have done it without both them.
Abstract
This study presents perceived "success and hindering factors" related to mentoring novice teachers at grammar schools.
On the basis of a grounded theory approach, there have been twelve interviews with mentors and corresponding mentees. The interviewed mentors have all been graduates of a mentoring training, supported by the University of Teacher Education in Central Switzerland. The novice teachers (mentees) have been engaged on an ordinary yearly contract and came from different faculties.
The author identified three main variables on which findings have been categorized: Individual issues, relationship issues and style and approach issues.
Hereby, the criteria trust and trust-building emerged as the vital aspects in the relationship. Generally it includes a certain openness and self disclosure from both parts. Openness allows the exchange of wishes and expectations which is essential to prevent unwanted surprises. Relationships were reported to be successful when Mentees were open for critique and when they were willing to learn.
While assessing and advising at the same time is usually seen as a hindering factor, the study gives evidence, that it needn't be deteriorating a relationship.
Having a common subject of specialisation might be a success factor in the beginning of the relationship but as the relationship proceeds, general or personal aspects are more important. Age difference seems to be a helpful to function within the given role.
Concerning different approaches to mentoring, the "king's road to success" could not be found. Depending on the definition of the relationship (symmetric or complementary) different approaches contribute differently to a successful relationship.
1. Introduction
Mentoring is a complex human interaction indeed. Complex not only because the word mentoring itself leads to lively controversial debates but also because the magnitude and depth of a relationship depends on how the involved persons are able to foster and maintain that relationship. Both the mentor and the mentee have individual backgrounds, different lifestyle and work experience, in most cases different age and quite often differing expectations or hidden agenda. Both mentee and mentor are "prisoners" of their socio cultural conditions, their education, upbringing and heredity. The values and ethics of each of them influence the outcome of the mentoring process. Different factors are involved in the process of mentoring apart from the involvement of two individuals; some factors are similar for both e.g. the professional and social context in which mentoring takes place. Others may be different like the power to maintain the mentoring process. Failures of perception occur and neither Mentor nor Mentee are immune against it: Primacy-effect, Halo-Effect, Contrast-and Similarity failures, stereotypes are only a few to be mentioned.
The quality of the relationship always depends on the individuals involved, the context (social norms, roles, prejudice etc.) and the chosen approach. Expectations form our behaviour or at least influence our perception as we know from the theory of self-fulfilling prophecy1. Therefore it does matter how the helping activity is defined and what the expectations are.
In this study I will expound the success and hindering factors in mentoring novice teachers at grammar schools in Lucerne. By applying a grounded theory approach, I extract insight from twelve interviews with mentees and mentors. Following this, I discuss my findings and compare these with the current literature.
The insights gained can be of interest not only to the teacher mentors, but also to the principals who are in charge of adapting their concepts of mentoring at schools. The results may contribute to a redesign of the mentoring training concept that is provided by the teacher training university.
1.1 General Mentoring context
Historically, the term mentor implied to someone who was responsible not only for educating a young person but also who acted as a counsellor, confidant, or even parent. The Greek poet Homer told the story of Ulysses and his son Telemachus in The Odyssey, describing how the son was entrusted by his father into the care of Mentor (Clutterbuck, 1991; Rosenbach, 1993). Mentor was old and wise, and took charge of Telemachus's education, helping him to mature, to learn courage, prudence, honesty and a commitment to serve others. The word "mentor" was born.
Over time, conceptions of mentoring have come to vary, especially in terms of the range of responsibilities one assumes in this role. While many (e.g., Levinson, 1978) view mentoring in a narrower vocational sense where the mentor serves primarily as role model, counsellor, and sponsor, others (e.g. Gehrke & Keys, 1984) view the mentoring role as a type of "godparent" who has a very special personal relationship with the one being mentored.
In education circles, the term mentor is increasingly employed to identify experienced teachers who are selected to assist beginning teachers to adjust in their first year(s) of teaching. However, the nature of these emerging mentoring roles for teachers does not fit neatly into either of the above categories. Rarely are they viewed in the historical perspective and yet mentors are not necessarily role models to which one aspires vocationally either, even though mentoring takes place largely in a vocational setting. Since the beginning and the experienced teachers are undifferentiated in their roles and responsibilities, the relationship between teachers and mentors is more collegial or equal than are many mentoring relationships.
Ryan (1986) refers to the mentor teacher as a helper-friend. Huling-Austin (1987) uses the designation support teacher to indicate a mentor teacher who is viewed as a buddy teacher. She also includes helping teacher and teacher consultant as terms synonymously with support teacher.
The following is a list of some of the synonyms used by researchers in teacher development:
illustration not visible in this excerpt
Fig. 1: Synonyms used for Mentors
Odell (1986) offers the title "clinical support teacher" for teachers serving in full-time support teacher roles. The notion of guide from Daloz (1983) suggests that the mentor guides another teacher in the journey toward professional development by: (a) pointing the way, (b) offering support, and (c) challenging colleague teachers to higher levels of professional development.
Perhaps it is because we have different perceptions of the word "mentor" that there are different ways of practising the art (Shea, 1992). Certainly on a historical note the meanings have changed.
Megginson (1994) offers the following, more up-to-date definition, maintaining that a mentor is: "an off-line person who helps another individual to address the major transitions or thresholds that the individual is facing, and to deal with them in a developmental way" (p. 165). This definition allows for a peer relationship, if appropriate, and recognizes a learning approach for the mentee which does not exclude that of the mentor. Similarly, Burlew (1991) tried to acknowledge the possibility of a peer relationship in his definition: "A mentor is anyone who provides guidance, support, knowledge, and opportunities for whatever period the mentor and protégé deem this help to be necessary" (p. 214).
Maynard and Furlong (1993) also identified three models of mentoring in their study of teacher education. They referred to these as the apprenticeship model, the competency model, and the reflective practitioner.
The first two models reflect the context of the trainee teacher learning from an experienced practitioner, and gaining the competencies of classroom practice. Only the reflective practitioner model gives the notion of sharing, of helping the mentee to examine his or her practice in a non-hierarchical, non-judgemental way. This model does not appear to rely on age difference between mentor and mentee nor even more experience, rather a joint exploration of practice to determine the sequence of events and possible alternative scenarios. It also hints at a mutual practice so that the mentor is a learner as well as the mentee. What is important is the process of reflection by the doer, the mentee, so that they can learn more from the process and perhaps become their own "critical friend" (Pedler, 1983). This definition or model of mentoring, with its emphasis on learning in practice, may be more acceptable to teaching staff, who may have already met the concept during their teacher training (Calderhead, 1987).
Consulting the current literature, some authors2 state that mentoring should be voluntary and off-line because ...
... a line manager may not have a wider view; he is focused on his personal aims.
... a mentee is dependent on the recommendations of the line manager; hence the relationship may not develop to be completely open and trustworthy.
... there is a hierarchy between the line manager and the mentee which could be used to take personal advantages (like sexual harassment).
... a mentor, who is matched by a principal, may have less motivation then a voluntary mentor.
Thinking of these negative issues, it may be logical to support a voluntary mentoring system as a conclusion. It needs to be mentioned that the meaning of a mentor might be different in a school system to an economic one. In the economic business a mentor can help to build the career of his or her mentee. In a company setup, I presume it is more important to have an influential mentor helping the mentee to find the career path and to go up the career-ladder. Identifying the "right" person to become one's mentor and having an influential network are two important factors in a company or corporate environment.
It is different in a school however. Having the right and influential mentor is not that important, because growth in career is not influenced by one's mentor but requires an individual to apply for the job. In Swiss educational setup, there is no direct conveyance or recommendation on mentor's part to influence his/her mentee's career. There is not really a career-ladder for grammar school teachers. Anyway, in general a beginner teacher doesn't get such a job, so a mentor does not have much to do with it.
In Swiss grammar schools the mentoring pairs are matched by the principal, the mentees can't choose their mentors by themselves; nor do the mentors choose their mentees. All participants are set up by the principal and have to follow the formal mentoring system, which is devised / developed by the principal.
1.2 Mentoring context at grammar schools in Lucerne
At our Grammar schools in Lucerne, induction is an important component of a strong staff development program. At the beginning of a new term, every new teacher gets a mentor. Teacher mentoring focuses on the development characteristics, and functions of mentoring roles and relationships. The mentor contacts the mentee before summer holidays, shows him or her around the school, explains the administration (i.e. how to use the intranet or the copying machine), introduces him/her into curricula and didactic plans and summarizes last year's events. After this initial contact it is the mentor's duty to coach and advise the mentee during his or her first two years at the school. During the following terms, the mentor has to visit at least one lesson per term taught by the mentee and discuss it with the mentee providing his own feedback. This post-lesson talk is based on an official structured manual and at the end of the talk, mentor and mentee formulate objectives. The idea is that the mentor does not primarily judge but comment on the lesson by giving criteria oriented feedback. The mentor is paid for his mentoring job. It is a small amount for the mandate and additionally a small hourly wage for every hour of mentoring. The principal expects a good and fair cooperation between mentor and mentee. The mentee is asked to respect the encouragements given by mentor and / or principal and to try to reach the objectives. Furthermore the mentee has to write the minutes of the debriefing talks.
Usually a mentor only has one mentee at one point of time, but there is no definite number which should not be exceeded. It is the mentors's decision how many mandates he or she can manage.
At our grammar schools, mentees are mentored by colleagues at the same formal hierarchical level. In fact there is an informal hierarchy as the mentor is often the head of the "subject department" and therefore senior. A novice in her/his first two years is employed on the basis of a yearly contract and therefore in some cases is dependent on the judgement of her/his mentor. This may lead to a role conflict between the two because of counselling and assessing at the same time. Sometimes she/he is a critical friend, sometimes coach and sometimes a colleague, "parent", adviser or teacher. The mix of expectations about the mentor's assisting or assessing roles can cause confusion to mentor and novice alike. When the mentor has to not only coach the beginner by encouraging, advising, and befriending but also has to referee the beginner by evaluating, appraising and judging; then the most beneficial aspects of a mentor-novice relationship are strained. A confusion between helping and evaluating, both at the same time, places disparate demands on the mentor and can erode the Mentee's trust. Moreover the conflict may arise because of the influence he/she can have on the mentees' further career.
According to Pertti Väisänen (2003) a mentor should have the experience and certification appropriate to the assignment of novice and should possess the knowledge, skills, attitudes, and values deemed essential for becoming an effective mentor. He has to make use of three characteristics of investigation:
a) High professionalism (competence, reflection, standards and norms, personality),
b) Supporting relationship between mentor and mentee and
c) Adapted style of mentoring (tailor made mentoring)
The conclusions are that a professional mentor is competent in his/her subject, self reflexive, accepts criticism and is available. In a good relationship between mentor and mentee, a professional mentor gives support, motivates, empathises, is a good listener and gives security. Referring to the tasks of a competent mentor she/he supports the mentee so that she/he can develop her/his own style of planning and giving lessons including trial and error. As novices are "hungry for recipes"; a good mentor not only helps by giving advice but at the same time offers cooperation and demands explanations.
When nominated through the principal Mentors are offered to get a mentoring training provided by the teacher training University. They are invited to go through this training before or during they become mandated3.
The mentor teachers usually are matched with the beginners whenever possible based upon correspondence in the subject matter. Providing support and feedback in the classroom setting is essential for the mentor. For instance, mentors and beginning teachers teach a lesson together, a practice that moves beyond the observation of the one by the other to enhance their respective capacities for information, feedback, and analysis. The first year provides an opportunity to mobilize some powerful forms of staff development. The mentor as teacher adviser and observer makes the novice aware that continued professional growth is fostered by interaction.
If we look from the Mentee's point of view, we find many circumstances that influence the relationship and his or her development. Novices face considerable challenges when they start their teaching career. Within a very short time they have to adapt to the special context and culture of a school. The transition from teacher training to the first teaching job could be a dramatic and traumatic one. In the German literature this transition is often referred to as the "reality shock," "transition shock," Praxisschock". In general, this concept is used to indicate the collapse of the ideals formed during teacher training by the harsh and rude reality of everyday classroom life. Fuller (1969) called the first three years the "survival stage" where novices just try to survive within the classrooms. Drawing on the work of Fraser, "The beginning teachers quickly discover that in various ways past experience has been inadequate to the job. The fantasy crumbles, and the survival stage begins, a fight for one's professional life as problems with discipline and management intensity." (Fraser p. 88)
For a long time teachers stood alone when they started their careers and did not have any professional support. There is evidence that most of novices need the support of a well trained mentor.
Teacher mentoring focuses on the development characteristics, and functions of mentoring roles and relationships. The concerns experienced by the teachers during their career are documented in the literature. Over a period of time, teachers cite inadequate facilities and materials, large class size, too many non-teaching duties, not being treated as professionals by the public, lack of administrative support, and being denied professional autonomy to make decisions about their students and themselves (Darling-Hammond, 1984). Lortie (1975) tells us that teachers suffer from isolation and lack of opportunities to share their experiences with their colleagues. Rosenholtz (1985) recounts that teacher's report lack of preparation time, conflicts with their principals, and difficulty dealing with student misconduct as frustrations with the profession.
2. Research Issue and research questions
There is apparent consensus among researchers about mentoring's positive effects: "mentoring is useful", "mentoring initiatives humanize the system", "mentoring helps mentors and protégés reflect on and improve teaching practice". Taharally, Gamble, and Marsa (1992) report on the benefits to the experienced teachers as expressed by the teacher-mentors themselves:
They mention feeling more like professionals, and becoming more open with their intern over time and less anxious about their own work. They became more positive about teaching and understood the needs of others better as they engaged in the mentoring process... Mentors also reported a greater sense of responsibility and security in their jobs. (p.130, p.132).
There are quite a few factors that influence a mentoring relationship. Some factors contribute to a successful cooperation and others might be hindering.
The impact of the mentor can be positive or negative. For example if a mentor adopts a pedagogical strategy, which challenges the often firmly held beliefs of a novice teacher (due to his education), then this could result in dissonance leading to change or rejection depending on the level of support.
As per Back and Booth (1992) there is agreement that challenge within a mentoring relationship can only be established if it is based on friendship and trust. In addition, as reported by Mclntyre and Nagger (1996), there seems to be widespread belief that mentoring means both, providing constructive and critical advice and challenging practices and preconceptions.
Little is known whether it is true that mentoring and assessing at the same time leads to an unsatisfactory outcome. We also do not have much evidence about perception of the arranged pairing of mentor and mentee. Little do we know about the fears of a mentor when he or she is taking over the mandate. What effect does the obligation to visit the mentoring training course have? How do teacher mentors handle the fact of being "primus inter pares"? How do they handle their accountability to the principal? What are the key critical hindering factors in a mentoring relationship? To which extent is it true, that all the teachers who have participated in mentoring programs have a good experience?
Having described how mentoring is conceptualised in grammar schools in Lucerne and shown what the existing assumptions are about mentoring novice teachers are, I narrow down the subject and focus on answers to the following two key questions:
1. What are the success and hindering factors from the viewpoint of six mentors and their mentees? What insight can be drawn from this sample?
2. How do the findings correspond with the accordant literature?
3. Methodology
3.1 Theoretical Perspective
To get answers to the research questions, I have chosen an inductive approach based on the grounded theory (Glaser and Strauss, 1967; Glaser, 1992) and theoretical categories emerging from the data. According to Glaser "the goal of grounded theory is to generate a conceptual theory that accounts for a pattern of behaviour which is relevant and problematic for those involved. The goal is not voluminous description, nor clever verification." (Glaser, 1978, p.93).
Therefore I have started with the stories of teacher mentors and mentees, made observations, and then generalized to a wider population. This is different from the classic approach where one starts with a preliminary literature review4.
Glaser's (1992) style of grounded theory is chosen for this project because it supports the emergence of factors as identified by the participant group. Grounded theory is based on the belief that, as individuals within groups comprehend events personally; common patterns of behaviour are revealed (Glaser, 1998). The research problem in grounded theory is necessarily emergent, not preconceived. As Glaser (1992) notes:
...the research question in a grounded theory study is not a statement that identifies the phenomenon to be studied. The problem emerges and questions regarding the problem emerge by which to guide theoretical sampling. Out of open coding, collection by theoretical sampling, and analyzing by constant comparison emerge a focus for the research. (p.25)
Above all, the research problem in grounded theory must be about the main concerns of participants in the context. As Glaser (1998) argues:
It is about time that researchers study the problem that exists for the participants in the area, not what is supposed to exist or what a professional says is important. "Whose relevance" drives the focus of a research project. Grounded theory requires that it is the relevance of the people in the substantive area under study. It is their main concern and their continual process of it that is the focus of grounded theory... (p. 116)
The research problem in grounded theory is the discovered core variable. Core variable is the variable that accounts for maximum variation around the main issues and problems being processed in the action context:
Always keep in mind, that grounded theory is an inductive approach that calls for emphasis on the experience of the participants. The goal of grounded theory is to generate a theory that accounts for the patterns of their behaviour which are relevant and problematic for the participants. The core category is that pattern of behaviour which is most related to all the other categories and their properties in the theory which explain how the participants resolve their main concern. (Glaser 1998, p. 117)
One of the strengths of grounded theory is that it explains what is actually happening in practical life, rather than describing what should be going on. The method creates a scientifically legitimate space whereby participants could explain their main successes and hindering factors and how they continue to resolve them. Concepts do not have to be identified as predetermined variables, but would emerge from participant's observation and interview. The goal is to present an integrated set of hypotheses While it is accepted that this means the research is not repeatable in the strict sense, we could agree with Eden and Huxham (1993) that uncertainty can be reduced by multiple perspectives on the situation; in this case from discussions and story telling.
The analytical technique used in the grounded theory is what (Glaser, 1995) refers to as constant comparative analysis. Constant comparative analysis begins immediately, as the first data is collected. This not only serves as a beginning for the emergence of a theory, but also provides ideas for theoretical sampling.
Constant comparative analysis involves relating data to ideas, and then these ideas to other ideas. This is done through "coding" the data. As Glaser (1978) puts it:
The essential relationship between data and theory is a conceptual code. The code conceptualizes the underlying pattern of a set of empirical indicators within the data. Thus, in generating a theory by developing the hypothetical relationships between conceptual codes (categories and their properties) which have been generated from the data as indicators, we 'discover' a grounded theory, (p. 55)
Following questions will be helpful for analysing the process
What is this data a study of?
What category does this incident indicate?
What is actually happening in the data?
In the grounded theory, concept building during data collection is required. Data collection and analyses happen at the same time. During data collection the theoretical concept emerges and theory building starts. Main aspects towards a grounded theory are memos. Emerging codes are written down and compared with others. Then the concepts undergo new comparisons and connections. In the end of this circle or spiral we reach the preliminary (definite) concept of the grounded theory.
illustration not visible in this excerpt
Fig. 2: Steps towards a grounded theory
[...]
---
1 The concept of the self-fulfilling prophecy – known as Rosenthal-Effect1 or Pygmalion Effect - can be summarized in a few principles that we always should be aware of when we talk about influence: - We form certain expectations of people or events - We communicate those expectations with various cues - People tend to respond to these cues by adjusting their behaviour to match them - The result is that the original expectation becomes true This creates a circle of self-fulfilling prophecies.
2 For example: Module Handouts. MSc Mentoring & Coaching. Mentoring Theory & Practice: S. 3
3 The course lasts for 35 hrs of classroom work – in daily blocks over a term - and 25 hrs of individual practice and reflection. The content includes following key aspects: - characteristics of the professional getting in - Clarification of the forward roles and services as a Mentor - criteria of good practice - training on communication skills and coaching approaches - instruments on how to watch and reflect lessons - reflection on lessons and giving useful feedback - reflection on own practice and own subjective theories - writing an adjusted mentoring concept Main emphasis is lead on reflecting own experiences and action learning by analysing video sequences of self held lessons. Although they come across different models like GROW or three-steps-model and different approaches (behavioural, humanistic, cognitivistic, solution-focused, NLP) there is no close philosophy in the concept or a particular technique that is promoted. Although this mentoring training is offered there is no formal qualification needed to be a mentor. An evaluation of this training showed evidence that mentors with mentoring experience profited more than others who felt obliged to take this course despite of any necessity. It seems that there is no use to water before there is thirst.
4 As Glaser (1998) states: The traditional approach is to study the literature in a substantive area before one starts the research. Grounded theory's very strong dicta are a) do not do a literature review in the substantive area and related areas where the research is to be done, and (emphasis in original) b) when the grounded theory is nearly completed during sorting and writing up, then the literature search in the substantive area can be accomplished and woven into the theory as more data for constant comparison. To state the point bluntly, these dicta have the purpose of keeping the grounded theory researcher as free and as open as possible to discovery and to emergence of concepts, problems and interpretations from the data. (p. 67)
Details
Pages

44

Year

2008

ISBN (eBook)

9783640294657

ISBN (Book)

9783640294855

File size

834 KB

Language

English

Catalog Number

v124248

Institution / College

University of Sheffield

Grade

"very good to excellent"

Tags