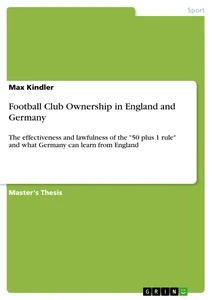 Football Club Ownership in England and Germany
The effectiveness and lawfulness of the "50 plus 1 rule" and what Germany can learn from England
Master's Thesis 2008 73 Pages
Excerpt
TABLE of CONTENTS
ACKNOWLEDGEMENTS
ABSTRACT
1. INTRODUCTION
1.1 Terms and definitions
1.2 Scope of this dissertation
1.3 Drivers of club ownership
1.4 Limited comparability of English and German football
1.5 Limitations to free trade with football club shares
1.6 Overview of the chapters of this dissertation
2. RESEARCH QUESTIONS
3. RESEARCH PROCESS AND METHODOLOGY
4. LITERATURE REVIEW
4.1 Literature related to football club ownership
4.2 Literature related to the lawfulness and effectiveness of rules regulating football club ownership
5. COMPARISON OF THE STRUCTURES FOR PROFESSIONAL FOOTBALL IN ENGLAND AND GERMANY
5.1 General remarks.
5.2 The structure of English football clubs
5.2.1 The predominant legal forms for football clubs in England
5.2.2 History of legal forms for football clubs in England
5.2.3 English rules related to football club ownership
5.2.4 Financial performance of English football
5.2.5 Threat from external investors
5.3 The structure of German football clubs
5.3.1 Significance of tradition
5.3.2 Financial aspects of German football
5.3.3 The human factor
6. POTENTIAL CONFLICTS OF INTEREST IN CONNECTION WITH CLUB OWNERSHIP
6.1 The rat race
6.2 Potential conflicts of interest in case of the absence of rules limiting club ownership
6.3 Conflicts of interest in relation between English and German football
6.4 Conflicts of interest among the stakeholders of a football club
6.5 Protection of competition or competitors?
7. THE GERMAN "50 plus 1" RULE
7.1 Definition, history and purpose of the "50 plus 1" rule
7.1.1 Membership associations
7.1.2 The governance vacuum within membership associations
7.1.3 Spinoff of football branches.
7.1.4 Exception to the "50 plus 1" rule
7.1.5 Purpose of the "50 plus 1" rule
7.1.6 Capability of the rule to safeguard its intentions and possible circumventions.
7.1.6.1 Main arguments in favour of the "50 plus 1" rule
7.1.6.2 German football clubs as investment targets
7.1.6.3 Main arguments in opposition of the "50 plus 1" rule
8. MODIFICATIONS OF THE "50 plus 1" RULE AND ALTERNATIVE SOLUTIONS 58 8.1 Modifications of the "50 plus 1" rule
8.1.1 Extension of the licensing system
8.2 Alternative solutions
8.2.1 Supporters' involvement
8.2.2 A "Fit and Proper Person Test" for Germany?
LIST of FIGURES
Figure 1, p. 20 Drivers of institutional change in sport
Figure 2, p. 23 Ownership structures of Football League clubs
Figure 3, p. 28 The importance of external investments according to professional English football clubs
Figure 4, p. 28 Motives behind the involvement of external investors in English football
LIST of ABBREVIATIONS
BIBLIOGRAPHY
ACKNOWLEDGEMENTS
I am grateful for all the support I have received whilst researching and writing up this dissertation. Thanks especially go to my mother, Elisabeth Kindler, who has continuously encouraged me to pursue my dreams. I would also like to thank my ex girlfriend, Sandra Golser, who has endured me through most of the MBA programme and has imposed great privations upon herself. Thanks also to Dr Geoff Pearson who has been a patient supervisor and, last but not least, to Walter Böhm (Sportfive, London), Till Johannsen, Helge Kratochvil, Jörg von Appen and all the other supportive people at Sportfive, Hamburg.
ABSTRACT
This dissertation analyses the legal and statutory environment for investments in football clubs in Germany, as opposed to the situation in England. Whereas German regulations limit the acquisition of shares of football clubs, the legal framework is much more liberal in England. The paper looks at the potential conflicts of interest involved with club ownership issues as well as at the arguments for and against the German "50 plus 1" rule and how this rule may cause a shortfall in competitiveness as compared to English football. Finally, the dissertation looks at doubts over the lawfulness of the rule in relation to European antitrust legislation and doubts over its effectiveness concerning legal loopholes provided by German corporation law.
The paper relied predominantly on the analysis of literature concerning the regulation of club ownership in England and Germany, whereas a significant amount of German literature was used.
Essentially, the research found that there is reason for severe scepticism about both the lawfulness and the effectiveness of the "50 plus 1" rule. It would probably not bear up against a test before the European Court of Justice. There are several opportunities in German corporate law to circumvent the rule.
Finally, the paper urges the German Football Association ( DFB ) to consider a softening of the regulations currently in place, and effective modifications of the underlying licensing system, respectively, as well as the introduction of supporters' trusts and fit and proper person tests. Finally, the paper claims that competitive balance on a European club level can only be restored if club ownership issues are resolved on a European level.
1. INTRODUCTION
1.1 Terms and definitions
The commercialisation[1] of football is closely linked to terms like (multi)club ownership, (multiple) team control or crossownership, all of which refer to the issue of controlling shareholding in one or more incorporated football companies. Unlike in other industries, such (multiple) control of commercial entities (football clubs) is possibly suggestive of manipulation of competition within leagues. It is often claimed that multiclub ownership or the absence of regulations limiting such ownerships is able to provoke conflicts of interest. These potential conflicts and their practical relevance are outlined and described in Chapter 6. The European Court of Arbitration for Sport (CAS 98/200 Arbitral Award, AEK Athens, and Slavia Prague v. UEFA) defined the issue of multiclub ownership as "the ethical and nonethical questions raised by the circumstance that two or more clubs controlled by the same owner take part in the same competition". Simple ownership can, for purposes of this dissertation, be defined as follows: ownership of a football club means the entirety of rights that are necessary to influence the management, the administration and the sporting presentation of the club.
1.2 Scope of this dissertation
This dissertation, however, will assess the effectiveness and lawfulness of restrictions prohibiting the acquisition of shares of a professional football club in Germany, following the pretension to safeguard the integrity of competition and regardless of the fact whether or not such shares provide for a controlling influence over the club. The dissertation will also compare the German situation to the respective legal framework and its economical impact in England.
Ethical questions of possible dominance of institutional investors over members and supporters are only covered marginally by this dissertation. To quote Szymanski (2007: 199), this dissertation is about the "tension, between the desire to allow clubs greater market freedom in order to find their own economic solutions, and the desire to regulate the operation of markets in order preserve existing competitors and structure" '.
1.3 Drivers of club ownership
(Multi) Football club ownership can be driven by various objectives. Ownership of football clubs can relate to maximisation of financial gains.[2] Investment in a football club may be seen as similar to many other business investments and be justified using financial criteria such as discounted cash flow, internal rate of return, asset appreciation, or payback (Foster et al, 2006: 97).
Investments may as well be driven by strategic considerations, seeking to put the owning company in a good position to acquire certain rights, such as TV rights or merchandising rights. Another motive might be the fear of competing media corporations from the clubs themselves, which have recently shown increasing tendencies towards broadcasting their own pictures on TV or the Internet or even towards creating their own leagues (Weiler, 2005: 179).
There is no dominant opinion about what club owners are trying to maximise. Nikolychuk and Sturgess (2007: 844) refer to other authors who argue that clubs are less profit oriented than other commercial organisations because they are attempting to maximise utility with sporting performance. Morrow (2003: 75) sums up the numerous different interests and motivations among and within football's stakeholders as "more diverse than ever before". After all, "corporate governance, which involves a set of relationships between a company's management, its board, its shareholders and other stakeholders, provides the structure through which the objectives of the company are set, and the means of attaining those objectives and monitoring performance are determined" (OECD, 1999: 2). The differences in corporate governance in English and German football clubs will be outlined in more detail in Chapter 5.
In practice, apart from individuals like Roman Abramovich, a certain group of investors has shown interest in holding a controlling share in one or more football clubs. Firstly, clubs themselves might be interested to, directly or indirectly, invest in other football clubs in order to secure talent education or to pursue other purposes.[3] Secondly, marketing companies show an increasing involvement in football club shareholding. Thirdly, media corporations, such as Rupert Murdoch's BSkyB, have shown enhanced interest in capital investments in football clubs (Glover et al, 2004).
Finally, the sporting goods manufacturing industry seeks to get involved in football clubs in order to enhance its core business.[4] According to Scaglione (2007: 110), referring to the Deloitte Sports Business Group, the European professional football market generated total revenues of 12.6 billion € in 2005/2006 and hence represents a very attractive playground for investors.
1.4 Limited comparability of English and German football
While in England, there is literally a race of investors for top tier football clubs[5], the acquisition of controlling influence over German football clubs is still limited to registered membership associations ('eingetragener Verein'). Critics of the underlying regulations argue that such regulations are maintained at the expense of competitiveness as compared to other European leagues such as the English Premier League . However, the comparability of the English Premier League ( EPL ) with the German Bundesliga is limited as long as the range in which the EPL markets itself goes far beyond the outreach of the Bundesliga . Naturally, owners see huge potential in markets such as the Middle East or Asia, but while the EPL already enjoys a lot of awareness in these areas of the world, the German Bundesliga leads a rather humble existence in these regions (Goff, 2007). Bearing that in mind, we may doubt that German professional football clubs would attract as many potential investors as do English clubs in case restrictions to investments should fall. The sole absence of restrictions will not bring in investors, and a whole set of other circumstances, such as global (TV) outreach[6] or corresponding branding efforts, need to be realised as well. Another issue that should be considered in depth is the perception brand owners (sponsors) have of changing ownership of football clubs. According to Stokes (2006), sponsors are particularly cautious about who they are associated with and could demur if questions arise over the suitability of an investor.
1.5 Limitations to free trade with football club shares
Governing bodies seek to secure the integrity of football by introducing rules that set limitations to the acquisition of the majority of shares in different football clubs or even in one football club. These rules may be divided into legal provisions[7] and regulations by governing bodies and league organisations that establish the limitations within articles of association or licensing manuals. These regulations range from total liberty of investment (e.g. in Greece and the Netherlands), to the prohibition of acquisition of direct or indirect controlling interest in two or more clubs of the same league (Italy), the prohibition of the acquisition of a minority stake in another competing club (England), or the prohibition of any kind of involvement in more than one club[8]. Whereas the respective UEFA regulations, as outlined in more detail in Footnote 8, upheld by the CAS[9] and confirmed in 2002 by the European Commission[10], do not prohibit multiclub ownership as such, meaning that it is still possible to own and control more than one club as long as these clubs do not enter the same UEFA club competition, the German "50 plus 1" rule does not even allow ownership of one club, as will be outlined in more detail in Chapter 7.
1.6 Overview of the chapters of this dissertation
Chapter 2 of this dissertation formulates the research questions, Chapter 3 illustrates the applied research process and methodology, and Chapter 4 reviews the literature covered by this dissertation.
Chapter 5 is concerned with the structural prerequisites of English and German football and how the present regulatory frameworks have evolved throughout history. The chapter also draws a picture of the financial state of football in both countries and what implications the relatively better financial position of English football might have on competitiveness on a European level.
Chapter 6 illustrates what types of conflicts of interest might be triggered by different constellations of football club ownership. In other words: is there a need for rules limiting club ownership? Do different regulatory systems affect the competitiveness of the football clubs of one country in relation to the clubs of another country?
Chapter 7, the core chapter of this dissertation, gives detailed insights into the German "50 plus 1" rule, a statutory regulation established by DFB and DFL . It is DFB's and DFL's intention that the rule provide for the integrity and authenticity of football in Germany. The existence of the rule is closely linked to the persistence of the membership association ( Verein ) as a legal form for German football clubs. A Verein, however, has limited opportunities to set commercial activities. Hence, we may doubt that the legal form of the Verein still meets the requirements of a modern and commercialised football world. The chapter gives a comprehensive overview of all existing arguments for and against the "50 plus 1" rule and how it might be challenged or circumvented on legal grounds.
The final Chapter 8 is concerned with the questions what measures DFB and DFL could take to safeguard the 50 plus 1 rule's intentions and to provide for a more investorfriendly environment at the same time.
2. RESEARCH QUESTIONS
This dissertation seeks to elaborate the structural differences in relation to professional football clubs in England and Germany, further the resulting business environment and regulatory framework from such differences for potential investors in football clubs, and in how far these differences are accountable for competitive disadvantages of German football clubs as opposed to English football clubs.
Apart from the elaboration of these prerequisites, the German "50 plus 1" rule will be examined in depth and the following questions will be discussed:
How effective is the German "50 plus 1" rule? Does it offer sufficient protection to prevent potential conflicts within and outside leagues (nationally and internationally)?
Can the rule be circumvented and can such circumventions create conflicts of interest?
Considering the autonomy with which governing bodies introduce rules to limit club ownership in football on the one hand and taking into account the constraints to the economic activities of companies seeking to obtain such ownership of football clubs on the other hand, is the "50 plus 1" rule compatible with European antitrust legislation?
What other options are there to provide for the integrity of competition in a system that allows the acquisition of the majority of shares?
In the attempt to answer these questions, the following research process and methodology was applied.
3. RESEARCH PROCESS AND METHODOLOGY
This chapter aims to inform the reader about the methods of research conducted in preparation and completion of this paper and for what reasons such methods were limited, as well as the ways in which the research materials were interpreted and analysed.
The methodology applied in this dissertation is qualitative, relying on comprehensible legal materials, even if they may be challengeable or subject to interpretation. It is moreover deductive and tests existing hypotheses. All other types of methodologies had to be excluded because they do not provide for the necessary amount of reliability and validity in the present context (Flick, 2006: 14). The qualitative approach is applied to assess the main motives behind and for the implementation of regulations restricting football club ownership, as well as the assessment of the lawfulness and effectiveness of such regulations. In this context and as the topic of this dissertation requires a legal assessment of the selfgoverning law of football's governing bodies as opposed to European and German Law, the methodology applied relies on the legal analysis of the available resources about the issues involved, as outlined below. The sole discipline affected by the scope of this dissertation is law and hence the present standard of knowledge is structured, presented and compared according to the research questions. The aim of this procedure is to provide a legal assessment of the German approach to club ownership as well as an objective presentation of all available arguments for and against the system.
The legal assessment is based on the currently existing legal frameworks of governing bodies ( FA, DFB / DFL, UEFA ), Germany and the European Union. These frameworks, being fluid, complex and diverse, are subject to change and such a change might give way to challenges of the findings in this dissertation.
The findings in this dissertation rely on a significant range of interpretation of legal materials. Interpretation is always closely linked to interrogation of legal values. As this paper seeks to express what effects law can have on society, politics or economics, it follows an interpretive sociolegal research approach as opposed to a simply positivist or critical legal approach (Harrington and Yngvesson, 1990: 136). However, this approach is prone to limitations because interpretation always has to exclude neutrality and objectivity. In order to avoid major shortcomings in relation to the findings of this dissertation, the author has attempted not to present just a unilateral interpretation of the regulations under review, but also to account for opposing interests and positions. In this sense, the law research in this dissertation is closely linked to social science research that is somewhat more behavioural and is able to enrich the understanding of law (Tomasic, 1996: 31). The multitude of interests involved with football club ownership issues, the potential conflicts of these interests, and football's significance as part of society in general require such an approach. All other research methods would deny the effects football's law have on society.
The topic under review only requires data collection or statistics for general indications about investorrelated issues; it is generally based on substantiation and interpretation rather than exploration. Key points of this dissertation, however, were discussed with representatives of Sportfive, Hamburg, during the period of September 9th to 12th, 2008, whereas the author decided to apply a nonstandardised interview process using semistructured interviews (Saunders, 1997: 212). In contrast to a questionnaire with predefined questions, the semistructured interviews started with general questions about the "50 plus 1" rule and the legal issues involved with this rule. Some of the more specific questions emerged during the interview, which enabled the interviewer and the interviewee to be more flexible regarding the topics and issues of the interview. As the questions of the effectiveness and lawfulness of the "50 plus 1" rule are highly controversial, a twoway communication helped to generate results that were more precise. These results were taken into account as clarifications of unclear aspects in this dissertation and are not mentioned separately. However, the applied interview method was subject to limitations, as the interviewees all had a sport marketing background and therefore could only provide the author with biased interpretations. An exhaustive research would have had to gather and combine the opinions and interpretations of all potential stakeholders of a football club.
4. LITERATURE REVIEW
There is limited primary literature about the specific topic of this dissertation, as far as what has been published by accredited scholars and researchers. This is due to the fact that discussions about football club ownership in connection with sporting competitiveness have only just begun a few years ago. The gaps in the existing literature mainly consist of lacking scientific evidence for direct interrelation between the various forms of football club ownership and financial/sporting success. As far as the German "50 plus 1" rule is concerned, existing literature does not go beyond the assessment of whether or not the rule is legitimate, while it would be worthwhile to elaborate alternative solutions for the protection of values attributed to the game of football, such as supporters' involvement, authenticity and integrity. This dissertation seeks to fill this gap and offers some possible alternatives to the "50 plus 1" rule in Chapter 8.
In relation to the research questions above, however, the following main areas of research were affected and opened up differing amounts and qualities of resources.
4.1 Literature related to football club ownership
Even though the research for this dissertation was based on a number of sources, specific articles about the topic of this dissertation, how Germany's approach to club ownerships differs from England's approach, and how differences between these two countries might affect the relative competitiveness of either one country as opposed to the other, could not be found.
The collected sources mostly referred to either the regulation of club ownerships in Germany and how this situation impairs the German league's ability to compete with the English Premier League ( EPL ), or the situation in England, where investors find a largely liberal environment for the acquisition of shares in football clubs. No academic piece of work related directly to a comparison of the situations in these two countries. However, there was a reasonable amount of literature about the unique German "50 plus 1" rule that is covered in detail in this dissertation and that prevents investors from holding the majority in a football club. In this context, this dissertation particularly pays attention to the work of Heermann (2007) and Lammert (2008), who both draw a clear picture of the mechanisms behind and around the "50 plus 1" rule. The relevance of the literature in this field is to be seen in the authors' assessment of the legal freedom and the attractiveness to invest in football clubs and to exert controlling influence as opposed to the issue of integrity of competition.
4.2 Literature related to the lawfulness and effectiveness of rules regulating football club ownership
The answer to the question whether limitations to club ownership are compatible with European antitrust legislation and effective in a sense that they are not subject to circumvention, needed to be based upon the comparison of the documents containing such limitations. Among these are articles of association of the respective governing bodies, with the respective European and German legislation, as well as literature relating to such legislation, whereas the work of Heermann (2003) and Szyszcak (2007) deserve to be highlighted. This applies to literature in relation to the conflict between the autonomy of governing bodies and compulsory European law as well, whereas especially Parrish (2002) provides comprehensive insight into the discussion over the "specificity of sport".
Areas of conflict in the literature applied can be explained with the oppositional positions and interests of the authors. Supporters of the autonomy of football's governing bodies promote the socalled specificity of sport and hence the non applicability of European antitrust legislation, yet at the same time, they are opponents of the liberalisation of German football and unrestricted access of investors to its clubs. Others (for further details, see Chapter 7.1.6.3) promote that the perpetuation of the current situation will, in the end, inevitably and in the long run lead to insignificance of German football on the European stage.
As this dissertation represents a legal assessment of a fairly young phenomenon in the football business, the literature reviewed consists of more recent journals, books, legislation and related commentaries and studies, mostly conducted by renowned consultancy corporations (e.g. Ernst & Young, Deloitte). The applied information was gathered in the libraries of the University of Liverpool and the University of Vienna as well as the Internet. The data seeking process covered a large number of journals related to sports law and management, European competition law and German law.
5. COMPARISON OF THE STRUCTURES FOR PROFESSIONAL FOOTBALL IN ENGLAND AND GERMANY
5.1 General remarks
In many countries, football league competitions can be seen as products that are tailored to the needs and demands of certain commercial and private consumers, such as spectators, TV stations, or the advertising industry. The structures of these leagues, however, differ significantly from country to country. One characteristic shared by all leagues is the loyalty of fans to a specific club. Generations of family members usually support the same team and are contemptuous of switching club allegiance. Consequently, shareholders that are also fans are locked into their club investments (Nikolychuk and Sturgess, 2007: 842). However, in Germany, for example, the ability of clubs to operate as profitmaximizing businesses has been limited by regulation, whereas in England, the opportunities for adopting commercial objectives have been bigger. For purposes of this dissertation, the main focus will be put on the German Bundesliga and its unique "50 plus 1" rule, but the main differences as compared to the English Premier League will be outlined as well.
The attractiveness of investing in football clubs is also partly determined by the opportunities to disguise profits or to exploit accounting loopholes (Lago et al, 2006: 5). As has been mentioned before, the comparability of the situations in England and Germany is limited as long as the financial structure of German clubs – on issues of income, capital, other expenditure, and liability – differs significantly from that of English clubs (Brown and Walsh, 2000: 89).
Fact is that no regulatory system should be carved in stone for all times. There has always been a need for institutional and regulatory change and such change is driven by a multitude of factors. Systems that seemed appropriate within one cultural, political or economical environment, may be outdated when these surrounding conditions change. Increased commercialization, such as in form of the UEFA Champions League, led to an intensified eagerness of sport bodies to exploit new market opportunities (Meier, 2007: 113). The main drivers of institutional change can be illustrated as follows:
illustration not visible in this excerpt
Source: Meier (2007: 113) Figure 1
[...]
---
[1] Whereas UNESCO (1978) naively postulated in 1978 that competitive sport may under no circumstances be influenced by profit oriented or commercial motives, the situation looks quite different today: in 2002, the sports sector contributed 27m € or 1.4% to the total GDP of Germany (Weiler, 2006: 68). As new sources of income, such as television rights, commercial partnerships and the exploitation of stadium infrastructure, have become increasingly important and have attracted higher public attention, football has become more attractive for potential investors (Morrow, 2003: 4).
[2] Cairns et al (1986) argued that "it is not clear that we are capable in principle of empirically distinguishing utility and profit maximizing behaviour", and therefore differences in objectives would not necessarily result in differences in behaviour. However, according to Gratton (2000: 24), the objectives have effectively been made clearer for many Premier League, and some Football League clubs in course of the flotation of the clubs on either the London Stock Exchange or the Alternative Investment Market ( AIM ).
[3] The acquisition of shares of one club through another club is commonly described as cross ownership, e.g. the case of Ajax Amsterdam merging two South African clubs into Ajax Capetown and holding the majority of this newly formed club (BBC News Online, 2000).
[4] The probably most prominent example is the involvement of adidasSalomon AG with FC Bayern Munich .
[5] Goff (2007) quotes opponents of the buying spree in English football: "The status of football clubs as publicly traded companies has led to people buying into them who have no interest whatsoever in the game." He also reports concerns about the means by which the takeovers are financed: football clubs would eventually suffer from the overwhelming amounts of debt capital. However, as long as television contracts remain as lucrative as they currently are, there is no indication that potential investors will cease to look for takeover opportunities. According to Stokes (2006), a lack of strict legislation regarding investment in football clubs could mean problems for the clubs involved, for example if the investors lose interest and withdraw from the clubs.
[6] Just recently, in July 2008, the German Antitrust Agency ( Bundeskartellamt ) forbade the plans of the German Football League ( DFL ) to centrally market the German Bundesliga . It ruled that the pooling of the football clubs into the DFL represented an unlawful restraint to competition that could only be justified if society would benefit from such a pooling. Such an 'added value' could be seen in free access to football on TV before 8 pm (Gaebler, 2008). In August 2008, the DFL and its marketing partner Leo Kirch offered a compromise to the German Antitrust Regulation aimed to preserve the centralised marketing model: 30 minutes of football highlights on public television starting at 7.30 pm (Soccer Investor II, 2008).
[7] Weiler (2005: 180181) lists the prominent examples Poland and Spain, where specific laws prohibit the acquisition of shares of multiple corporations and restrict shareholders and executives to grant competing sporting corporations bonds or securities (Poland) or, next to other restrictions, make share acquisitions in excess of 25% of the voting rights subject to the confirmation by the controlling institution Consejo Superior des Deportes (Spain).
[8] Initiated by attempts of the English National Investment Company ( ENIC ) to create synergies between several European football clubs by building a portfolio of shareholdings, UEFA blocked ENIC's initiatives by prohibiting multiclub ownership according to the following criteria (European Commission, 1999): No club participating in a UEFA club competition may, either directly or indirectly: (a) hold or deal in the securities or shares of any other club, or
(b) be a member of any other club, or
(c) be involved in any capacity whatsoever in the management, administration and/or sporting performance of any other club, or
(d) have any power whatsoever in the management, administration and/or sporting performance of any other club participating in the same UEFA club competition. No person may at the same time, either directly or indirectly, be involved in any capacity whatsoever in the management, administration and/or sporting performance of more than one club participating in the same UEFA club competition. In the case of two or more clubs that are under common control, only one may participate in the same competition. In this connection, an individual or legal entity has control of a club where he/she/it: (a) holds a majority of the shareholders' voting rights, or
(b) has the right to appoint or remove a majority of the members of the administrative, management or supervisory body, or
(c) is a shareholder and alone controls a majority of the shareholders' voting rights pursuant to an agreement entered into with other shareholders of the club in question.
[9] CAS 98/200 Arbitral Award, AEK Athens and Slavia Prague v. UEFA; what is remarkable about the CAS decision is the definition of "integrity" in sporting competitions; integrity, according to the CAS, means authenticity of results paired with public perception of these results – it is not sufficient that competitors are in fact honest, but the public must, at the same time, get the impression that all the involved actors, including the club owners, make their best efforts to win.
[10] European Commission, Press Release (2002): "[…] Without the UEFA rule, the proper functioning of the market where the clubs develop their economic activities would be under threat, since the public's perception that the underlying sporting competition is fair and honest is an essential precondition to keep its interest and marketability […]".