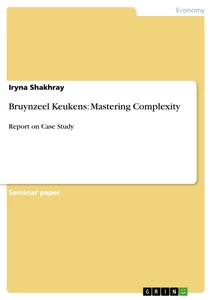 Bruynzeel Keukens: Mastering Complexity
Report on Case Study
Term Paper 2008 7 Pages
Excerpt
Table of Contents
1 Company Background
1.1 History of Development
2 Plans, Decisions and Actions
2.1 Analysis of Strategic Position using SWOT
2.2 Bruynzeel's Market Strategy; Its Strength and Weaknesses, Opportunities and Threats
2.3 Managing Complexity
3 Conclusiones
References
"With all that current concern about risk mitigation, it is critical to start "looking around corners" and trying to foresee problems before they fully emerge".
Dan Gilmore
Introduction
Pursuant to Basu and Siems' research (2004), plenty of books, journals and articles have been published in the recent past, to display growing importance of supply chain management. It is one of the most significant aspects of any kind of business. How does a company get the Right Things, to the Right Places, at the Right Time and for Profit ? These are decisions which must be made. Throughout history and due to new ideas and technologies, supply chains have been changed. Railway, electricity and new ways of communication made them better, faster and cheaper. Nowadays, businesses are effectively improving their supply chains through better information engineering using the Internet and wireless telecommunications.
The supply chain includes all activities linked with the flow and transfer of goods and services from the raw materials' level through to the customers. (Basu and Siems, 2004) Synchronization between warehousing and distribution channels through the retail channels and ending with the consumer has become one of the main problems for Bruynzeel Keukens in 2005.
Should the company completely restructure its supply chain or should it merely modify some processes along the chain? What exactly should be reorganized and how fundamentally should the restructuring be made?
1 Company Background
1.1 History of Development
The Bruynzeel Company was found in Netherlands at the end of the 19th century. At the beginning of its history, the company specialized in wooden carpenter's works and shipbuilding. In 1937 it started to produce kitchens but went bankrupt in 1982. Bruynzeel Keukens BV was created and started to contend in the kitchen market in Netherlands. (Jäger, F. (2006)).
Today, according to the case study (IGEL thin clients find favour with Bruynzeel Keukens (2007)) it is the largest supplier of kitchens in the Benelux region. The Bruynzeel Keukens manufactures kitchens under its own brand and sells them in the business market as well as in the private market. Bruynzeel has about thirty shops in the Netherlands and Belgium, which can be differentiated into five large stores and a number of smaller shops. The company has circa 630 employees; one third of them are engaged in production and the other two thirds work at the various administrative and sales divisions. The main part of Bruynzeel's business volume was reached in B-2-B (business-to-business) as well as in retail.
F. Jäger (2006) gives three key factors of the company's success:
- Excellent brand recognition in Netherlands - 93% of Dutch customers were familiar with the brand;
- The trust given by construction industry - Bruynzeel was leader in the Dutch construction market in 2004;
- A proven track record for the quality, reliability and performance of its kitchens.
2 Plans, Decisions and Actions
2.1 Analysis of Strategic Position using SWOT
Milligan (2008, p.8-9) states that the idea of strategy is to make a business fit into its external and internal environment and to gather information in order to be able to answer the questions like "Where are we going to be if we do/ do not make changes?" or "Where do we want to be with our organization?"
Basu and Siems (2004) explain how important it is to clarify weaknesses and strengths of the company to define where the organization is now. It should be established which influences represent opportunities and which might transform into threats. Thus the SWOT analyses the competitive advantages of the company according to its internal (strength and weaknesses) and external (opportunities and threats) environment.
D. Campbell, G. Stonehouse and B. Houston in Business Strategy (2003, p. 3-4) point to a number of rules, which should be followed in presenting the SWOT:
- Too much detail should be avoided so that the key points can be clearly seen. Keep each point short and to the point so that an overview can quickly be gained.
- Many of the point presented in the SWOT may be relative rather than absolute and consequently a matter of some judgment.
- The SWOT should not concentrate solely on "hard" facts (such as financial measures or market growth statistics) that can be measured or proved.
- The analysis should prioritise and combine points. The most important points should be shown first and points that are not key or strategic in nature should be excluded.
2.2 Bruynzeel's Market Strategy; Its Strength and Weaknesses, Opportunities and Threats
Research Associate F. Jäger (2006) illustrates in his study that Bruynzeel Keukens has a very good reputation of most construction companies in the Benelux region. In 2005 its market share was about56% and it was a market leader in business-to-business in the Netherlands. The company's market share was about to rise, but Bruynzeel did not intent to excel the 60% range of it. Its objectives were to expand the market share in the Dutch retail market and to assume the leadership in the construction market. In order to expand and be able to compete, the company had to rethink its mass production manufacturing activity; it didn't correspond to customers' demand. Consumers were showing the tendency to ask for more services; it was no longer in demand to get a completely furnished kitchen. Bruynzeel's customers wanted to be able assemble their own kitchens. In 2005 31% was made in retail stores and only the half of it in wholesale, so it was much more profitable to sell the kitchens in the retail market than in construction market. So it was the time for Bruynzeel Keukens to expand its retail market. There was also a strategic goal for the retail market extension: The company depended on its B2B customers. If one of the biggest customers moved towards competitors, it could badly influence the financial situation of Bruynzeel.
[...]
Details
Pages

7

Year

2008

ISBN (eBook)

9783640237340

File size

476 KB

Language

English

Catalog Number

v120353

Institution / College

University of Derby

Grade

A-

Tags