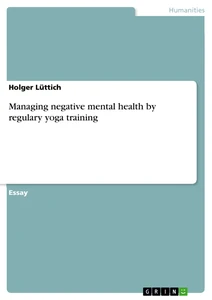 Managing negative mental health by regulary yoga training
Essay 2008 13 Pages
Excerpt
Contents
A Traditional Prayer
0 Introduction
1 Definitions: a) Mental Health, b) Yoga
2 Mental Health – Problems in Modern Society
3 Commons from Yoga and Western Science
4 Yogic Understanding of Negative Emotions
5 Yogic tools for the Management of Negative Mental Health
6 Research
7 References
A traditional prayer
Oh God, lead us from the6punreal to the Real.
6pOh God, lead us from darkness to light.
Oh God, lead us from death to immortality.6pShanti, Shanti, Shanti unto all.6pOh Lord God almighty, may there be peace in6pcelestial regions.
6pMay there be peace on Earth.6pMay the waters be appeasing.
May herbs be wholesome, and may trees6pplants bring peace to all. May all beneficent6pbeings bring peace to us.
May all things be a source of peace to us.6pAnd may thy peace itself, bestow peace on all6pand may that peace come to me also.
0 Introduction
I chose the subject "Managing Negative Mental Health by Regulary Yoga Training" because it's my field of expertise In my job as an Addiction Therapist, Psychological Counselor and Yogateacher I work with mental disbalanced, addicted and psychological sick people. Everyday I give lectures on mental health and hold group therapy and yoga lessons. I evaluate my work and study the writings of Western therapists and Eastern Yoga Masters on Yoga Psychology. Because of this I come to the conclusion that specific Yoga exercises are very helpful in managing negative mental health. Research at several European, American and Indian universities is going on. I am convinced that the ongoing scientific studies will show again positive results of yogic treatment. In the future Yoga will become very important for public health care systems. In my opinion it make sense to begin with teaching Yoga in schools. Children should be trained in mental pureness, concentration, physical fitness and self-discipline by Yoga. By this way we would prevent many problems such as troubles, difficulties of learning, and psychological problems of children. In India Yoga is a part of University programs. Students can graduate in Yoga, Yoga Philosophy, Education etc. at several Universities such as SVYASA University, located in Bangalore. It is my purpose to establish the Science Yoga as a part of academic University programs. Therefore I create a concept of a Bachelor-, Master- and Doctoral program in the field of Contemplative Psychology. Actually I offer these programs to the public at Bayurveda Academy, Germany, an affiliate of several international universities and yoga schools.
In the following work I want to give an overview about the most important fields of my inspections in the field of Yoga. The citated resp. used literature is listed under "References".
1 Definitions
a) Mental Health
The concept of mental health refers to the psychological and emotional well-being of a man. Being mentally healthy generally means that a man is able to use his emotional capabilities to function well in society and go through everyday life with little or no difficulty. Some factors that can affect mental and psychological health are negative stress (excessive demand), family problems, dependencies, trouble in relationships, and conflicts at work. Having negative experiences in any of the said areas can deteriorate the state of one's mental health. First symptoms could be: nerviness, ill sleep, headaches etc. It's necessary to eleminate the causing factors immediately. Ignorance of symptoms is danger. Symptoms can become worse and chronic. Chronic negative stress can damage the action of the heart or irritate the immune system.
b) Yoga
Yoga is a discipline of physical, mental and spiritual exercises. It originates from India and today it's practised worldwide by millions of people. Aspects of Yoga are: body postures, breathing techniques, meditation, chanting of mantras (vocal vibration of words). In some traditions of Yoga also Hindu prayers and Hindu rituals are parts of Yoga practise. Most modern Yoga schools abandon on traditional elements. Yoga practiced in the West emphasizes the physical aspects integrated with breathing and meditation techniques. Actual Yoga publications resp. their titles demonstrate this trend: Sleep Well, Quit Smoking, Improve Your Golf (Ashok Wahi, 2001) etc. (*1).
Yoga can be beneficial in achieving balance in one's mental health. It achieves deeper knowledge of oneself which leads to self-acceptance, contentment and relaxation. It facilitates in the discovery of one's own power and makes feel relaxed in managing life problems. Yoga exercises can also help relieve irregularities in the glands, the brain and the entire nervous system. Therefore Yoga is useful for more "easy" problems (such as tension, headaches, agitation etc.) but also for serious mental and psychological diseases (e.g. bi-polar disorders, shizophrenia, insomnia etc.).
illustration not visible in this excerpt
Advanced Yoga Technique
for more power and self-esteem,
demostrated by the author,
an advanced practioner and teacher
2 Mental Health – The Problems in Modern Society
Today life has become more competitive, fast, stressful and individualistic. This has given rise to a lot of problems:
- individual health problems such as anxieties, fears, depression, inferiority and similar emotions.
- psychosocial problems reflected in interpersonal irritations to the breaking up of conjugal life, - families and society at large.
For three thousand years Yoga ("Yoga" = Re-connection of a Person with the Higher Being) has been helping people in the Eastern world to keep their bodies healthy and their minds free of stress. Modern life is fulfilled with stress. The rate of physical, mental and spiritual disorders rises more and more. For example, cases of addiction are a rising problem in the Western world. German scientists say: one in three people suffers from any kind of addiction (-2). It is something that touches us all at some point in our lives.
The advantage of yogic practices is that, with salient effects on the autonomic nervous system, brain waves and endocrine glands, etc., they harmonize the metabolic and physiological functions and mental processes without any voluntary effort on the part of the practitioner, and so the change in their nature and behaviour is sometimes even surprising to them. This is evident from several Yoga study groups evaluated by Yoga experts and scientists such as David Shannahof Khalsa, Director of the Research Group for Body Mind Dynamics, a subdivision of the University of San Diego, California (-3).
Before discussing how to manage, it's necessary to understand the genesis of negative conditions in the psyche. That's the subject of the followings chapters.
[...]
Details
Pages

13

Year

2008

ISBN (eBook)

9783640176199

File size

726 KB

Language

English

Catalog Number

v115893

Tags